Illinois. Hawaii. New Jersey. The list of states recognizing same sex marriage has exploded to 16 plus the District of Columbia. With its surprising court decision in April 2009, Iowa was the first beyond the East Coast.
Many Americans' views of marriage are shifting radically within a greater acceptance of gender diversity in its iterations. This change is as fast as I have experienced in a lifetime living with, observing and commenting on social change -- race, women, work, divorce, gender, family, marriage. Nonetheless, we remain deeply divided, societally and individually, even as the change accelerates.
The question is how to find ways of talking across the divide and living with new realities as they evolve. But how do you define the divide? Different views of the world? The shape and purpose of marriage? Equity? Religious mandate? What happens when these lines blur? Does seeing a range of marriages in their private complexity help? The storyteller in me hopes so.
As my husband and I welcome more gay marrieds on this special human journey, we rejoice that we are increasingly able to do so, even as we acknowledge there is a long way still to go. Two things strike me. First, while some of these unions are young loves, many are public acknowledgments of long-standing personal commitments. Second, is how traditional these marriages are -- cherishing being married, living and possibly raising children that way. In my experience, all marriages -- no matter their form, or what others believe about them -- have much in common. At the same time, each is totally unique. Take Dot and Liz's.
Liz and I were freshman roommates, venturing into becoming women together. We tested independence, explored ideas, worried over exams, discussed dates--laughing over some, crying over others--shared dreams and made plans. I knew when she met Bob. Liz was the first to hear that I met Dan at Christmas sophomore year. When we married 59 years ago, she was maid of honor. I stood up with her and Bob a year later.
For years, as we traveled one way and Liz and her family went another, we kept in touch -- birth announcements, Christmas letters, pictures of growing kids. Then a long silence.
With a college directory and email, we reestablished our conversation: Children, grand children, more family pictures, politics, private worries, aging jokes. Despite distance and time, our values, concerns and ideas had gotten closer. Long friendships and shared memories are special glue as we age. Growing closer, a blessing.
International rolling stones, my husband and I had resettled in suburban Washington. After several years in Staten Island and earning PhDs, Liz and Bob had moved to a small Iowa town, teaching at the local college for nearly 30 years. His diabetes worsened progressively. Seventeen years ago, he died. Then, Dot's name began to appear in letters and as a smiling face in family photographs, clearly a long-standing, dear friend. Otherwise, an enigma.
Two years ago, this email popped into my inbox a couple of weeks before Thanksgiving.

From: Liz
Subject: Almost ready
We met our officiant this afternoon. We have ordered flowers, bought new outfits, have our license and written our vows. Guess we are almost ready. Love and Peace, Liz
Clearly, I had to be at this wedding. You don't often get to be with a dear friend in such a special way twice. I rebooked tickets to Iowa before flying to Michigan for Thanksgiving.
Like lovers everywhere, Liz and Dot have their own story. When Liz and I met at our 50th reunion, she outed herself, Dot and Bob. Processing this was easier because of her clear joy and gift of trust. Then, as 75th birthday 'gifts,' Liz and I went to a week's seminar at the Iowa Writers' Summer Workshop, and have gone regularly since, freshmen again, writing and talking. Slowly, I learned more about Dot. Another year, she stopped by. I began to know and like her.
As I already knew, when they embarked on married life, Bob went to seminary, Liz taught. With a mid-career change, Bob returned to graduate school. There, he met Dot, who was his student. She first came into the household as child-help for a busy, growing family while Liz also went to graduate school. Close friendships developed and deepened.
About 40 years ago, the three adults formed an unconventional family. Bob, Liz and Dot made personal vows, wearing wide, braided gold bands as tokens of those promises. When they moved to Iowa, Dot changed her band for a simple one.
After they settled in their quiet town, Dot commuted to a job in a nearby city. The trio became part of the community, active in civic and church affairs. In deference to community feelings, which were for the most part religiously conservative, "we didn't talk about our relationship. We shared a house and people knew we were close," Liz confided.
Their commitment strengthened with the daily give and take, joys, tears, disagreements, private jokes, sickness and health that form its bedrock. 'In sickness' became real with the illness and death of one of the by-then grown children. Then, according to Liz, as Bob's health deteriorated: "We couldn't have taken care of him without the two of us." 'In health' meant visits to scattered families and international travel as well as gardening and sharing a personal trainer to keep aging bodies fit.
"The better friends we became, the more I fell in love," Dot said after the wedding. Liz smiled to confirm.
After Iowa made same sex marriages legal, "I began asking Dot to marry me," Liz recounted. "She wasn't sure we needed to." In early Fall 2011, Liz asked again. Dot began to make plans. "That's when you said yes," Liz laughed. "That's what you do. You plan." Liz emailed excitedly when they set a date: "You are the first to know."
Legal, yes, but not entirely simple. Their denomination doesn't solemnize same-sex marriages so the supportive pastor couldn't officiate, but would attend and witness the certificate. Dear friends offered their home. The couple knew that Karen, a friend and college colleague, ordained in a denomination that affirms such weddings, had already performed the only same sex marriage they knew of in their small town. She readily agreed.
That Wednesday before Thanksgiving, I was there. The morning epitomized late Fall in the Midwest -- sunny but blustery, smelling of leaves and wood smoke. The gray-haired brides decked out in new outfits, we drove to their friends' house for the ceremony.
Liz made a point of showing off their charming town, which they clearly love. "This is not an easy place for gay kids to grow up," she said. "They usually leave as soon as they get the chance and they don't often come back." Consequently, as exultant as they are to be legally married, Liz and Dot are cautious about being too open. The day they ordered the wedding cake at the bakery on the town square, Liz explained, "we couldn't decide what to put on top, because we didn't know how they would react to 'Dot and Liz.' So, we put 'Peace and Love.'"
I admire how they live gracefully with the tension of wanting to witness the value of equity in marriage and not wanting to affront neighbors' beliefs. While my roommate and her wife are glad to have their story told, at their request, I have changed their names to help them protect the quiet balance they prefer.
A dozen close friends, our hosts and their dog--all wearing orange roses--gathered in the living room. Karen, stylishly gray-haired, stood in the arch between the living and dining rooms to officiate. Re-exchanging wedding rings, each replaced original rings back on the other's finger. Bob was present in the closing blessing, a prayer he had written for a nephew's wedding. During the simple ceremony, their fingers entwined, the brides' faces radiated happiness and love.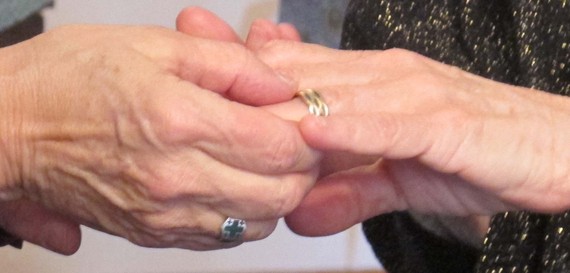 This joy-filled wedding was the public affirmation of a complex, deeply private, long-term love affair. It was also a conscious, if quiet, act of public witness to their profound belief in the importance of legal marriage for all couples who wish it. The rest of us rejoiced with and for them as a couple and joined in that witness.
After lunch, Liz stood: "We are so glad you are with us here today. Please feel free to share our good news with people you think will welcome it." She left unsaid their hope not to make people uncomfortable who didn't yet know how to be accepting.
Ten days after the wedding, the card arrived, addressed in Liz's sprawling handwriting,
"It feels very right to be married and I'm glad we did it. It's too bad that the right is denied to so many others...Peace, joy, love, Us."
In the two years since, it has been a gift to watch this marriage blossom because it is a marriage, not just a long love affair, although it is that too. Liz and Dot care for each other, their children and grandchildren, in sickness, in health, good times and bad. Individually and together, they are active in their church, their community and the wider world. That is what marriage is. Thanks, Liz and Dot, for showing us all. Happy Anniversary. Many more.