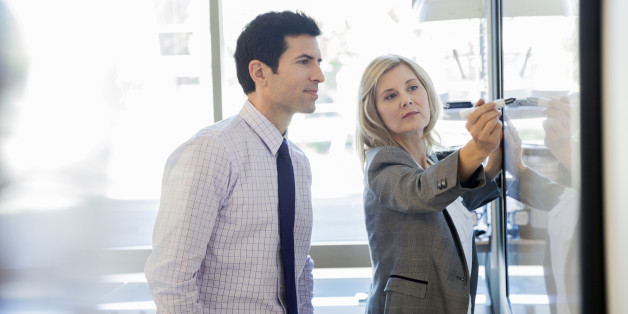 For an economist whose job it is to measure countries' success (or otherwise) in laying the foundations for long-term prosperity, the concept of green shoots for me takes on a different meaning to those most often reported in the press as harbingers of better times. Increases in gross domestic product, falls in joblessness and upticks in new housing starts are of course good and welcome, but taken alone these indicators offer us little insight into how the U.S. economy will be doing in five or ten years' time.
This is the purpose of the World Economic Forum's Global Competitiveness Report, which every year attempts to measure each of the factors that we feel are critical to an economy's long term success. The Forum measures 112 of them in total, from the amount of red tape involved in starting a business, to trust in political leaders and a country's capacity to train and retain skilled workers. Why do we care about these? Because without these fundamental drivers of productivity, no economic recovery could ever be sustained.
If this year's Report, which is published today, is anything to go by, green shoots of the kind I am used to looking out for are indeed starting to flower across the U.S. Of the 144 countries the Forum measures, America climbs two places to third in our global ranking. It's tough at the top and this two-place rise is not to be sniffed at: by leapfrogging Germany and Finland in this year's Index (it now trails only Switzerland and second-placed Singapore), the country is sending a clear message that its long-term prospects are on the up.
Looking beyond the U.S. rise to third place, what does this year's Report tell us? For one thing, it confirms the U.S. status as an innovation powerhouse. Not only is it home to some of the most sophisticated and innovative companies in the world, it is also excelling in efforts to groom the next generation of bluechips. Efforts such as the Advanced Manufacturing Partnership, which aims to revive the manufacturing sector by bridging the gap between early-stage public research and private commercialization, are indicative of the efforts being made here that other parts of the world find so hard to replicate.
The U.S. is doing well on other fundamentals as well. Its traditionally efficient and flexible labor market will be a key asset for employers as they seek to allocate resources towards growth.
These factors are helping the U.S. regain its edge, but there is plenty of work still to be done if the country is to regain its position at the pinnacle of global competitiveness. A major push for structural reform will be necessary and for this to happen, US politicians will have to think long term.
For one thing, infrastructure, be it in transport, electricity or telephony, needs improving and the country must find a way of investing more than the 0.6 percent of gross domestic product it currently spends (lower than any other country in the OECD) to put it right.
The quality of education continues to cause concern too: a ranking of 36th for health and primary education and 51st for quality of math and science education is going to be a worry for any country looking to build on its innovative strengths. Indeed, the fact that the number of unfilled positions neared a record high earlier this year suggests the recovery is already beginning to be affected by this.
Smart investment to ensure that primary and secondary schooling improves significantly and that vocational training meets the needs of businesses is essential to underpin long-term competitiveness and encouragingly, again, I can see green shoots. Change The Equation, a scheme that works with business leaders to promote science, technology, engineering and math is a great example, as is the Automotive Manufacturing Technical Education Collaborative, which despite its clumsy name is proving adept at addressing the skills gap in its industry.
The greatest challenge for America as it builds for the future, however, is figuring out how to get the most out of two crucial determinants of competitiveness that are currently in short supply: institutional strength and public funds for investment. Despite recent modest movement in the right direction, America's macroeconomic environment -- in particular, its budget balance (the U.S. ranks 130th in the world) and government debt (134th) -- is dire and leaves leaders little room for maneuver when it comes to investing in infrastructure and education and other productivity drivers. Institutions, too, have a way to go before being able to be called world class -- our measurement of public trust in politicians is relatively unchanged on last year.
The task may be Herculean, but it is far from impossible, and achieving it will require decision-making based not on the electoral cycle but on the long term drivers of prosperity. Only then will the green shoots that can been seen today truly put down roots.