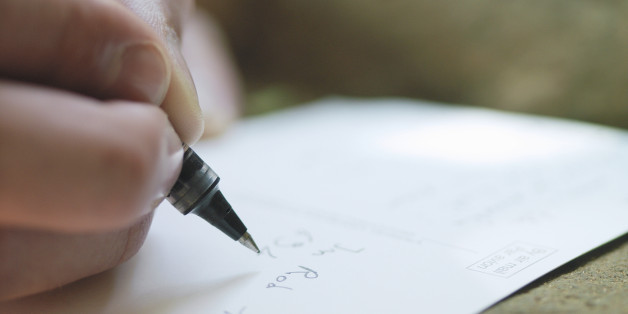 At the age of 16, after two years of investigation, my brother Tom Derhy was diagnosed with narcolepsy by the Sleep Disorder Center at the Pitié Salpêtrière hospital in Paris. He had been fighting to be able to live normally since he was 10, despite the handicaps that this rare and poorly understood neurological disease has been causing him. We did our best to support him every step of the way, while thinking that over time he had managed to win over narcolepsy.
At 26-years-old, Tom took his own life, the week of October 6, 2014. A few hours later, we discovered this "Letter to a Caring Stranger" (and many other texts that spoke about his suffering with the disease) in his blue notebook that he always had under his arm, where he wrote whenever inspiration came to him.
After studying political science, he had turned towards his lifetime passion, music. He had just finished writing, composing, and producing his first album, Dans Sa Peau (In His Skin), which was scheduled to be released in early November 2014 and which we have now made available on Spotify. He had also just performed the second concert of his tour in late September at the Trois Baudets in Paris ... all of this despite the disease.
Following the viral success of a video posted by a narcoleptic woman on The Huffington Post on October 20, we decided to publish this letter, hoping that one day the gravity of this disease will be recognized.
___________
Letter to a Caring Stranger
Dear friend,
You might be curious to know what my disease consists of.
You're surely detached enough to listen to me calmly.
I've met very few people who were able to listen to me. Maybe none.
But you're here, with a fresh mind and a calm eye. You're here, and since we could have met and perhaps (I have no doubt) liked each other, you show me an attentiveness that sincerely moves me.
Therefore, I will do my best to present my disease as lucidly as possible. I will explain why this disease is nothing but a sinking ship, despite all appearances.
I'll also do my best not to say too much, since the principle of this disease is, in my opinion, relatively simple. Almost as simple as the operating principle of a rechargeable battery.
The violence of some of my assertions might hurt you and give rise in you to some suspicions. With this in mind, I'll try to put my pain aside and explain this disease to you without the slightest exaggeration.
Sometimes, when a body suffers, the mind receives the pain disproportionately. I myself have known this struggle, and I could never have spoken to you this way 5 years ago.
It took me 10 years to be able to free my mind from this enormous weight. Before, when my body suffered, my mind suffered just as much, and these two forms of suffering seemed to pile up. The reason was that I hadn't yet accepted the disease, I hadn't yet understood its magnitude. I won't pretend that I've now managed to fully accept it, but the exit I've found, the emergency door I've decided to take, is sufficiently soothing that it allows me the luxury of ultimate detachment.
Lastly, if you agree and if I haven't already exhausted your patience, I'd like to confide in you about this other life I would've liked to have known, had the disease not taken possession of me so violently. The pain, at least I owe it this, gave me a real taste of things, it taught me what I loved.
What's the point, you would say, if you take your own life before enjoying it? But the object of my desire is an unreachable horizon. Could anyone cross the Atlantic with a ruined raft? No, could he even cross the Channel?
This disease wears you out every day. You might ask why. Well, this is its very essence. It doesn't need a reason. It wears you out, period, because it's a congenital disorder.
Sleeping 15 hours will not help you either. In the beginning, your body will fight it quite easily and your mind, naturally, will think it's just passing fatigue, or worse, mono. But no: it will last your whole life!
When you've understood this, hang on. Every day will be similar to the morning after a sleepless night or a hangover.
What? Giving up so quickly? No, you belong to the race of lions.
Somehow, you'll get used to the world of normal people. Like a starving man in the Garden of Eden, helplessly witnessing Gargantua's feast.
Permanently on the edge of sleep, you'll have to learn how not to take the plunge. You'll use all the "tricks," the ruses, the subterfuges.
Little by little, the lack of sleep will give rise to a nervous fatigue. The mind will fight against the body, but after all of this fighting, it will wear out.
Not in a few days, not in a few months. No, you're stronger than that! It will take several years...
You were hoping to heal, sooner or later. But here you are, 10 years later, with, in addition to the disease, chronic acid reflux, backaches, allergies, hypersensitivity to stress, chills in the limbs. And you're only 26.
Not to mention the social difficulties that the disease engenders. The inability to go out in the evening without being completely broken the next day, for example, or the inability to socialize during the day because of the fatigue.
You might say to me: "But there are diseases far more serious than this one." And technically speaking, I'd say you're right. But while people with other maladies benefit from a certain indulgence of society (who would blame a blind person for inadvertently crossing outside the crosswalk?), the narcoleptic faces either sarcastic remarks from people, upon learning the diagnosis, or is made to feel genuine guilt. With explicit or tacit accusations ranging from being called "lazy" to being asked, "Are you on drugs?"
Narcoleptics should receive financial support from the State in the same way that people with other incapacitating diseases do.
~ Tom Derhy
This article/blog post originally appeared on HuffPost C'est La Vie and was translated from French.