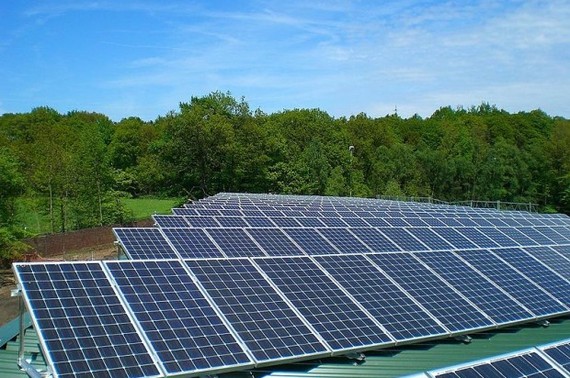 In a week when the debate over our nation's energy policy has centered on whether to hasten the proliferation of one the dirtiest fuels on the planet, our researchers have some good news about one of our cleanest energy sources: solar is growing so fast across the country that goals that once seemed ambitious now look readily achievable.
In 2006, every 80 minutes, another American home or business went solar. By last year, it was every four minutes. That's fast enough to make a goal of 10 percent solar in the United States well within reach.
Our report, Star Power: the Growing Role of Solar Energy in America, shows that the rate of solar growth could slow from 77% to 22% and solar would still provide 10 percent of our power in less than two decades.
In other words, all our policy leaders have to do is keep their foot on the accelerator. This is a critical finding at a time when too many are considering putting on the brakes. The federal solar investment tax credit is set to decline precipitously in 2017. Big utilities are intent on weakening net metering laws around the country. And ALEC and the lawmakers who do its bidding are no doubt gearing up for another year of trying to dismantle renewable energy standards around the country.
Boosting solar energy power production is more urgent than ever. Scientists have never been clearer that global warming is real, happening now, and will only get worse without meaningful action. Indeed, another U.N. report this week warned that that we must stop creating carbon pollution by 2070.
Achieving just 10 percent solar energy would cut as much carbon pollution as 59 million cars emit in a year, and put the nation more than halfway to the benchmark set by the U.S. Environmental Protection Agency's Clean Power Plan.
Of course, 10 percent solar is just a sliver of the possible. Already, the nation is home to more than 35 million residential and commercial rooftops that could host solar panels, and it has enough technical potential to meet our energy needs 100 times over.
By tapping just a small fraction of our solar potential, we can make a big difference in the quality of our lives and the future of the planet. But we're not arguing that we should stop there. After all, the debate shouldn't be over whether to approve a dirty pipeline that would erect even more barriers to solving global warming. The real debate should be whether 10 percent solar by 2030 is bold enough.