This year's 100th anniversary of the discovery of Machu Picchu is going to make the Citadel, Sacred Valley and Cusco extremely crowded, so if you're planning a trip to Peru and you dislike crowds, avoid those destinations.
Instead, explore the Peru where there are far fewer tourists. Walk through small towns near Lake Titicaca where the people dress in colorful traditional clothes, farm with oxen and weave colorful fabrics in their stone homes. Drive past herds of llamas and alpacas on your way to Colca Canyon and Cruz del Condor, where Andean condors fly so close you can hear their wings flapping; explore the Love Park in Lima and mummies in Arequipa.
Here are some of my new favorite Peruvian places: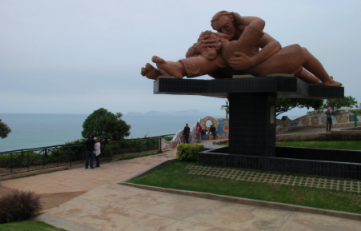 El Parque del Amor, Lima
El Parque del Amor, Lima
New York has Central Park, but only Lima has a Love Park, El Parque del Amor in posh Miraflores, overlooking the Pacific. Check out the Gaudi-esque park with mosaic tile benches full of love inscriptions and spend the night at the posh Miraflores Park Hotel. Have lunch in the hotel at one of the city's newest hotspots, Mesa 18, where Chef Toshiro whips up first-class Japanese-Peruvian fushion fare.
Casa de Aliaga
Casa de Aliaga in Lima, which can only be visited by prior arrangement (an excellent reason for a private guide), is the oldest house in the southern hemisphere, inhabited by the same Aliaga family since 1535, and presently run by the 15th generation Senor Aliaga.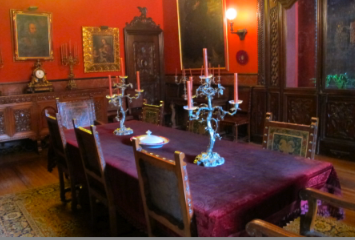 Dining Room at Casa de Aliaga
Marvel at the centuries-old furniture, 16th century paintings, thousand-year-old pre-Inca sculptures and the serene inner courtyard with a trickling fountain and a 180-year-old ficus tree.
Lake Titicaca Don't titter at the name; Titikaka means gray puma, exactly the shape of the world's highest navigable lake. Stay at the luxurious Titilaka Hotel perched over the western shore of Lake Titicaca, where you'll wake up and watch the fisherman go out for their day's catch, while villagers in traditional dress pull sardines and totoro reeds from the waters and lead their animals.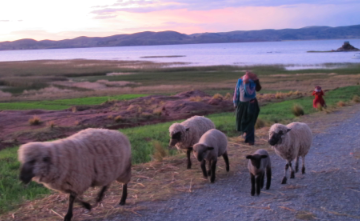 Typical scene at Lake Titikaka
Tequille
From Hotel Titlaka, take their private boat one hour across the Lake to Tequille, an unspoiled island where the animals are still penned in with rock walls for winter warmth, the electricity is solar and the 1,500 inhabitants live exactly the same way their ancestors did. Go with a guide so you'll have a chance to meet a family. Watch women weave garments by hand, just as they've done for centuries.
Floating Islands of Uros
This is one of the world's most inventive man-made wonders: 50 islands where the islands themselves, the boats and all the houses are made entirely of totoro reeds. This island has been called "touristy" because of the many visitors, but the present inhabitants' ancestors lived on totora reed islands long before the Incas arrived. Most visitors combine Uros Islands with a boat trip to Tequille; don't. Do Tequille as a stand alone and save Uros for your last day. Visit by boat from the hotel, then have the boat drop you at the dock in Puno, where you'll be driven to the airport.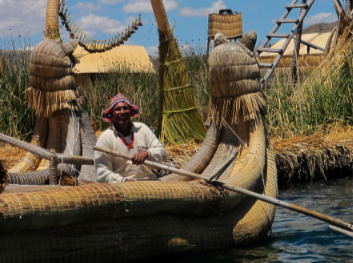 Uros Islander
Arequipa: This combination of Paris and of Madrid is a hidden gem and not to be missed. The best hotel is the former mansion dating back to 1794, Casa Andina, right in the center of town, and just a block from the Monastery of Santa Catalina , an entire city filled with paved streets and tranquil courtyards.
Don't miss the Museo Santuarios de Altura to glimpse a 500-year-old mummy about which I recently wrote.
Colca Canyon: On your way to Colca Canyon, drive through the National Park of Colca Valley past llamas, vicuñas and alpacas. At 11,150 feet, Colca is twice as deep as the Grand Canyon, lined with verdant agricultural terraces that date back to pre-Inca times.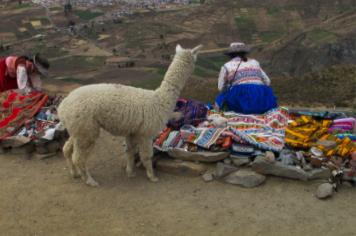 Vendors at Cruz del Condor
At Cruz del Condor, each morning, Andean condors with wingspans of up to 10 feet catch the thermals and fly above the cliffs. From the valley you can hike to pre-Inca and Inca archeological villages. Stay at Casitas del Colca, an Orient-Express retreat with such outstanding views (and your own plunge pool) that you'll have to force yourself to leave.
How To Get There: LAN Airlines has 33 flights a week to Lima a week from NYC, Miami, SF and LA. No matter where you're headed in Peru, it makes sense to stop in Lima and spend a night.
When To Go: Peru is good any time of year. The high season is May - October, though most families come either July-August or December-January (peak season). May, September and October are excellent times to visit. Avoid July 28th, the national holiday, when Peruvians travel.