It's long been a truism of polling that voters hate Congress, but like their own Congressperson. Well, in targeted Republican-held Congressional districts, that's no longer true. Yesterday PPP released a flurry of surveys commissioned by House Majority PAC, and in nearly every district, the Republican members were very nearly as unpopular as "Republicans in Congress" as a group.
In the eight districts surveyed, "Republicans in Congress" received net disapproval ratings, and in all but two districts, over half disapprove of the majority party. Similarly, six of the eight Republican members tested have net negative approval ratings. And three (Joe Walsh in IL-8, Dan Benishek in MI-1, and Robert Gibbs in OH-7) have approval ratings perilously close to their party as a whole. None of the eight look strong.
The table below shows the approval numbers made public by PPP. (UPDATE: PPP is a Democratic-leaning firm, and House Majority PAC is a Democratic group. No disapproval for King was released.)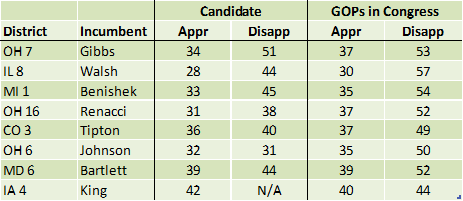 Congressional approval is at historic lows, driven largely by Republicans in the House. As a result, in top Democratic pickup opportunities Republican members suffer.