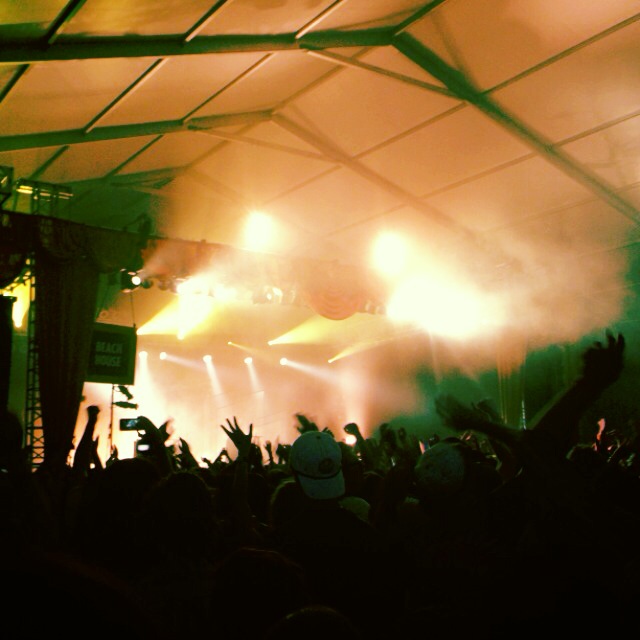 After Paul McCartney took the main stage Friday night, you heard a lot of "I don't even care what happen's next"s. Luckily, day three of Bonnaroo proved as engaging as the first.
Indie-pop duo Cults kickstarted the day at Which Stage, with frontwoman Madeline Follin singing her face off to a welcoming afternoon crowd. Follin's stage presence has grown notably stronger since Cults' self-titled debut album was released in 2011. "You Know What I Mean," "Abducted," and "Go Outside" were among the dreamy hits played. Cults' bluesy ballad "The Curse" was also a fierce addition to the otherwise wistfully romantic set.
Keyboardist Brian Oblivion took a moment to acknowledge the crowd. "Thanks for being so cool guys," he said. "We just got out of a deep, dark hole recording our new album for the last seven months," adding, "We finished yesterday, and this has been the best welcome back."
The reverb-ladden vocals of Follin were an easy listen coming off of a Macca high the night prior, the fuzzy psychedelics a smooth transition into Solange's groovy set to follow. The younger sister of Queen Bey likely shocked many who had not yet been introduced to the hipster-barbie version of the American pop icon. Her synthesis of electro-pop and Motown was rousing, a high point being Solange's cover of Dirty Projectors' "Stillness is the Move" (which, as the Bonnaroo gods would have it, was played later in the day by the Dirty Projectors themselves).
Amongst performances by melancholic singer-songwriter Chan Marshall and indie-soul group Portugal, the Man were a handful of standout sets at This Tent. Brooklyn five-piece Dirty Projectors brought some funk to Bonnaroo in the early evening, each song a masterwork of abstract vocals, ragged guitar, and groovy harmonies. Those who stayed to watch Beach House immediately afterward were not disappointed. The Baltimore duo delivered one of Bonnaroo's most emotive, bewitching performances of the festival, carefully pulling from their index of hazy, introverted synth-pop. Hits like "Silver Soul," "Gila" and "Zebra" littered the set, but Beach House's peak came from its tender soundscapes.
Vocalist Victoria Legrand, decked out in a truly badass, sequined blazer, took several moments to show her gratitude to the festival. "You guys have a wonderful energy," she said halfway through her set. "It's beautiful." Anyone who worried that Beach House's atmospheric descant would put Bonnaroo to sleep by way of lullabies was spellbound by Legrand's smoky alto. Legrand herself admitted that, by the show's end, it felt like hours had passed. "I feel like I went into a time warp," she said. "Thanks Bonnaroo."
A smattering of Bonnaroo artists (you can identify them almost immediately) are equally as smitten as the crowd, and Beach House's fervor on stage was infectious."We wait all day to play for you guys, and you're here," Legrand said matter-of-factly. "It's the greatest gift."
But perhaps the most gratifying of Legrand's asides to the audience came from the culmination of the song "Take Care." The delicate, synth-laced melody was intended to stun. As the farm started to cool off and the song came to a finish, Legrand offered this to the audience: "Now I'm not on drugs or anything," she said. "But that's the first time I've seen silver snakes crawling out into the air."