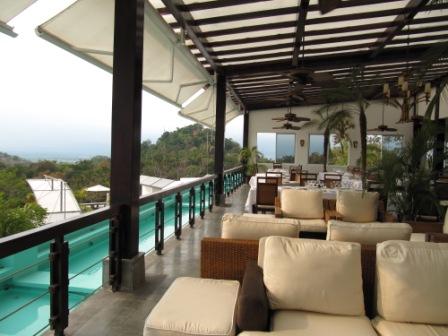 Gaia Hotel & Reserve [Photo by Maria Russo]
I had known about the outstanding social responsibility initiatives fostered by the five-star resort I was staying at in Manual Antonio, Costa Rica, but I never imagined there would be a rehab center for drug and alcohol abuse situated by the welcome gate of the hotel property. I first learned about the rehab facility from a hiking guide employed by Gaia Hotel & Reserve, during a complimentary tour of the lush, secondary rainforest that enveloped the resort. Being a proponent of progressive business, especially in cases where funding is directed towards giving back to local communities, I scheduled a meeting with owner and president Boris Marchegiani to learn more about the program.
On the third day of my stay, I met with Boris in the hotel's business office where I found him sitting behind a glass-paneled wall staring at his computer screen. Noticing my presence, he popped out of his seat to greet me. Dressed in a well-tailored shirt -- collar spread wide -- Boris' dark eyes, broad smile, and freckled, bronzed skin exuded a boyish, yet compelling demeanor. I could sense the excitement in his voice when I began asking him questions about the history and current ambitions of his hotel.
After many years of serving as chairman and co-founder of PEPEX, Boris decided to take on a new venture in hospitality. He purchased what was formally known as the Jardín Gaia Reserve, which was used as a protected sanctuary for the dwindling squirrel monkey population at the time, and transformed the property into a luxurious resort built in harmony with the surrounding natural landscape.
Shortly after the 20-room boutique hotel took off as an international contender in luxury accommodations, Boris founded the School of Life, a free rehab center for people living in nearby communities who fall victim to drug and alcohol abuse. A recovering alcoholic himself, Boris knew the difficulties of overcoming a chronic disease. Wanting to give back, he opened the rehabilitation center at the base of the property, using the resources of the hotel, for young people who were considered to be in the "high risk" range of engaging in reckless behaviors. The purpose of the program was to provide a place in the community for youth to shamelessly rebuild their lives. Each patient is considered for an individualized program according to the severity and specific diagnosis of the disease. Since the mission began crime has plummeted by 25 percent in Aguirre, a district comprised of several towns including the tourist-laden destinations: Manuel Antonio National Park and the Marina Pez Vela pier in Quepos.

As I followed Boris outside, he asked if I would like to see one other project the hotel was supporting. (Approximately $120,000 had been donated last year to both projects.) I was obliged by the offer, and stepped into his white SUV. We drove swiftly into Quepos, the capital of Aguirre, passing small streets flanked with ramshackle buildings and parked in front of a building with fabricated aluminum walls painted with childlike murals. "COPAZA," Boris remarked, pointing to the small cornflower-blue structure overlooking the Marina Pez Vela pier--a tourist attraction famous for its international sport fishing events. "It means Commission for the Peace and Advancement of Aguirre; it will be our new community center that will provide people with economic opportunities while serving as both a cultural center for the arts, and a natural disaster refuge," Boris said while searching for the car's "unlock" switch so that we could step out and have a closer look.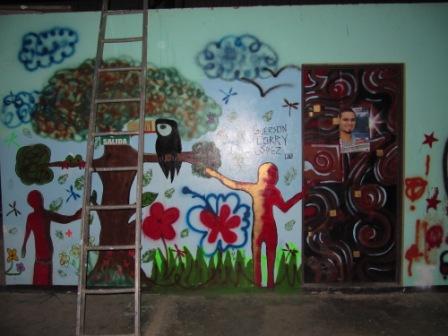 Mural painted by young graffiti artists [Photo by Maria Russo]

We entered a large, dimly lit room paved with glossy floors that led to a production stage. Spotlights hung from the tall ceiling and rows of large, square speakers sat at the base of the terracotta colored platform. The next room stood bare except for a dusty white stove pressed against a wall painted in colorful murals by young graffiti artists. The obscure space was in the process of being renovated into what will be the heart and soul of the community center: the kitchen. Rooms on the second level of the building (which were under construction and inaccessible) would be allocated for sleeping quarters, bathrooms, classrooms, and an art gallery featuring pieces that reflect ancestral dimensions of Costa Rican history.
As we walked back down to the first level Boris led me to a fenced alcove looking out at the wild, azure waters of the Pacific. A stunning view of rock formations set against a backdrop of jade rainforest. The small area would someday be a terrace; a place of quiet respite, or lively communal gatherings that locals could call their own. "Hope," Boris whispered, his eyes glued to the seascape for a moment. "Hope," I repeated under my breath as I took in the scope of how several social investments, brought change, promise and economic opportunity to an entire community.