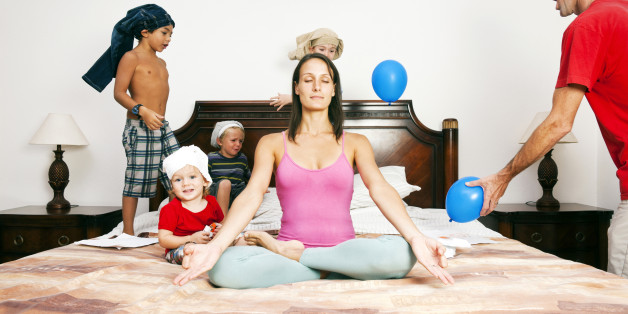 I had a much-needed visit with my besties the other day. I haven't seen my girls since my wedding, which was over two months ago, and that's simply too long of a time to go without an estrogen-charged festival. We hung out for hours drinking wine, laughing a lot, and discussing many a topic, including my current mental state. J and K wanted to talk to me about my mental health because they were concerned. Actually, the words, "we're worried about you," were uttered. I admitted I was worried about me too. I haven't felt well for awhile now, most recently out of sorts due to my medication withdrawal symptoms, and they wanted to make sure that I was at least kinda sorta okay.
Our conversation made me realize I haven't been okay for a long while now. I mean, I've had moments of being okay, happy and calm even, but they have slipped through my fingers so easily. It feels like trying to catch wind. I've gone through a sh*t ton of changes this year, from going on medical leave from work due to being physically ill from the stress it caused, to transitioning from teaching full-time to my writing and styling career, to getting married, to changing my routine and finances completely. Though there is a ton of goodness here, the state of limbo induced by the unease of uncertainty has wreaked havoc on my mind.
I was telling J and K that I sometimes dream of going on a retreat or to a rehab where all I do is focus on my well-being. K asked me what that would look like for me. I told her it would involve a lot of talk therapy, being outside in the sunshine, yoga, meditation, healthy eating, writing, and focusing on me and my health entirely. I admitted that during my medical leave of absence I had kind of achieved this sense of retreat, albeit in the midst of a highly stressful time of uncertainty. I had meditated everyday, had spiritual intuitive readings, did therapy twice a week, worked out, and focused all my energy on healing. By her asking me that question and offering me this simple but instrumental nugget of advice, "Write down what you need," she prompted me to put my life into perspective. Though things have felt crazy busy, out of my control, in a state of suspended unknowns and inconsistencies, and I have felt like an open wound susceptible to the infectious negative energy of others and the world in general, I still have the capability to regain my feeling of well-being. I am fully aware of my need to protect myself from others' emotions, of my need to compartmentalize and reinstate emotional/mental boundaries once more. I have the tools to become centered again. I just need to utilize them and get back on track.
Yesterday, I woke up and completed a five-minute meditation. Despite having a house full of kids, I put my ear plugs in and hopped on my elliptical machine. With ear plugs still in, I lifted weights. My husband took the kids to the city for a few hours, and while they were gone, I rearranged the family room, cleaned and made it aesthetically pleasing and comfortable for myself. While they were out of the house, I did yoga. It was the first time in a long time that I felt somewhat in control, somewhat at peace inside. Don't get me wrong: My emotional state is still quite precarious, as I'm really prone to anger and impatience lately, and my anxiety, depression, and OCD are just lurking in the back of my mind, ready to pounce at any given moment. However, if I can keep up the feeling I gave myself yesterday by making those things that I need a priority and a habit, then the more centered I will feel, the more calm I will feel. The more I use my well-being tools, the more apt I am to resort to them in stressful times. The more I create a sense of inner peace, the more habitual it will become. I'm realigning the derailed car that is my mind, getting back on track, and focusing on moving forward. Chug-a-chug-a-chug-a-chug-a choo choo...
Facebook Page: https://www.facebook.com/HeadAboveWaterLifewithMoodDisorders
Twitter: https://twitter.com/mariacmeow
Blog Site: http://lifewithmooddisorders.blogspot.com/
Google Plus: http://Google.com/+MariaCVallejo
YouTube Channel: https://www.youtube.com/channel/UCsyTsGz2m5hoyc8YE-eGACw/feed?