This story was produced in partnership with Facebook Stories. Submit your own Facebook story here.
-----
Facebook has played a huge role in turning me into a best-selling author. That fact of my life can't be overstated. As my books started to take off in late 2011 and early 2012, I began to think about ways I could harness reader excitement about the books and build a community around my stories.
We began simply with Marie Force Book Talk, a group designed to bring my most ardent supporters together to talk about my books and other books they enjoy. Now there are more than 1,400 members participating! From that came the McCarthy Series Reader Group, which now has more than 5,500 members, all of them fans of my McCarthys of Gansett Island Series, a nine-book (and growing) series set on a fictional island off the coast of Rhode Island. We refer to the group as the "Tiki Bar," which is a favorite haunt in the books.
Next came the Fatal Series Group, now with 2,500 members who enjoy talking about my romantic suspense series about a Washington D.C. homicide lieutenant and her U.S. Senator husband.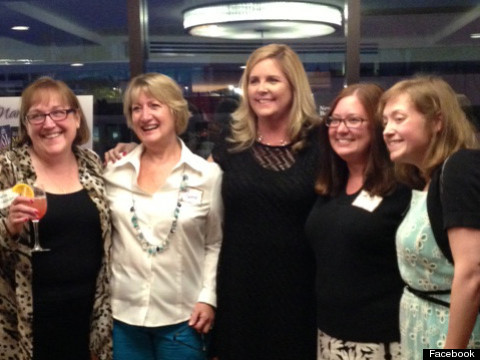 Marie (center) at a recent reader's appreciation event in Washington D.C.
After I founded the series groups, it quickly became clear that readers were looking for a place to dish about the details of each book without worrying about spoiling a story for others who hadn't gotten to it yet. That was how I came to have an individual group for each of my 28 books. Inside the book groups, spoilers are encouraged and welcomed. It's become the routine for readers to join the book group right after they finish reading a new book so they have a place to chat about the story with other fans. Each of these groups becomes a book club for that particular story, with robust conversation and even a few arguments here and there among passionate readers.
Opening the new group to readers has become a release day right of passage in the last year. The group for my new book, Time for Love, which was released on July 23, already has more than 500 members, and we're adding new members every day.
The series groups are about building awareness of what's coming and offering special bonuses, such as the first look at a new cover or being among the first to know an upcoming release date. They also provide a great place for readers to hang out with other readers and to make friends. The members of the McCarthy group spend days upon days casting the imaginary series movie and deciding what actors would play their favorite characters. They talk about which of the Gansett Island men they wouldn't kick out of bed (pretty much all of them) and which couple or book is their favorite.
I spend a lot of time locked in my own little imaginary world, and the groups give me a place to hang out with friends and chat during the day whenever I need a break from writing. The readers love that I'm active in the groups and that I pop into conversations whenever I have something to add. I know it makes them feel connected to me in a way they wouldn't be without the groups. They also feel invested in my career and are always willing to help me spread the word about my new book. I'm their friend as well as their favorite author, and that's a lovely combination.
Most of my series groups were formed after the first books were released--with one exception. The Green Mountain Reader Group has already been established in anticipation of my new series from Berkley Publishing, which begins February 4, 2014 with Book 1, All You Need Is Love. I established the Green Mountain group earlier this year to share information about the new series and to get readers excited about it well ahead of the first book.
When my assistant, Julie, and I went to Vermont on a research trip, we posted photos and offered giveaways of Vermont maple syrup and other goodies to members of the group, making them feel like they were along for the ride with us. The members of this group will be the first to see the cover of All You Need Is Love, as soon as I have it, and I will use the cover reveal to bring more new members from my public profile and page (11,500 likes plus 5,000 friends) to the group.
With more than 1,100 members already in the Green Mountain group, we're looking forward to watching that number expand early next year with the release of All You Need Is Love--and yes, there's already an All You Need Is Love Group standing ready for release day fun!
Today, I'm the proud owner of 33 Facebook groups with more than 16,000 members. We even have a group for the 2014 Reader Weekend with more than 300 members who are planning to come to Rhode Island next May to see many of the places I write about in my books. I love my Facebook groups, and I love the personal interaction with my readers. Thank you, Facebook, for making it possible for me to be "down on the street" with my readers every day!