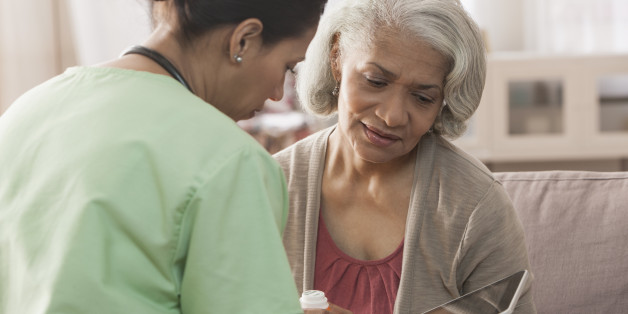 Placing a loved one in a nursing facility is a highly controversial issue. Many people would rather die than do it. But in some -- not all -- cases, such placement may actually be the best solution for the patient.
Although your loved one may have previously stated his or her adamant opposition to moving to a facility, many mid- to advanced-stage Alzheimer's patients will adjust -- often sooner than the family caregiver -- and soon forget they were even moved. That's what people with Alzheimer's do. They forget.
While you may not want to put your loved one in an institution, please consider the problems stated below before making a decision about this serious issue.
1. You're not an expert at realizing when the person has a significant health problem and may need to see a doctor immediately.
This is probably the most important reason to place your loved one in a facility. The nurses are trained to recognize physical health problems, and there is a physician assigned to each facility who can immediately initiate treatment and/or refer the patient to a specialist if needed. In addition, the staff will likely know whether the person needs to be transported to the emergency room, and if so, they can provide immediate transportation there.
2. You simply can't provide the amount of socialization that a long-term care facility can.
People with Alzheimer's (and all of us for that matter), definitely need to be around other people for socialization. This typically improves the person's mood and sense of well-being. Patients living in a facility have the opportunity to interact with staff and other patients on a daily -- even hourly -- basis. The patient at home will usually have few opportunities for such socialization.
3. You can't provide the frequency and quality of activities a facility can. Nursing homes have specially trained activity directors who devote 100% of their time to providing meaningful activities for residents. For example, sing-alongs are very therapeutic, and if you don't play a musical instrument, you'll have trouble providing sing-alongs at home. In addition, many activities are more beneficial if more than one patient is involved in them. There will be a sense of camaraderie and shared enjoyment, which, again, you can't provide at home.
4. You are not an expert at communicating and interacting with the person.
People with mid- to late-stage Alzheimer's may exhibit difficult behaviors. Most personnel in facilities receive training for dealing with these. You may have problems handling difficult behaviors, leading to stressful situations for both you and your loved one.
5. Placement will almost certainly be the best solution for you and thus, ultimately, for the patient as well.
This is another very important reason to place your loved one in a facility. Although you are probably staunchly dedicated to caring for the person at home, providing 24/7 care is exhausting. And you simply can't provide the best care if you're burned out all the time. Staff in facilities are usually only on duty for eight hours at a time. They have a good emotional rest before returning to duty the next day, whereas you will likely have very little if any respite. Another benefit is that when you aren't on duty all day every day you can relax and enjoy spending time visiting the person.
So if you have a loved one with mid- to late-stage Alzheimer's, try to take the person's overall well-being into account when deciding what to do. This will help assuage any guilt you may feel about the situation and will probably improve the care your loved one receives.
Marie Marley is the award-winning author of Come Back Early Today: A Memoir of Love, Alzheimer's and Joy. Her website contains a wealth of information for Alzheimer's caregivers.