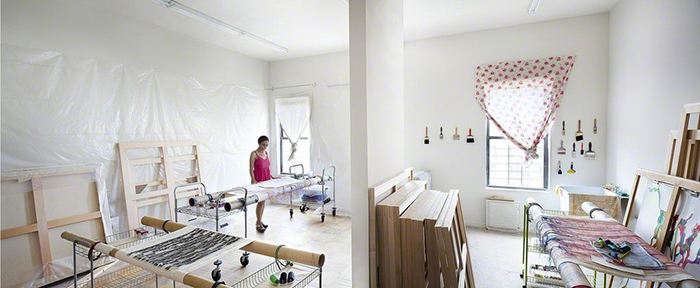 In her riverside studio in Harlem, Ghada Amer keeps a world of powerful women at her fingertips, pulled from the pages of erotic magazines and reimagined into the abstract, embroidered paintings and delicate drawings she is known for. With its bare wood floors, white walls neatly arranged with tools and tables bearing works in progress, Amer's studio holds all things essential to her practice, including the richly colored thread she stitches into her canvases, the brazen collection of erotic images she calls "friends" and stencils spelling pointed statements like Women who seek to be equal with men lack ambition. Amer invited Artsy for an exclusive tour of the newly acquired workspace that she and frequent collaborator Reza Farkhondeh share.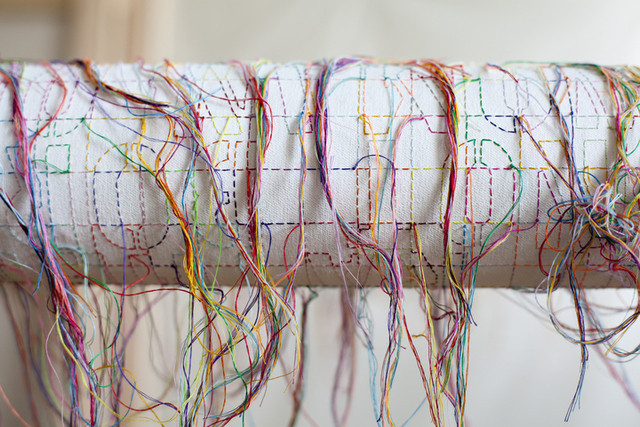 Sewing and Embroidery
I have been sewing since I was a child. I used to help my mom make dresses. It was in Egypt at the time, and it was expensive to buy already-made clothes. My mother is a chemist; she has a Ph.D. and is an agronomist, and she wanted to be very well dressed. So she decided to go to sewing school while she was working so she could learn how to make a professional suit. So she began, and when my four sisters and I were born, she taught us to do the same.

I thought it was a good medium to speak about women. It was an activity where, when I was growing up, women would gather and sew together -- my mother and all of her female friends, my grandmother, the grandmothers of all the neighbors of our house. But all of the designers were men, which was very annoying. And painting has historically been male-dominated; in my art history classes, there are no references to any females, just men, men, men, men. So I thought this was a good way to talk about women and language ... That's why I wanted to paint with sewing it, but out of necessity, not out of loving the craft.
Thread
"I have threads by color, the pinks, the reds, the greens. I buy them everywhere, including in Midtown. I buy them based on the colors I find."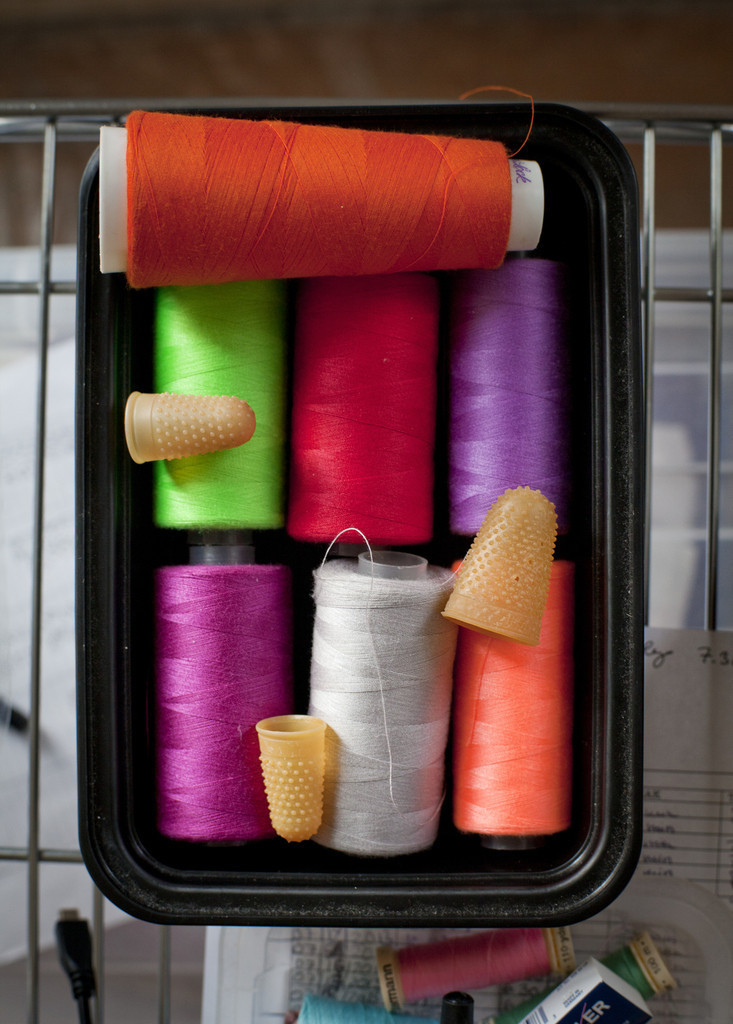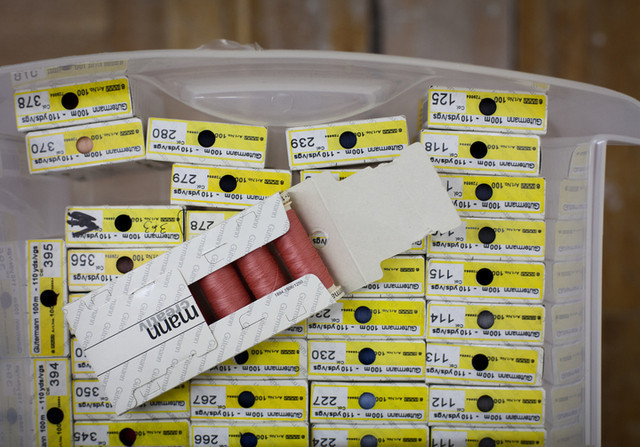 Source Materials and Preparatory Drawings
I get my sources from various magazines, including erotic magazines. These are very important preparation material for me. I call [the figures I draw] my friends. It's really amazing when I look at my first drawings now, how they have totally changed. Sometimes I draw them and I don't like them anymore, and sometimes I never use them, or I use them more than once. I often look for the difference between the fantasy of a voyeuristic man looking at two women and a woman looking at two women. I was very surprised to find there's no difference except that erotic magazines for gay women don't have enough money to make quality homoerotic magazines.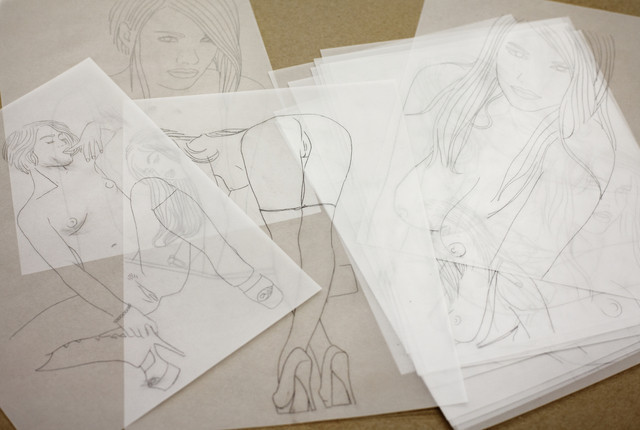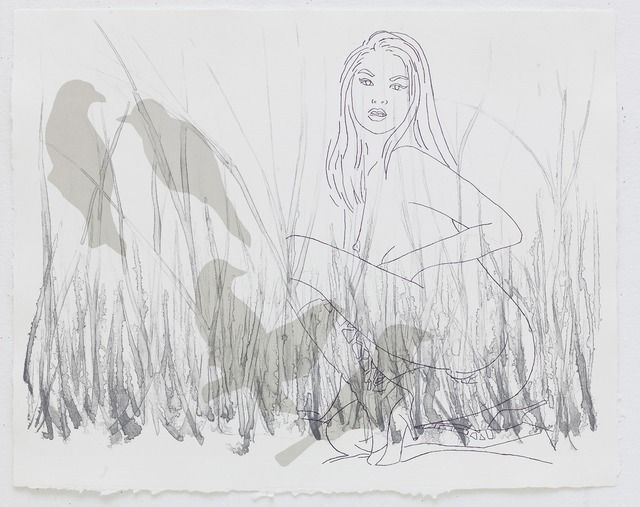 Ghada Amer & Reza Farkhondeh, Bird Herder, 2008, © Ghada Amer/Reza Farkhondeh
Tools
"These are my stencils. I use them a lot for work. I'm working now on a series of word paintings. I'm working on feminist quotes -- from men or women -- that empower women but don't critique men.
All painters use different paintbrushes for different effects. It is very personal; I cannot explain with words.

I like all my tools on the walls. It's very practical for me, and it looks nice."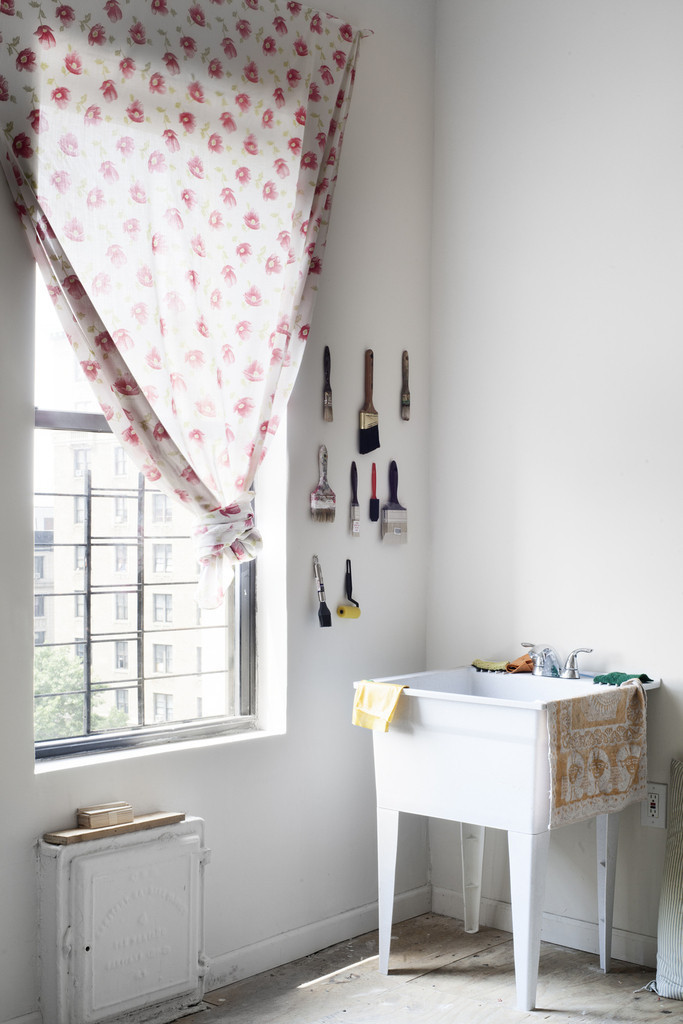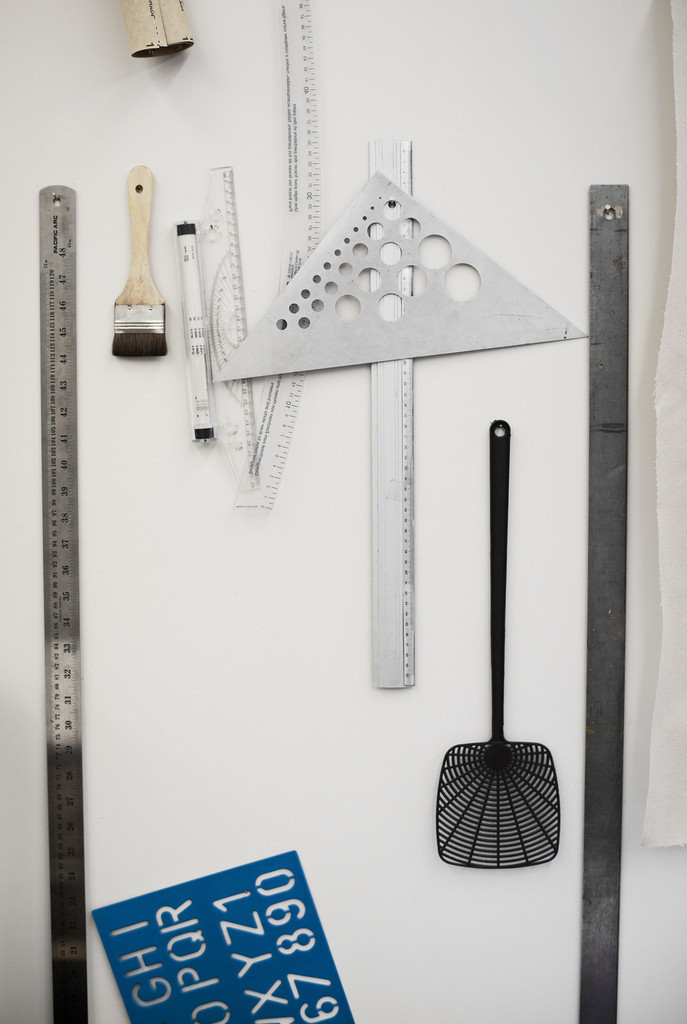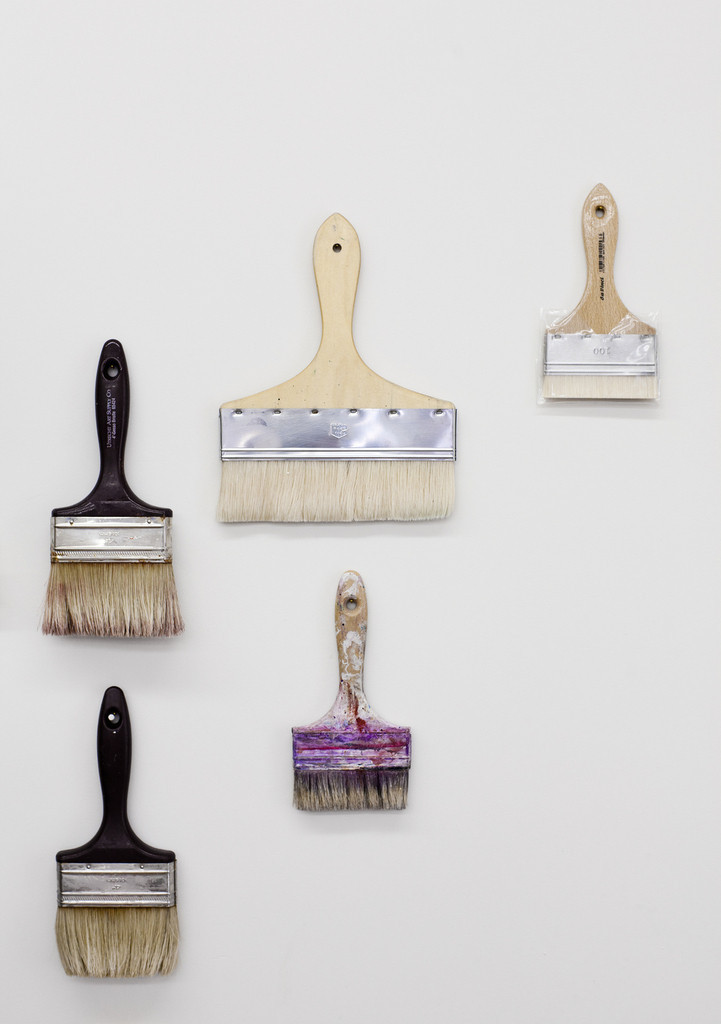 Paints, Inks, and Watercolors
"Oh, there are lots of colors. I use acrylic. Golden [is the brand] I like and then I use inks, like this, and watercolors. But it's more Reza who uses watercolors. He's much more into color than me, so he owns all of the [watercolor] colors that exist on the market!"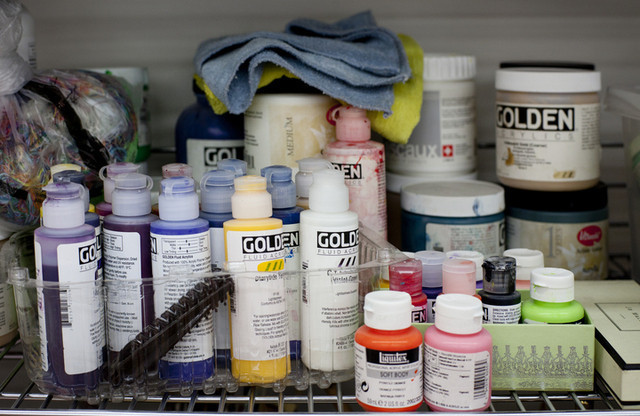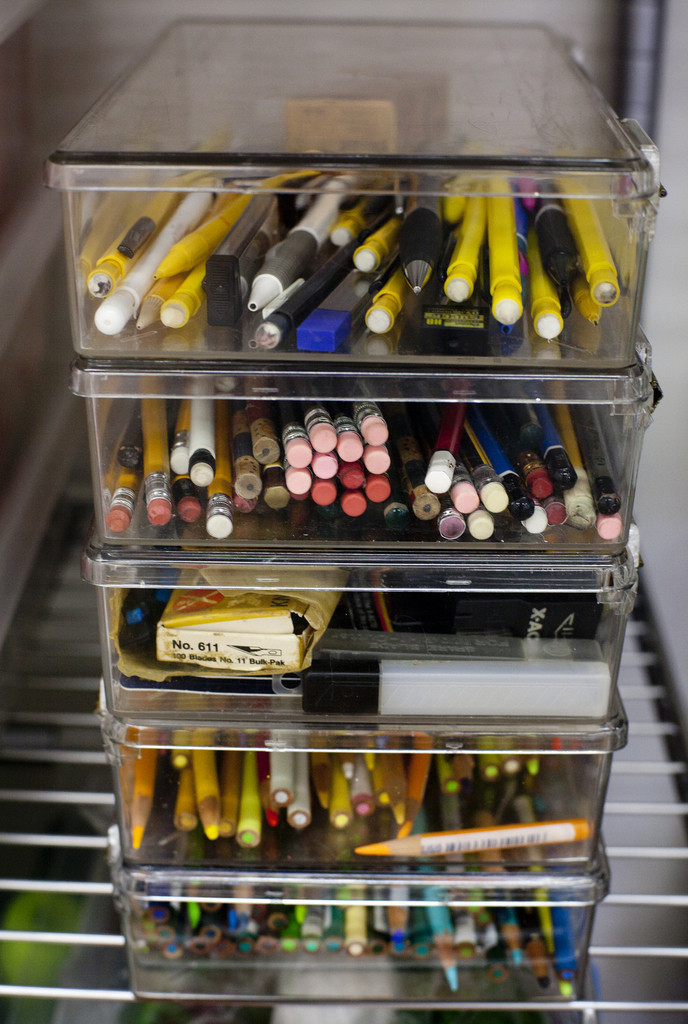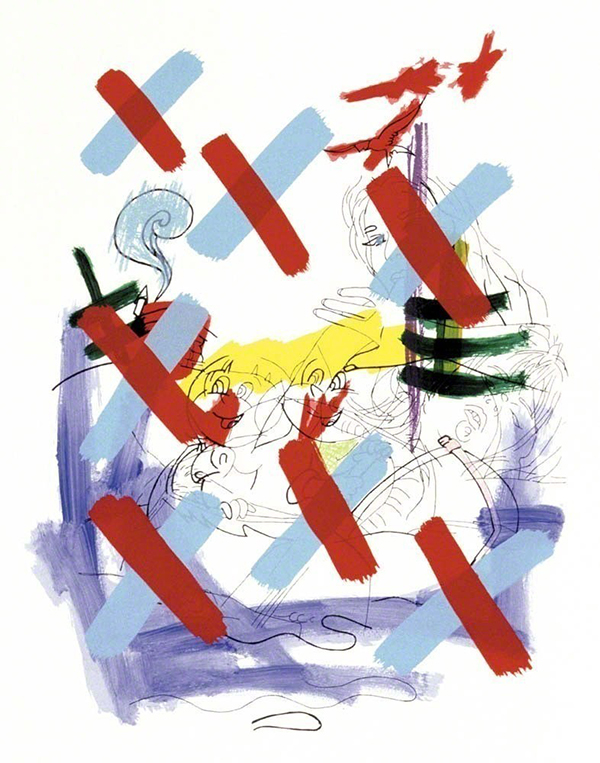 Ghada Amer, The Boat with the Happy Couple, 2002
Works in Progress: Feminist Themes
The text in this work means 'You have to raise your head up, and don't give in to any force that would take you backward'. It's from a very famous Egyptian feminist, Nawal El Saadawi. Then I have another one from FEMEN, a group of Ukrainian women who are very political. They were in Ukraine trying to protest something, and then there was this journalist who told them, 'oh, you know, nobody cares about women unless they are naked.' So they told the journalist, 'so you mean if we are naked tomorrow here, protesting the same thing, you will come and photograph us?' He said 'yes'. So what they did is they were naked and they wrote all over their [bodies] ...and of course they had tons of publicity, all over the world, and then they decided to merge [being] political with nudity. And a lot of people hated them because of that, but I think it's effective, it makes a point -- 'What's my body? You want to see it? Okay, see it. Are you over it now?' You know what I mean?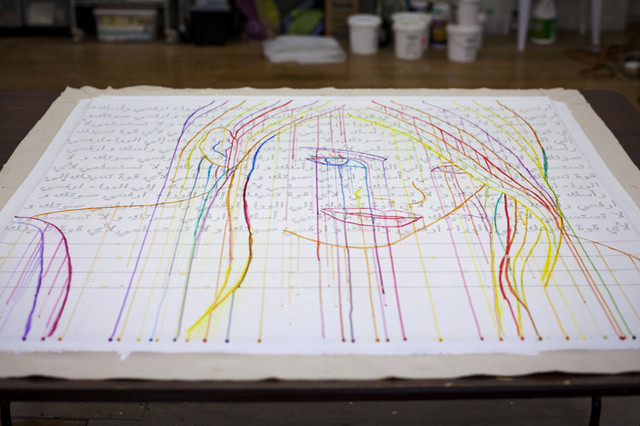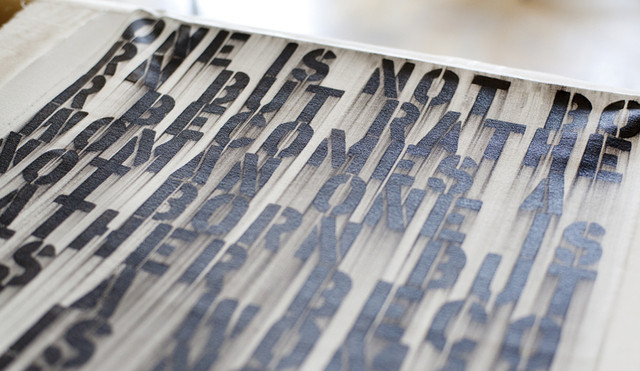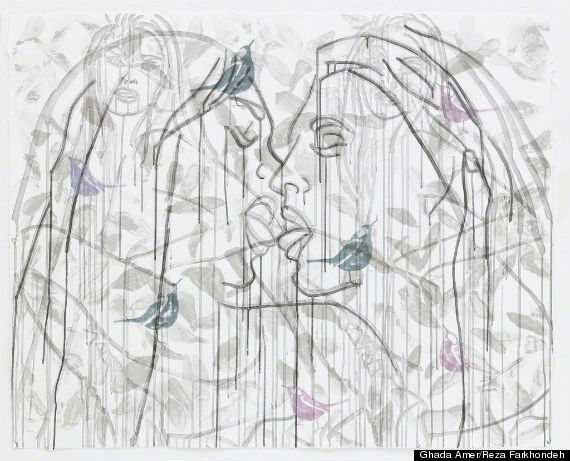 Ghada Amer & Reza Farkhondeh, Taste of Silent Birds, 2007, © Ghada Amer/Reza Farkhondeh
Collaboration with Reza Farkhondeh
My collaboration with Reza actually started in 2000. Reza stopped painting for himself and he was very depressed. He used to come to my studio all the time, right across the street from here, just to hang out, do nothing. He slept and looked at the birds outside. And then when I was traveling, he used to come to the studio anyway. I was traveling a lot, and one time, I left my painting like this [blank primed canvas] and when I came back it was very different: he had painted on them uninvited! [Laughs]

He's a big inspiration for me. I'd draw on [a canvas] and then he'd come and change it. So after two or three years, I told him I think this is a collaboration. He totally refused the term [but I insisted] it is a collaboration. I invented the acronym RFGA. And in 2005 or 2006, he finally agreed that it's collaboration. He still doesn't want to sign the paintings -- although we continue doing them -- but he would sign the drawings that we do together.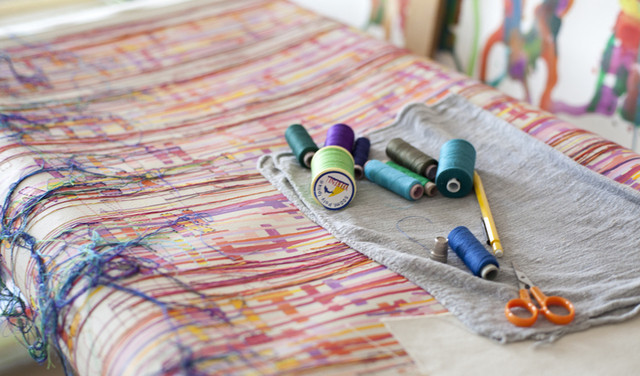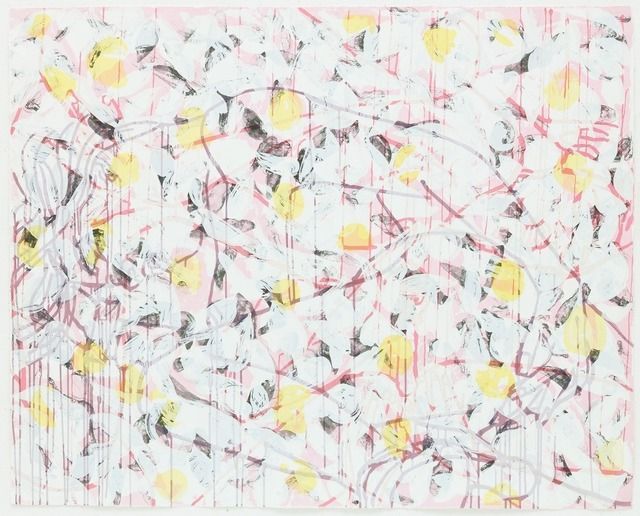 Ghada Amer & Reza Farkhondeh, Bird Herder, 2008. © Ghada Amer/Reza Farkhondeh
Preparation For a Painting
I stretch, prepare, I paint, I draw and then I stretch again, and then I glue it.


I prepare my own canvas. I buy my stretchers, and I buy raw cotton duck. I stretch the raw canvas on my stretcher then put four to five coats minimum (maximum 10 coats depending on the effect I want to achieve) of gel medium; the first coats are very diluted and progressively thicker. Then I add four coats of Titanium white, from very diluted in the beginning to normal consistency at the end. Then either Reza or I paint the canvas. (If it is an 'RFGA' painting, it is Reza who paints it; if not it is myself.) Then I draw the text or the female figures. I then un-stretch the canvas, then sew it. I do not sew from the back of the painting. It just looks so, but it is sewn from the front. Then after the sewing is done I re-stretch it and glue the thread with gel medium.

All of my work involves a lot of stretching. Even if the canvas and the bars are the same size they're always different -- it's always like one-eighth of an inch off. So when I stretch I always keep a reference, even the direction of the canvas. If you try to reposition it after upside-down, it's not going to fit.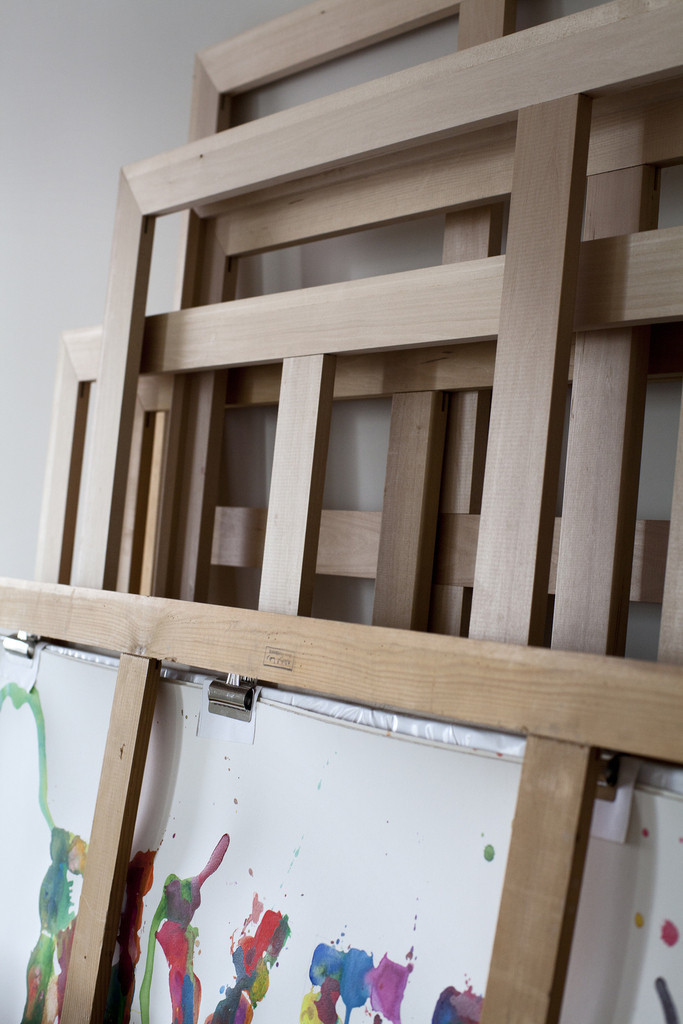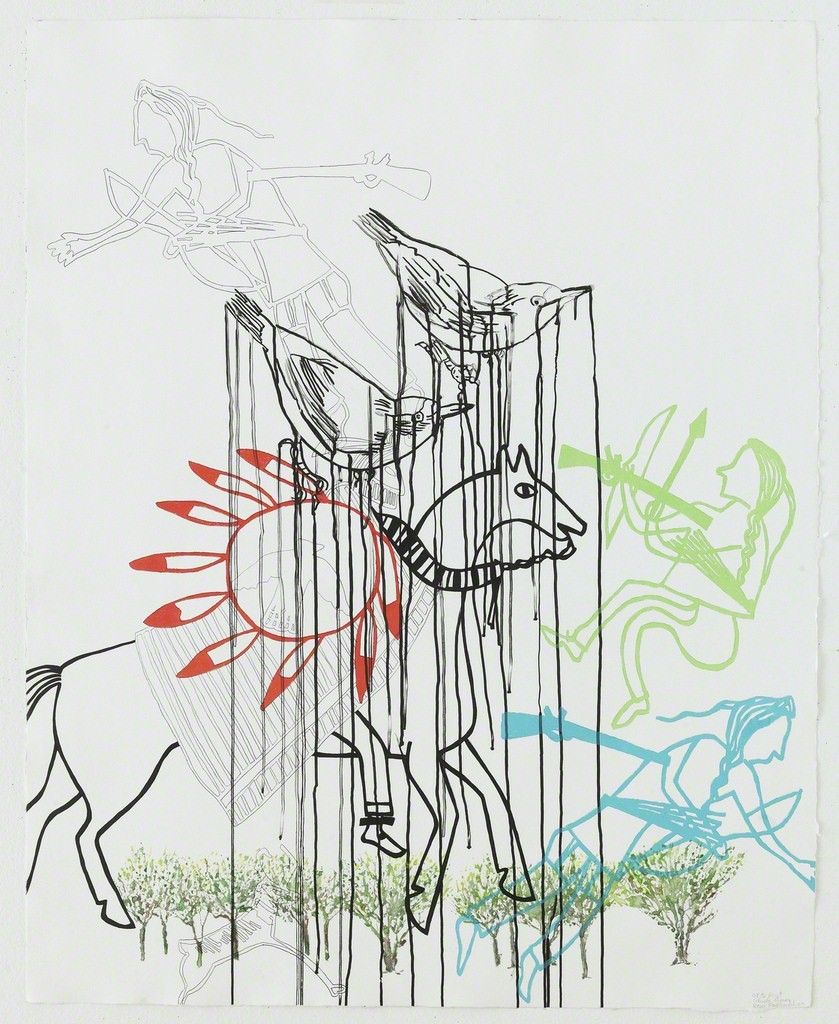 Ghada Amer & Reza Farkhondeh, Crazy Horse, 2007. © Ghada Amer/Reza Farkhondeh
Inspiration Wall
"This is my studio installation -- it's not a mood board, it's just art inspiration. For me it's internal. I prefer to have this than just a painting that I've done. You know? [Laughs] It makes me laugh, makes me happy."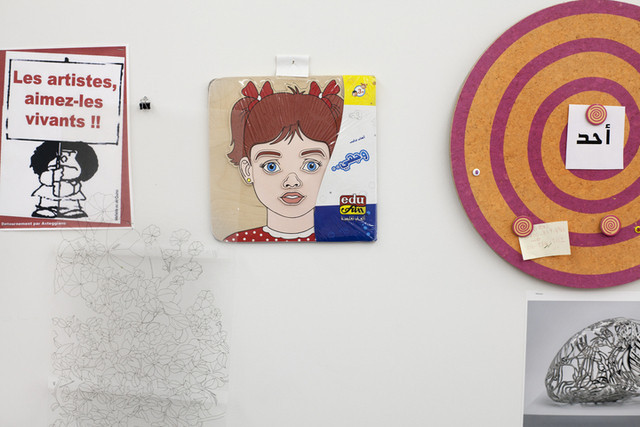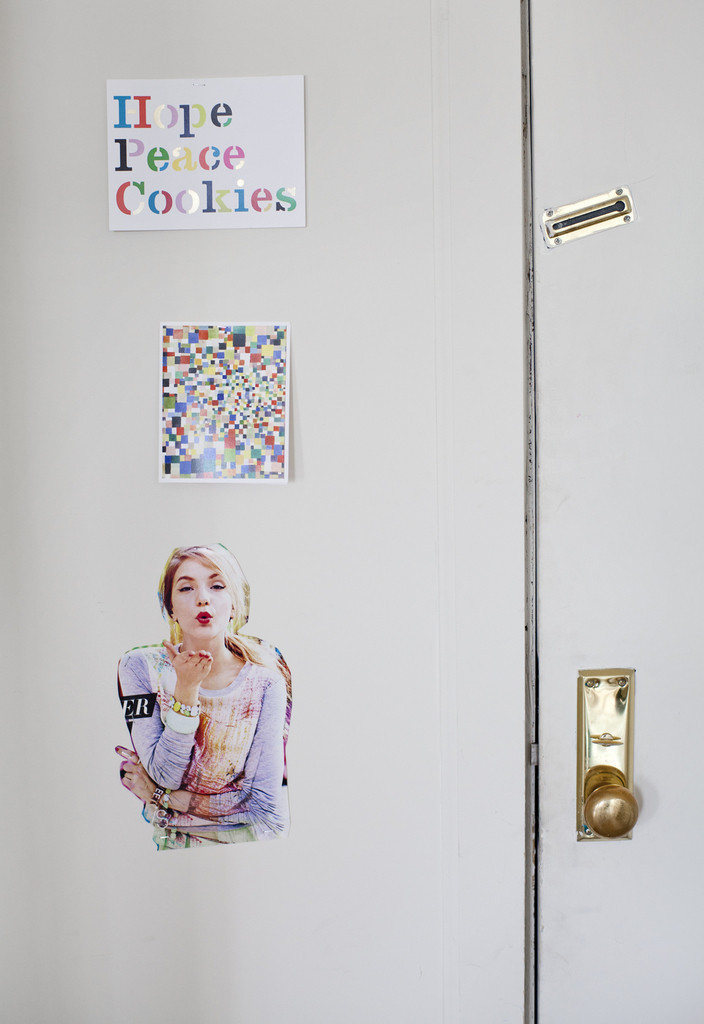 Thread-Covered Stools
The chairs were very wobbly and I hated it, so I was like 'I'm going to fix this with glue' and then I added leftover string from my paintings. They became extremely sturdy after that! So when I have time, I use the thread I have collected to apply to the chairs. One day I will cover the whole surface and may be on the top part I will make a painting!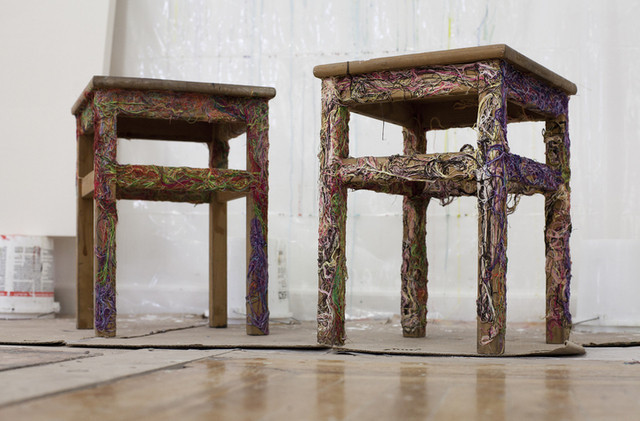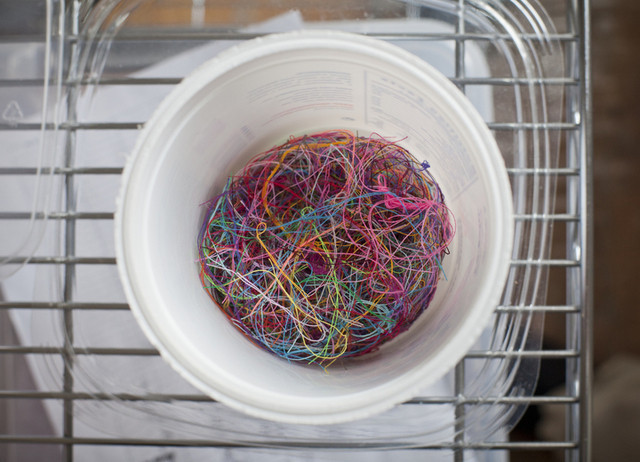 About Ghada Amer:
Ghada Amer has received widespread attention for her thickly embroidered canvases that feature fragmented erotic imagery sourced from pornographic magazines. Originally produced to inspire lust, in Amer's hands the pornographic images are transformed into meditations on the private nature of ecstasy. "I liked the idea of representing women through the medium of thread because it is so identified with femininity," she once said. "I wanted to 'paint' a woman with embroidery, too." Otherwise known as a painter and sculptor, Amer has dedicated her career to a highly personal exploration of femininity in various contexts. Her 2008 mid-career survey at the Brooklyn Museum included paintings, sculpture, illustration, performances and installation pieces that explored the mysteries of love, war and violence. Read more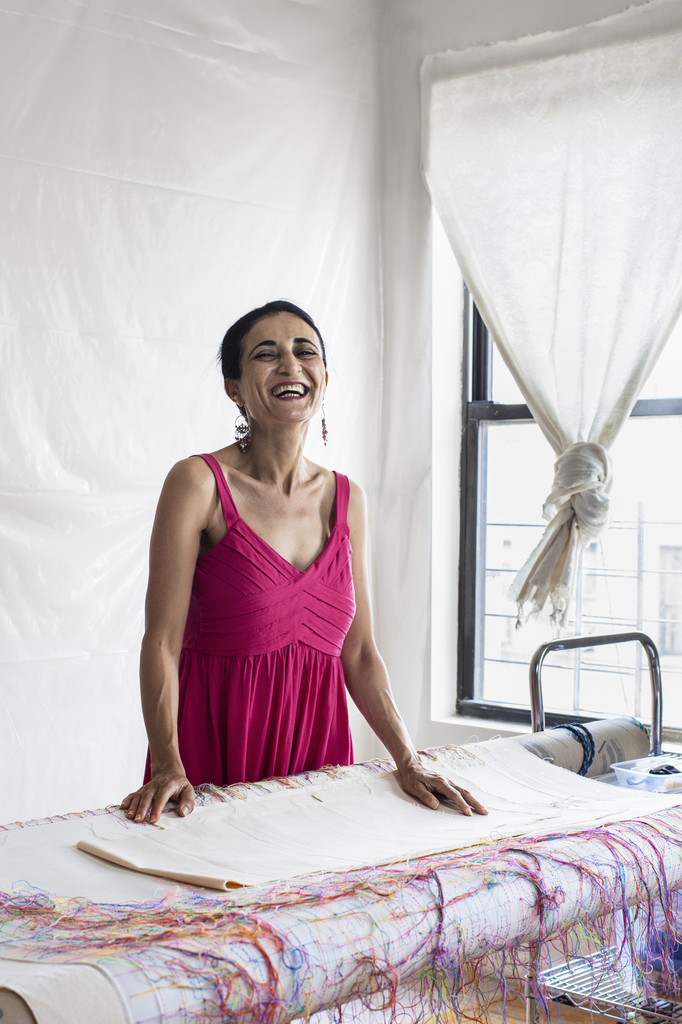 Why Collect a Ghada Amer?
For any collector interested in the foremost female contemporary artists, Artsy has propped open the door to Ghada Amer's sixth floor artist studio to offer a sneak peek and exclusive sale of works from the renowned artist's collection. But why collect Ghada Amer? Read more.
Studio photographs by Alec Bastian.