Two weeks ago I saw a beautiful exhibition of late German-born Swiss art Dieter Roth's table tops or tischmatten at Hauser & Wirth New York. Roth was an phenomenal character, a 1950s and '60s radical individualist whose extensive practice included artist's books, prints, drawings, sculpture, graphic works, assemblages, sound recordings, film, music, poetry and sprawling installations.
To mark what would have been the artist's 80th birthday, Roth's son Björn -- who began working with his father on his artmaking when he was only 15 (he's now 50) -- organized an exhibition with curator Barry Rosen, bringing together for the first time a representative selection of the large gray sheets of cardboard the artist used to cover the work surfaces of his various studios and living quarters in Iceland and Switzerland in the 1970s to his death in 1998. The tabletops resonate in the intimate space of Hauser & Wirth's townhouse home on the Upper East Side. Pens, tape, paint, food, lacquer, Polaroids of his family and other pieces of Roth's intimate life splashed, tacked or veneered to the table tops. A hardened pool of wax, scribbles, intricate drawings, dried remnants of food; calculations and gashes from a box cutter are the only remnant of the artist on a few of the slate-colored table top. Several of Roth's desks were flown over and reconstructed in the upstairs galleries. His tools -- brushes and paints, pens, etc. -- and his original chairs are all part of the exhibition, a very personal view into the artist's intimate space and personal practice. Time, decay, and the diary were common subjects for the artist.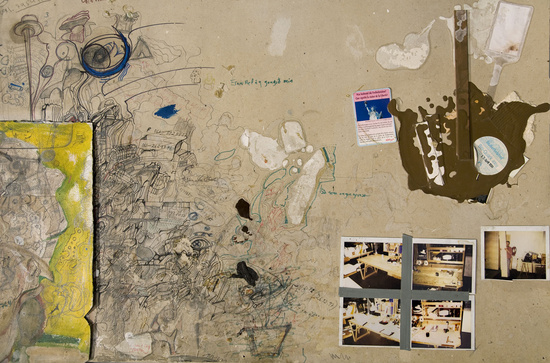 Tischmatte, St. Johanns-Vorstadt (detail), 1995-2007.
Watercolor, ink, pencil, pen, marker, industrial paint, glue, varnish and collage (polaroid, tape, garment tags, paper, staples, plastic) on chipboard. 2 parts, each: 23 x 36 in, 1 part: 15 x 18.5 in. Photo: Abby Robinson.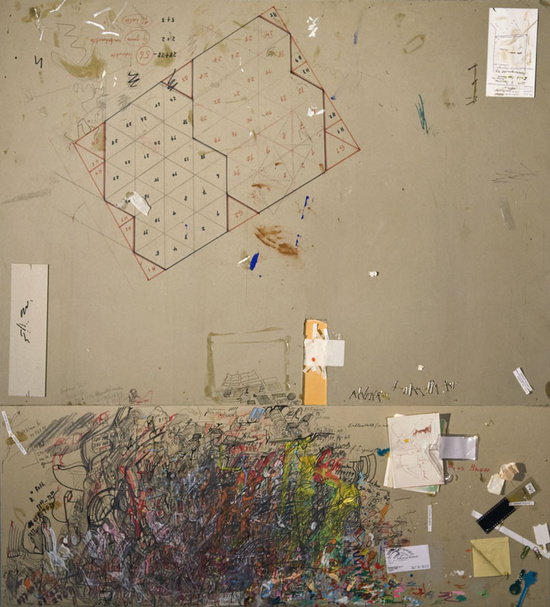 Matte vom Bürotisch Hegenheimerstrasse, Basel, 1996-1997.
Collage of pencil, marker, ink, acrylic and oil paint, printed matter and scraps on chipboard mounted on plywood, 50 3/4 x 45 5/8 x 1 5/8 in. Photo: Abby Robinson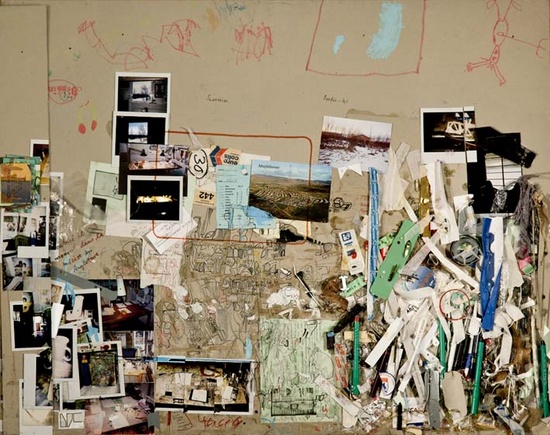 Bürotisch-Matte, Bali-Mosfellssveit, 1994-1996.
Collage of pencil, water color, acrylic and oil paint, Indian ink, marker, photos, scrap and drawing tools on gray cardboard mounted on plywood, 33 1/8 x 41 1/4 in. Photo: Abby Robinson.
The artist's wandering mind and a restless hand is depicted beautifully on these personal tischmatten. The serene environment for the exhibition is far from the artist's practice (and personality) but provides the setting for an intimate story, a memorial of a father from his son.
The exhibition is accompanied by a gorgeous new book, which includes an essay by critic and art historian Andrea Büttner and an introduction by Björn that struck me (and will for anyone who has lost a parent and has fond memories he or she holds on to). But alongside fond memories, Björn also has an incredible collection of material items that will allow his father to live on and he has given them to us, the viewers, for this exhibition.


Tischmatte aus der Hammerstrasse, 1988-1989.
Pencil, acrylic paint, ink, glue, grease and collage (printed and numbered adhesive labels, Polaroid photographs, paper, matches, cigarette stubs) on chipboard on plywood,
2 parts, each 33 1/2 x 45 3/8 in. Photo: Abby Robinson.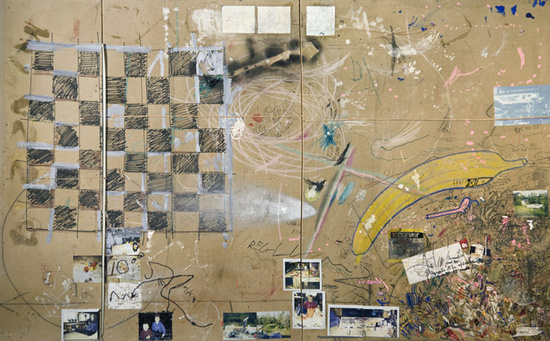 Kaffeetisch-mit-Telefonecken-Matte, Bali/Mosvellsveit (with Björn, Karl, Vera Roth and others), 1990-1993
Pencil, marker, ink, acrylic, oil, spray paint, grease stick, glue and collage (printed matter, tape, color photographs and polaroids) on chipboard and glued plywood, 37 3/4 x 59 1/2 x 2 3/8 in. Photo: Abby Robinson.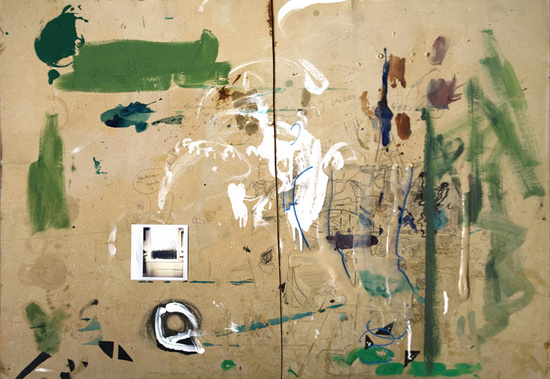 Bürotisch-Matte, Bali/Mosfellssveit, 1988-1989
Pencil, acrylic paint, oil paint, ink, marker, glue, varnish and collage (Polaroid photograph, adhesive plastic tape, paper) on chipboard and painted plywood, 29 1/4 x 41 in. Photo: Abby Robinson.
Björn's introduction in the exhibition's accompanying book:
For my father Dieter's 40th birthday, my sibs and I baked a carrot cake; I was nine years old. The cake was brought to the birthday boy and tasted with cocoa, and the ceremony was held on a work table in the studio, on clean gray cardboard.

The cake tasted terrible although it looked so golden and delicious.

It was a great disappointment. The cocoa was spit out on the clean cardboard, along with bits of the cake.

Then Dieter said: "Now we are going to frame the rest of the cake under glass because it is the most beautiful cake I've ever seen, and we're going to make postcards from the cardboard with these fine splatters."

It was a happy nine-year-old boy who later strolled about with his postcard, knowing about the birthday-cake picture that had been named "Sol", hanging on the wall.

As the birthday boy said, "It will be still more beautiful in a hundred years."

The last two decades of Dieter's life, I worked closely with him on art. However, I hardly remember us talking about "works" or "paintings", and I don't think the word art was ever used. The studio was inventory, and the works were materials. "Now we have to root around in the inventory," he'd say when the time had come to work on something from our studios.

Everything was nevertheless handled precisely and with respect -- whether it was leftover paper or oil paint, a paintbrush or a canvas. The studio was at once a workplace and an apartment. There things flowed together or became isolated. It was a kind of laboratory, to search for beauty in nothing, and a workshop for assembling findings.

The findings often came of themselves, like independent phenomena, like the material nylon that came into being by mistake.

Our studios were like "safehouses". We could always find shelter there from various kinds of intrusion. In Mosfellsbær, Seydisfjördur, Hamburg, Basel, Unterterzen and Vienna.

Different places and different ambiences, but with one common element: the work tables and place mats "Tischmatten".

Shortly before Dieter died, he came to me and asked: "If we are on some kind of train ride, would you continue even if I hopped off at the next station?"

I answered that nothing was more obvious because it was the only thing I knew.
Rooting around in the inventory.

-- August 2010. Björn Roth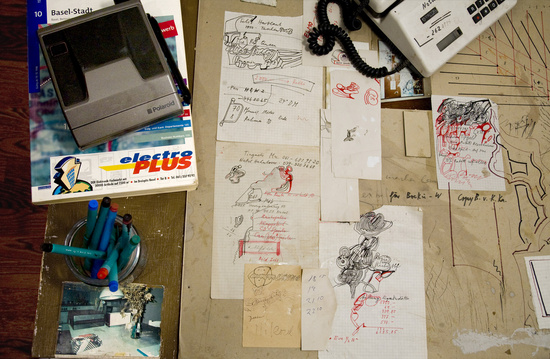 Table Hammerstrasse - St. Johanns-Vorstadt (detail), 1990--2007
Watercolor, ink, pencil, glue, marker and collage on chipboard mounted on plywood; 2 sawhorses, 2 chairs, 2 lamps, telephone, answering machine, 13 glass jars, markers, brushes, scissors, utility knife, plastic ruler, power adapter, box of watercolor tubes, clear tape, plastic right angle, spray can, bottle of gouache, 35 3/8 x 106 1/4 x 3/4 in.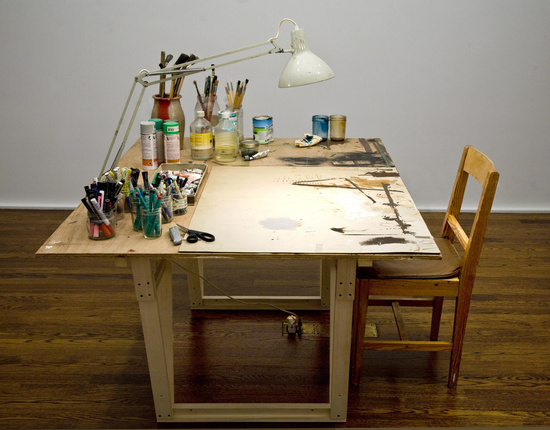 Table Hegenheimerstrasse, 1980-2010
Acrylic paint, pencil, felt tip pen, marker, ball pen and collage (plastic adhesive tape, transparent plastic foil) on chipboard; 2 sawhorses, chair, lamp, ceramic jar, glass jars, brushes, markers, pens, scissors, utility knife, paint cans, spray paint can, paper towel, cardboard tray of oil color paint, 48 x 64 3/4 in. Photo: Abby Robinson.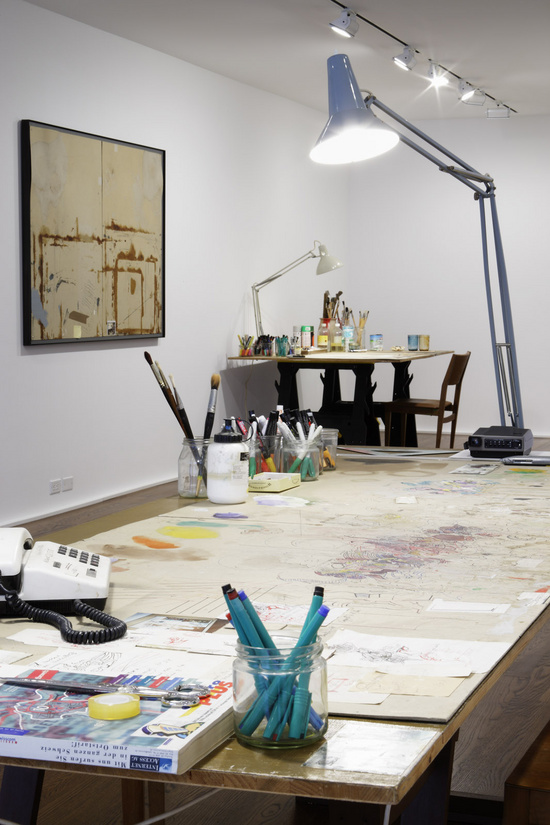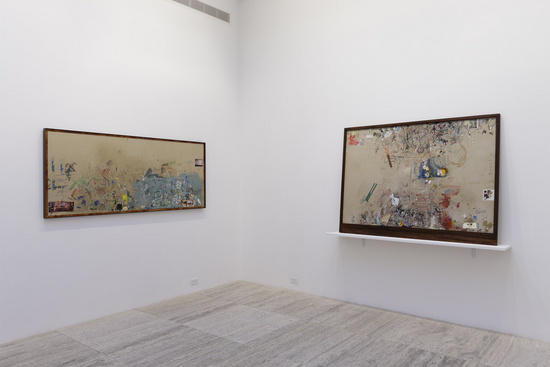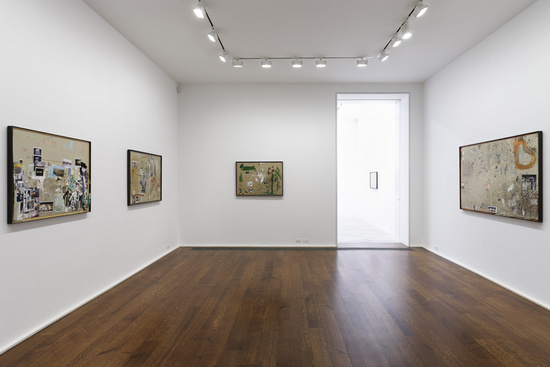 Above: Installation views