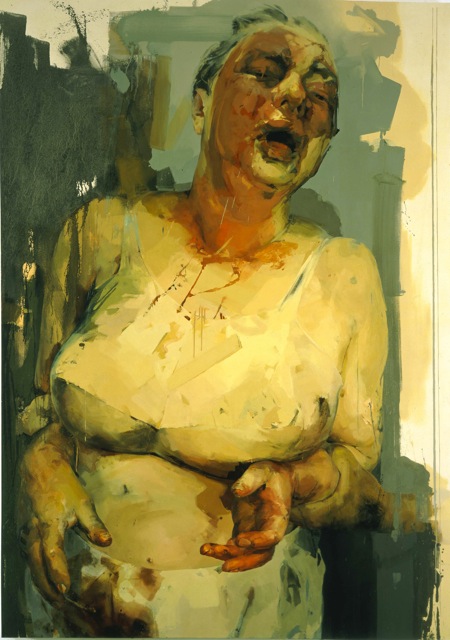 Jenny Saville, Pause, 2002-03. Oil on canvas, 10 x 7 ft / 305 x 213 cm.
Exhibitor: Thomas Gibson Fine Art
TEFAF is Dreamy. Let me explain why.
This was my first year visiting the European fine art fair TEFAF, and let's just say that I've turned a corner on recent negative feelings about art fairs. After the onslaught of contemporary art fairs that took place in New York earlier this month--an exhausting ordeal that didn't feel entirely rewarding--attending another one wasn't high on the list of things I wanted to do. But at the end, I'm grateful that I got on the plane and made the journey to Maastricht because I must say (and potentially gush) that this fair is a dream come true in terms of art fairs. Why?, you ask? An answer in a few parts:
First: Nearly every work or object exhibited is of museum quality. This is primarily because TEFAF has a strict vetting system. The objects on show are vetted beforehand by 29 vetting committees, made up of 168 international experts in their fields who assess each work in terms of quality, authenticity and condition. If a work of art does not meet the exacting standards of quality that TEFAF Maastricht sets, it will be removed from the fair.
Second: While TEFAF covers a vast array of fine art and objects--from Old Master paintings to works by 20th century masters like Picasso, Dali, and Dubuffet; furniture from the 16th to the 19th century, medieval to modern sculptures, textiles, Oriental art, antique jewelry, ethnic and pre-Columbian art, European, Chinese and Japanese porcelain, ceramics, glass, silver; Old Master drawings and limited edition prints, 19th and 20th century works on paper, watercolors, antiquarian books and manuscripts, photography and Japanese prints and even a compact but refined design section, phew!--it does so in an incredibly well-organized way. It is surely a lot to cover but at this level of quality and with such careful consideration that has obviously gone into the layout and organization of this fair (granted, this has been refined over the three decades that the fair has been running), it doesn't feel as overwhelming as it sounds. In fact, going to TEFAF is a very pleasant and enriching experience.
Finally: The crowd and environment is sophisticated, thus giving the work the respect it deserves. Instead of treating it like a commodity, art is treated as an object to be admired and thought about (yes, ultimately a commodity to be sold but the business side of the art world is not splayed out like bloody innards, as is the case at most art fairs). The booths and public areas are well designed, the lighting is gentle and kind to the work, the atmosphere is refined.
And so the overall experience is a nice one. Like a museum, it's a place that you can spend the good part of a day. When not looking at art, you can be dining at one of two sit-down restaurants, enjoying fine wines or a cappuccino, eating at a raw bar or sushi bar (both situated right inside the fair). You could easily spend hours upon hours at TEFAF and not feel as if you've been sucked into a black hole of airline food and garish lighting.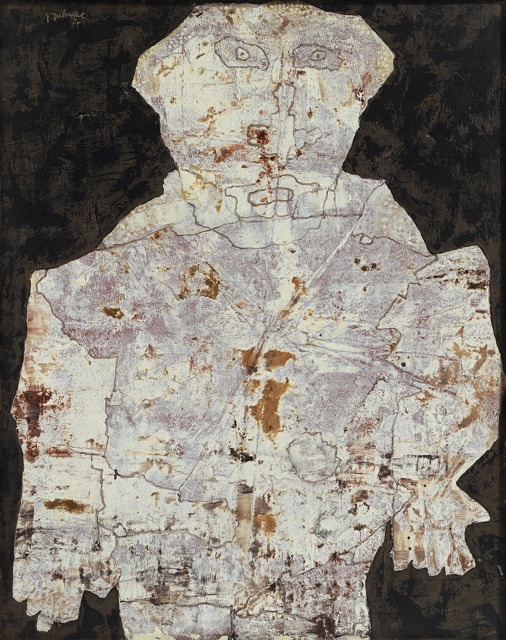 Jean Dubuffet, Le Géographié, 1955. Oil on canvas
Exhibitor: Galerie Karsten Greve AG
So here it goes. I'm going to give an overview of the 2011 edition of TEFAF in the form of a 'BEST OF' list.
BEST OF TEFAF, 2011
Galerie Krugier & Cie has an impressive number of intriguing, lesser-known Picasso works on paper, including those made with Indian ink and gouache, paper cut outs, and etchings, as well as an Indian ink work by Dubuffet, and standout painting "Femme a la robe verte" c .1946, by Picasso.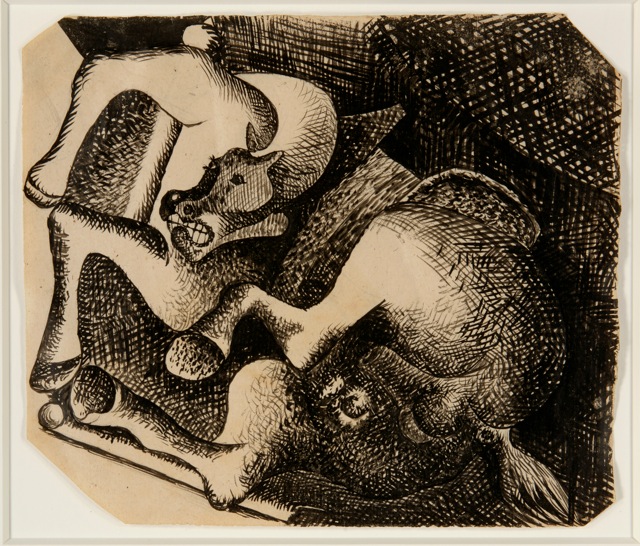 Pablo Picasso, Courses de taureaux, 1934. Indian ink on paper, 21.5 x 25 cm.
Exhibitor: Galerie Krugier & Cie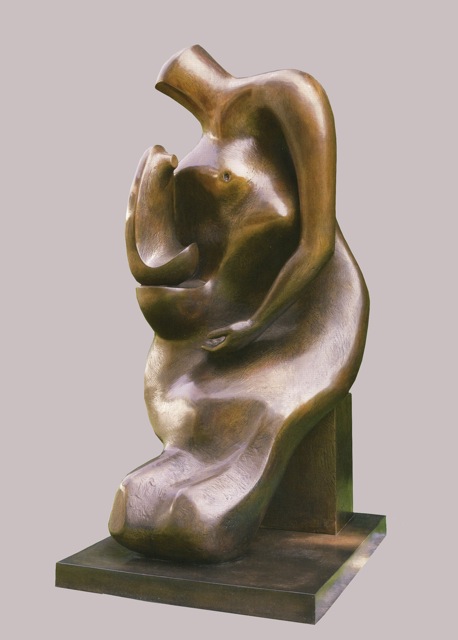 Henry Moore, Mother and child block seat, 1983. Bronze, with brown patina, 244 cm / 96 inches high, edition 9/9.
Exhibitor: Landau Fine Art, Inc.
It shouldn't be a surprise that the Landau Fine Art booth, from Montreal, is a well-curated booth. Standout works are the de Chiciro "Trovatore," c. 1955; Jean Dubuffet's "Henry Michaux acteur Japonais," c. 1946; a major work from Dubuffet's earliest period "Dechaumage au Brabant," painted in 1943, which apparently has been hidden in a bank vault for more than 20 years. There is also section of the booth dedicated to a small collection of works by Joan Miró , made between 1924 to 1967. The earliest -- a pencil, oil and gouache on board (1924) -- is simple and elegant; and an early sculpture by Miró, dating back to 1945, is also on view -- "Oiseau Lunaire," made from olive wood and apparently not seen publicly since 1973. Important sculptures at the booth also included two works by Henry Moore, notably a monumental bronze sculpture titled "Mother and child block seat," one of only nine of these sculptures, made three years prior to the artist's death.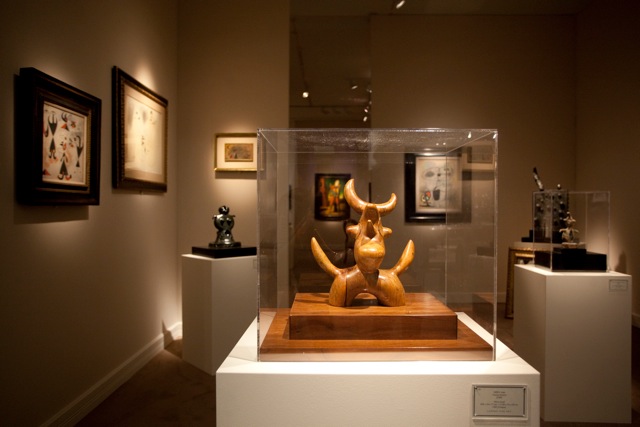 Landau Fine Art, Inc, Montreal (stand 414)
Oiseau Lunaire by Joan Miró (1893-1983), exhibited in a Miró room in the Landau stand. Photo: Loraine Bodewes.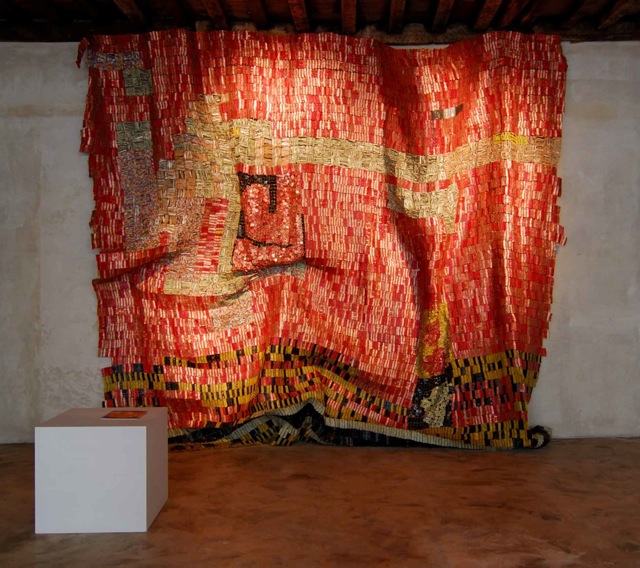 El Anatsui, Flag for a New World Power, 2004. Aluminium and copper wire, 500 x 550 cm.
Exhibitor: Axel Vervoordt
Upon first visit, I had mixed feelings about Axel Vervoodt's booth. I was thrilled (and surprised) to see an El Anatsui work in the Antiques section. Made out of liquor bottle tops and sleeves and copper wire, the work was draped beautifully on the outside of the booth, calling me in to what a rather stuffy-looking living room setup where ancient Roman busts and antique objects mingled with Heinz Mack reliefs, an Alexander Calder mobile and two gorgeous black-and-white Victor Vasarely paintings. However, this initial discomfort eventually eased as I spent more time in the booth (visiting a second and third time). Eventually the conversation between antiquity and Modernism felt natural and even dynamic.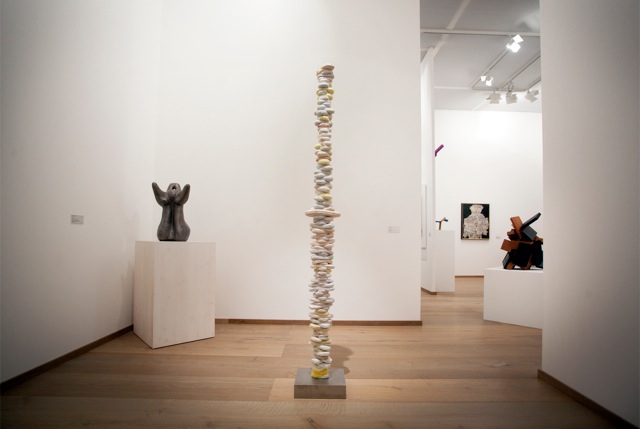 Photo: Loraine Bodewes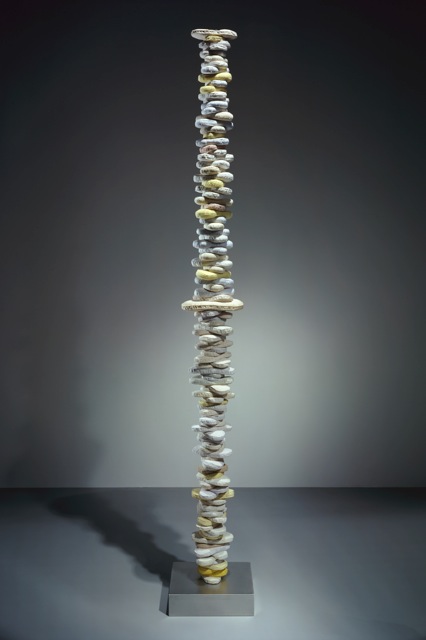 No title by Louise Bourgeois, 2002. Cloth and steel, Stamped on the inner side of the pedestal.
Exhibitor: Galerie Karsten Greve AG
At Galerie Karsten Greve, the front part of the booth was dedicated to Louise Bourgeois works, including "The Family," 2007 and "The Good Mother," 2006, both stunning gouache on paper works, alongside fabric works like a work comprised of small fabric pillows stacked to about six-feet high, c. 2002, and a bronze sculpture from 1960. In the back, three newish (2009) and one older John Chamberlain sculptures -- all painted and chromium plated steel that looked folded in on itself -- were on display, and Joseph Cornell's "Blue Sand Box" (c. 1950) was also for sale, beautifully delicate and subtle.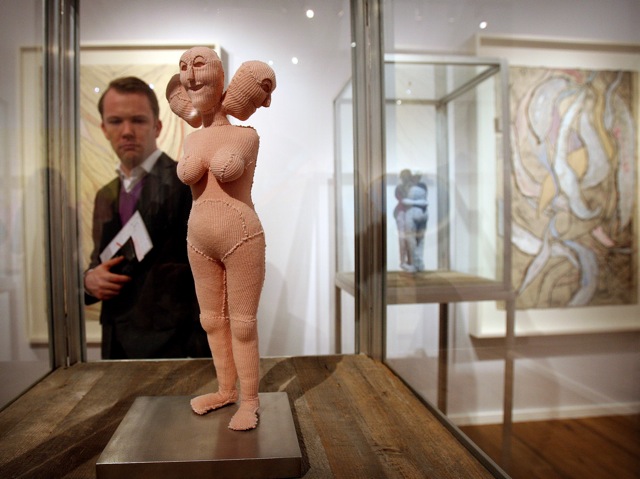 At Kukje Gallery/Tina Kim, Joan Mitchell's "Afternoon," 1960-70, drew me in and Louise Bourgeois' "Couple," 2001; "Les Fleurs #5," 2009, "Hysterical," 2001, and "Smell of Eucalyptus #3: A Mirror of Me!!!," 2008, drew me in further. The Anish Kapoor stainless steel-and-lacquer concave mirror and the Damien Hirst works, though, feel like side notes compared to the female artists' works in this booth -- including, as well as Mitchell and Bourgeois, a stunning acrylic and embroidered work by Ghada Amer. However, Korean artist Kibong Rhee's new work stood out along with the women artists. Titled "There is no Surface," 2011, the large scale work was essentially an inverse painting that he made with mixed media and acrylic painted on to Perspex or Plexiglas.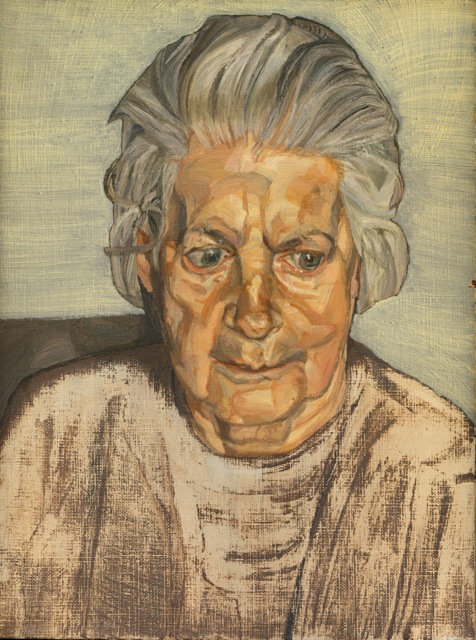 Lucian Freud, The Painter's Mother, 1973. Oil on canvas, 35 x 27.2 cm.
Exhibitor: Galerie Daniel Blau
Galerie Daniel Blau, of Munich, has one of three close-up portraits that Lucian Freud painted of his mother in 1972-73. "The Painter's Mother" was always Freud's favorite and is on public view for the first time with a price of £2.8 million. Haunch of Venison sold an iconic three-dimensional 'painting' by Frank Stella from his Polish Village series (1970-73) to Dutch collector, titled "Nowe Miasto III"; and at Sperone Westwater, an intriguing Charles LeDray carved oyster shell "Mother of Pearl" (1996) is sure to go home with a collector or institution by the end of the fair.
At photography gallery Kicken Berlin, works by Frantisek Drtikol, Helmut Newton, Ansel Adams, Man Ray, and a stunning photogram by Laszlo Moholy-Nagy stood out, as well as a 1972/73-made collage by Hannah Höch.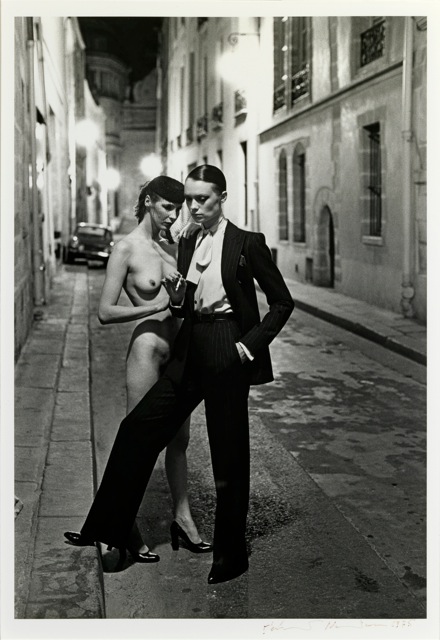 Helmut Newton, Rue Aubroit, Fashion Model & Nude, 1975. © Helmut Newton Foundation, courtesy of Hamiltons Gallery.
Exhibitor: Hamiltons Gallery
Upstairs, at TEFAF Paper, an exhibition of Helmut Newton's photographs at Hamiltons Gallery's booth is very sexy--both Newton's risqué photographs and also the dimly-lit booth that houses them. The exhibition comprises of rare prints from the Helmut Newton Estate, including "Rue Aubriot, Paris," 1975, "German Office Love," 1977, and images I had never seen before, including "Me and Courbet, Musee d'Orsay, Paris, 1996" and a stunning work of his wife June Newton sat at their kitchen table with her shirt unbuttoned, smoking a fag--looking entirely glamorous.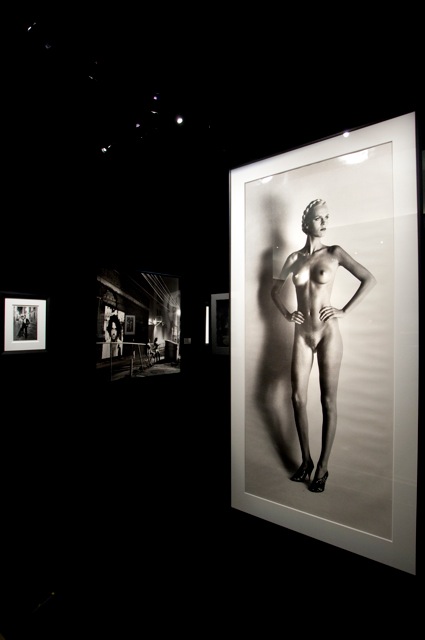 Hamiltons Gallery, London (stand 713).
Photo: Loraine Bodewes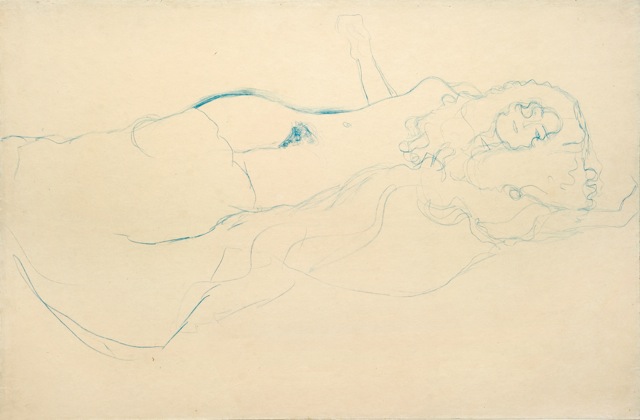 Gustav Klimt, Reclining nude with long hair, c. 1907. Blue crayon on paper, 36.8 x 55.8 cm.
Exhibitor: Wienerroither & Kohlbacher
Wienerroither & Kohlnacher, also in the TEFAF Paper section, has the most stunning drawings from German-Austrian artists including Schiele, Klimt, Afred Kubin, George Grosz, Lyonel Feininger, Oscar Kokoschka, and Max Beckmann. There is also one of Belgian artist George Minne's small "Kneeling Youth" sculptures in marble by, c. 1901, which came from the fountain in his hometown Ghent.
I was entranced with all the exquisite jewelry and antiques that are represented at TEFAF. At Gregg Baker Asian Art, the byobu (Japanese folding screens) are absolutely stunning, and at Kunsthandel Glass' booth, the gilt leather wall hangings are breathtaking. There's Indian jewelry and Baroque pearls at Van Gelder, silk kesi panels at Jacqueline Simcox Ltd., and Renaissance books and jewelry at Chicago gallery Les Enluminures.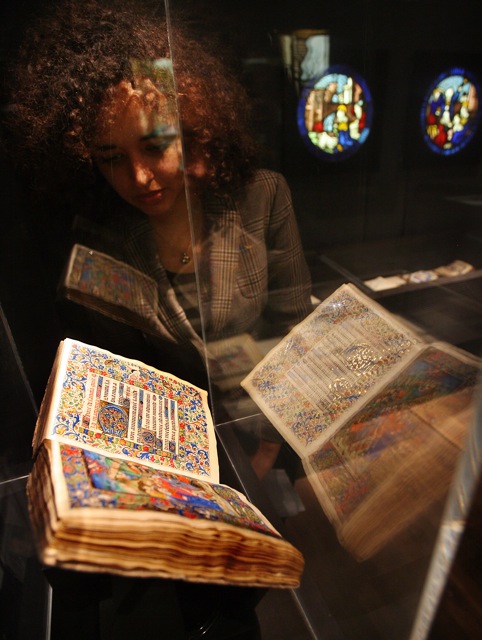 Photo: Loraine Bodewes
New York dealer Michele Beiny is showing an object designed and created by Salvador Dali and executed by Carlos Alemany--a gold box veneered with lapis lazuli and studded with diamonds. (According to Beiny, the stunning piece was commissioned by Hanns Weinberg in 1971, making it one of the last jewels created by Dali, and, until now, it has always been in the Weinberg family's collection.)
In the Paintings section, Kunsthandel P. de Boer drew me in with the Jan Brueghel the Younger "bouquet of Flowers in a Stoneware vase," and at Jack Kilgore & Co., Inc. Emile-Adelard Breton's "Village at Dusk" held me in front of it (that is, until the boisterous crowd waiting for freshly shucked oysters at opening night out-crowded me). At Dickinson Gallery, Pieter Breughel the Younger's "A Winter Landscape with the Massacre of the Innocents," stood out, and the incredibly 16th and 17th-century portraits at The Weiss Gallery, London, were jaw-dropping, including my two favorites, a painting by Frans Pourbus the Younger (1569-1622) "An Unknown Girl with a Parrot," and a portrait of Edward Talbot, the 8th Earl of Shrewsbury and Waterford by Hieronimo Custodis (1561-1617). At New York dealer Richard Feigen's booth, visitors stood around La Liberté, a rare sculpture by Gustave Courbet, which was rediscovered after being lost for more than 130 years (c. 1875). It seemed like a steal at €684,000.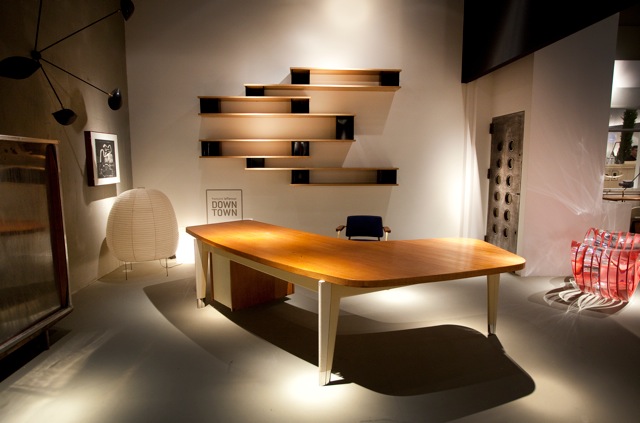 Galerie DOWNTOWN François Laffanour's booth, including Jean Prouvé desk, 1948.
Photo: Loraine Bodewes
TEFAF's design section, established as a separate section at the fair two years ago, was ripe with gems, including a Jean Prouvé desk circa 1948, made from steel and oak, for sale at Galerie Downtown François Laffanour of Paris, alongside pieces by the MEMPHIS group, a Milan-based collective of furniture and product designers active in the 1980s. At Arc en Seine, also of Paris, a gorgeous Cubist-inspired Eileen Gray screen (c. 1925), comprised of white lacquered blocks revolving on steel supports, stands out. New York gallery Sebastian and Barquet has a stunning cabinet by Carlo Bugatti, a fireplace by Isamu Noguchi, and an early Modernist leather and glass chair by an English designer Denham Maclaren (circa 1930)--one of three of a kind (another of these chairs, with a zebra skin upholstery, is part of the collection at the V&A Museum in London). Highlights also include two early models of Marcel Breuer's B11 chair, produced in 1927 and among the first designs to use tubular steel at Galerie Ulrich Fiedler.
Not in the design section but also interesting (and controversial) are a pair of Napoleonic 'campaign chairs' at Perrin Antiquaries, France, made of polished steel, gilt copper and leather. These are quite unusual in their function-over-form minimal appearance, not only for being quite advance for their time but also not characteristic of the ornate and often highly decorated style that is normally associated with Napoleon.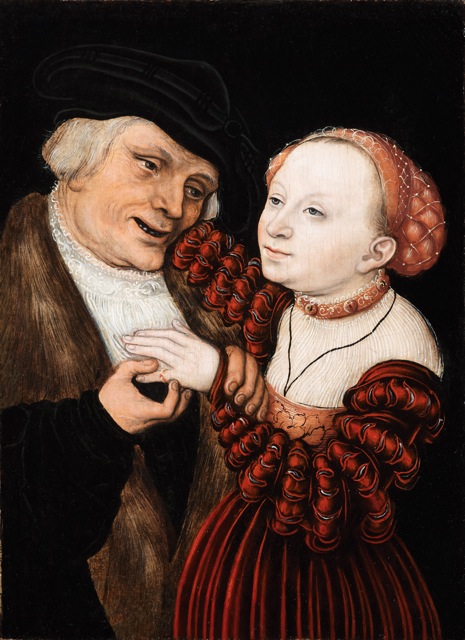 Lucas Cranach the Elder and studio (Kronach 1472 - 1553 Weimar), The Ill-Matched Lovers. Oil on panel, 7 ½ x 5 ½ inches (19 x 14 cm.)
Exhibitor: Bernheimer-Colnaghi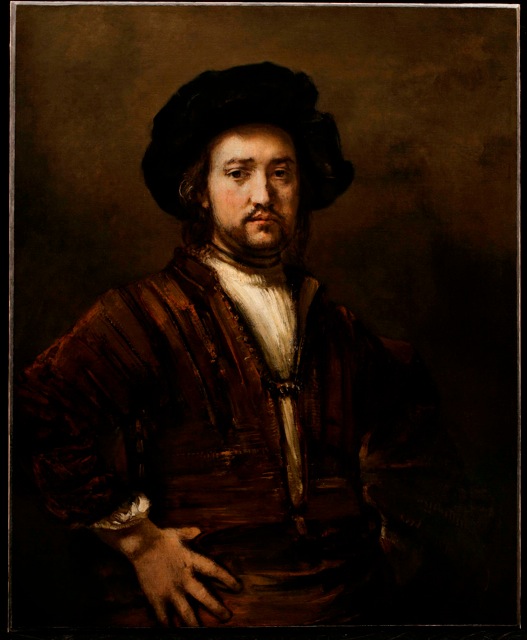 Rembrandt Harmensz van Rijn (Leiden 1606 - 1669 Amsterdam), Portrait of a man with arms akimbo, 1658. Oil on canvas , 42.25 x 34.25 in. (107.4 x 87 cm)
Exhibitor: Otto Naumann Ltd.
And we can't forget the sole painting by Rembrandt on sale at Otto Naumann of New York for $47 million, along with a pair of portraits of a married couple by Frans Hals dated 1637; "Mankind's Eternal Dilemma - the Choice between Vice and Virtue," which can arguably be called Frans Francken the Younger's greatest masterpiece; and at Senger Bamberg Kunsthandel, a depiction of the Virgin and child with the infant Saint John by Lucas Cranach the Elder.
TEFAF runs through March 27.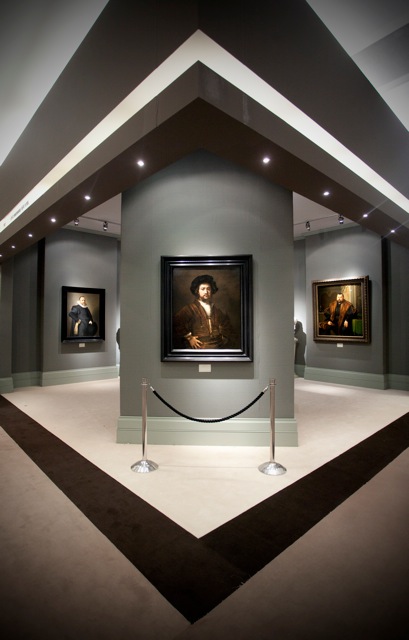 Otto Naumann, New York (stand 351)
Rembrandt painting portrait of a man with arms akimbo is prominently displayed in the front of Otto Naumann's stand 351. Inside the booth hang paintings by Frans Hals's Portrait of a Gentleman, standing three---quarter length, wearing a black costume and a lace ruff, holding a hat and gloves, and Georg Pencz's portrait of Sigismund Baldinger (1510-1558).
Photo: Loraine Bodewes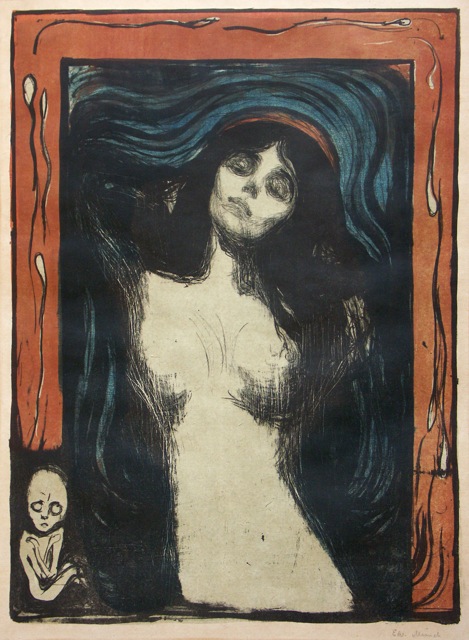 Edvard Munch, Madonna, 1890. Lithograph on paper, 60 X 44.1 cm.
Exhibitor: David Tunick, Inc.