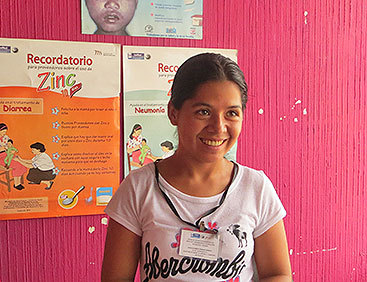 Sylvia, a community health worker in Guatemala, helps mothers in her community to treat diarrhoea with zinc and ORS.
In poorer countries and communities, where health needs are great but doctors and facilities are few and far between, community health workers often mean the difference between survival and death throughout a person's life. They are the front-line heroes of global health.
Millions of babies do not survive their first day of life, and many pregnant women do not survive labour and delivery. These deaths, though, are mostly due to reasons that are preventable. It is estimated that 800 women die every day from complications in child birth. We can change this, save these women's lives, and one of the best ways to do this is through community health workers.
Community health workers can help bring preventative services closer to the communities - as most facility care is not just around the corner - and, with supportive training, can even help with some treatment and emergency referrals. The health worker can give a pregnant woman her prenatal iron and folic acid supplements. This same woman will be able to reach the community health worker in the middle of the night when her child has diarrhea. Community health workers can also be part of emergency referral systems, for cases that need facility level care.
These health workers play a critical role in their communities and yet there is a shortage of skilled and supported health workers. According to the World Health Organization, around 1 billion people have no access - or very limited access - to health workers, with Africa having the greatest shortage, even though they are affected by 25 percent of the world's disease burden.
Despite this shortage, the people who are committed to delivering health care in their communities are inspiring. I recently met with Sylvia, a community health worker in Guatemala, who walked over an hour to follow-up and visit a mom to check if she had any problems using zinc and ORS to treat diarrhea. When the mom was not home, she returned that same afternoon, motivated by the praise she gets from the health centre staff and the recognition in her community.
There are many complicated problems that we do not know how to fix affordably, problems that people are busy studying and trying to find solutions for but there are many problems that we do know how to fix. We know what pregnant women need to have healthy and safe pregnancies and deliveries. We know what babies need to ensure their brains develop and immune systems protect them from infectious diseases so they can grow and develop properly. We rely on motivated and respected health care workers to deliver the best for their communities.
The world has been invited to the Prime Minister of Canada's Summit on Saving Every Woman, Every Child: Within Arm's Reach from May 28 to 30. During these three days, decision-makers from all parts of the world's community - countries, UN, private sector, foundations and NGOs - are looking at what has worked to reduce maternal and child deaths.
Canada is a world leader in promoting the health of women and children in developing countries. The 2010 Muskoka Initiative pushed prioritizing the health of mothers and children, and the Micronutrient Initiative was one of 28 Canadian organizations that received support from the Muskoka Initiative to reduce deaths of young children and mothers in developing countries. Many of these life-saving interventions, such as zinc and ORS, will travel the last mile in a health worker's satchel, to be hand delivered to caregivers in some of the most vulnerable and isolated communities.
More importantly, decision-makers are making a plan to reach all women and children who are currently dying from a lack of very basic and inexpensive remedies. What comes out of the Summit will be felt around the world and hopefully support and recognition will be generated for by the health care workers delivering basic health care to the very people the Summit wants to reach.