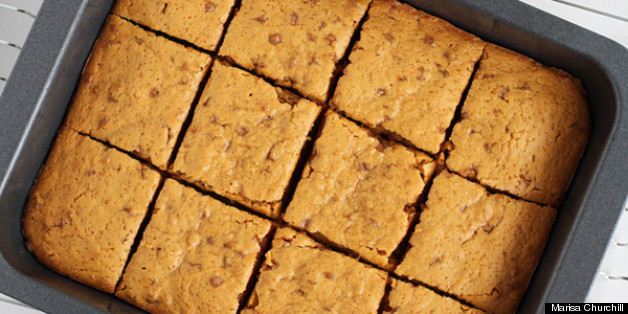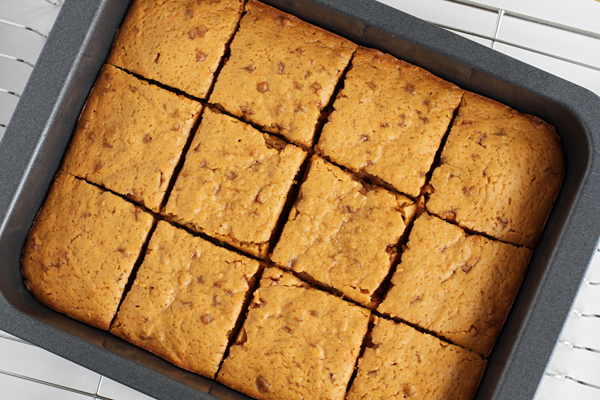 Watch out brownies! There's a new kid in town. While blondies have always played a distant second to their darker inspiration, this year chocolate is taking a back seat. As blondies begin to pop up in pastry shops around the country, we are finally getting a taste for why blonde may sometimes be better. Although I am a chocoholic, I must admit that I'm liking the blondie trend. As I recently discovered, the delicate flavor of blondies makes them the perfect canvas for highlighting more subtle flavors. In fact, I have been so inspired by blondies lately that I decided to experiment. I wondered what unique flavors would be lost in a traditional chocolate brownie, yet would shine through in a blondie? I settled on using a batch of my salted bacon toffee to find out.
A good batch of bacon toffee, in my opinion, must have balance. The sweet-buttery toffee should give way first to salt, then smokiness, and lastly the earthy flavors of the bacon. The combination should be subtle, slightly reminiscent of bacon dipped into maple syrup. In the past I have coated the toffee with milk chocolate. So I assumed before I began that the brownies would outshine their opaque counterpart. Much to my surprise, I was wrong.
For my brownies I like to use Dutch processed unsweetened cocoa and a blend of milk chocolate and 65 percent couverture. I assumed that the rich chocolate flavor would be a great backdrop for the chunks of buttery toffee and smoky bacon. Instead, the flavors of the toffee were completely lost. The saltiness came through, but the rest of the flavors vanished, overwhelmed by the intense chocolate flavor of the brownie. At first I decided that my ratio of chocolate to toffee must be off. So I baked another batch with less cocoa and couverture, and more toffee. Sadly this unfortunate batch was like a bottle blonde with her dark roots beginning to poke through. Clearly when your brownies begin to remind you of a bad dye job, it's time to make a change. I decided it was time to try the toffee with a batch of blondies. For my blondies I like to use browned butter, dark brown sugar, and of course a hint of sea salt. The flavors of the blondie: nutty, earthy, sweet and salty proved a perfect pairing with the bacon toffee. Every nuance of the toffee was highlighted in the blondie. The combination added layers of flavor and richness; reminding me why it's not bad to go blonde from time-to-time.
To jump on this year's blondie trend and experiment yourself, follow my recipe for blondies below. For my bacon toffee recipe, or my date and curry blondie recipe, pick up a copy of my cookbook Sweet & Skinny!
Blondies
Makes about 12
1 cup all-purpose flour
¼ teaspoon baking powder
¼ teaspoon soda
¼ teaspoon sea salt
½ cup browned butter
¾ cup dark brown sugar, packed
1 large egg
1teaspoon vanilla extract
Grease an 8x8 inch pan. Preheat the oven to 350°F, with a rack in the center of the oven.
Place a pot on the stove over medium heat. Add the butter into the pot and melt while stirring constantly. Cook until the butter becomes brown and fragrant. Turn off the heat and stir in the sugar. Allow the mixture to cool for about five minutes before continuing.
While the butter cools, place the flour, baking powder, soda, and salt into a bowl. Stir the dry ingredients together.
Once cooled, whisk the egg and vanilla into the butter mixture. Next whisk in the flour mixture.
If adding the toffee, stir a ½ cup of chopped toffee into the batter. Transfer the blondie batter to the prepared pan. Place the blondies into the oven and bake for 12-15 minutes, or until a knife inserted into the blondies comes out with crumbs sticking to it. Do not overbake. Allow the blondies to cool completely before cutting and serving. Store leftovers, tightly wrapped, at room temperature for up to three days.