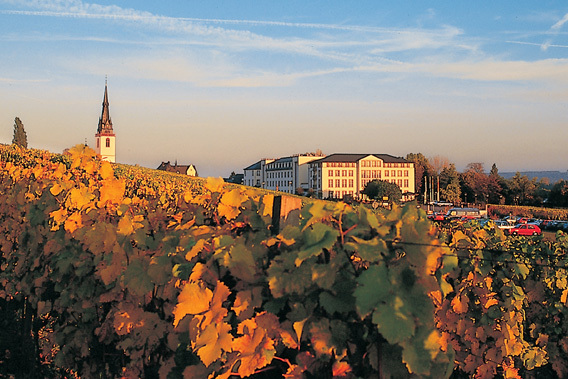 As mentioned in last week's post about handkᅢᄂse, I recently took a family trip to the Rheingau in Germany. Because most people have never even heard of the small town of Erbach, I wanted to write a blog about this charming German village and the beautiful palace located at the edge of the town. But it is impossible for me to write about Erbach without writing about my own family's history. For me the two are intrinsically connected. In many ways the late occupants of the palace, and the town of Erbach, shaped the future of my family. Trips to Germany always make me think of this. When I look at the vineyards, the turrets of the nearby churches in Erbach peeking out above the trees, I am invariably reminded of the past.
I think specifically about my paternal grandmother's unimaginable life in war-torn Germany. As a child I would sit and listen to her stories for hours. I was too young to fully grasp what she had gone through. To me her tales were nothing but stories, better than any suspense thriller or movie.
My Oma grew up in upper Silesia in the county of Ratibor, a region of Germany so far east that after World War II it was absorbed into Poland. She had a privileged upbringing. She grew up playing with the princesses of Ratibor (which was part of the Royal House of Prussia). It was a friendship that lasted a lifetime and was even more meaningful in the years that were yet to come.
In the 1940's my grandmother was defined by one thing. She was a new mother. Her husband was gone. She had a three-year-old son (my father) and her job since his birth had been to keep him safe during a terrible war. In the town of Rauden children had been shipped out via trains. The war was all around them. Battles between Russians and Germans were taking place at their door step. My petite grandmother, barely 5 feet tall, had the courage of David and the strength of Goliath. She made a decisive decision. She left behind her home, as well as the hotel and restaurant her family owned. In the dead of winter, she took my father and left in the night. Her goal was to reach the western part of Germany that was occupied by the Americans. To reach her goal she walked for almost five months, and through two countries.
Finally, she reached the Rhine River and the American occupied section of Germany. During her journey she took advantage of her natural proclivity for languages. When confronted with Russians she spoke Polish, when confronted by Czechs she spoke French. She learned how to spin stories and barter on the black market. Overnight her life as she knew it was gone. Her home, basic creature comforts, everything was left behind. She relied on the kindness of strangers. She slept with my father wherever she could find shelter, sometimes in an old barn or a spare room in someone's home. On that trip she faced danger, soldiers that were not friends, and almost certain death.
Meanwhile my father was a happy and clueless child. He had my grandmother by his side and she managed to make it all seem like a fun (albeit long) game. When she finally made it to the western part of Germany, she was safe. But there she had a new battle to wage. She had no home, no job, and no friends nearby. My great-grandmother had made the long journey with my grandmother. They were staying in Wiesbaden relying again on the kindness of strangers. A family took them in and let them stay in their home while my grandmother looked for work and a place to live. As luck would have it, one day while out searching for work, my grandmother stopped outside Cafᅢᄅ Maldaner. While she stood outside, eyeing the lovely tarts and cakes she no longer could afford, the door of the cafᅢᄅ opened and out came an old friend. Princess Agathe of Prussia had come into Wiesbaden to enjoy an afternoon of coffee and cake. She was surprised to see my grandmother, and even more surprised when my grandmother told her of her struggles. Princess Agathe was living at Schloss Reinhartshausen, a lovely palace in the small town of Erbach. She immediately offered her help. Forthwith, Princess Agathe contacted the Mayor of Erbach. She found my grandmother, great-grandmother, and father a home near Schloss Reinhartshausen. They moved to Erbach and lived above a bakery owned by the Kirn family. The family was very kind, and thus began another friendship that would last a lifetime. My grandmother found work in Wiesbaden with the American government (a job that would eventually lead her to her new husband and America). My great-grandmother looked after my father and spent her afternoons at the palace with Princess Agathe and Princess Elizabeth.
I grew up with the stories from those five months of my grandmother's life, and their time afterwards in Erbach. I laughed at the tales of my father as a little boy, sitting up straight and trying to behave during afternoon coffee at the palace. When I went to Erbach for the first time it was almost like stepping into a fairytale. Things had changed, yet much was the same. The bakery my family lived above was still there, turning out the most wonderfully crusty rolls and dense rye breads. The princesses were gone, but the lovely palace still existed.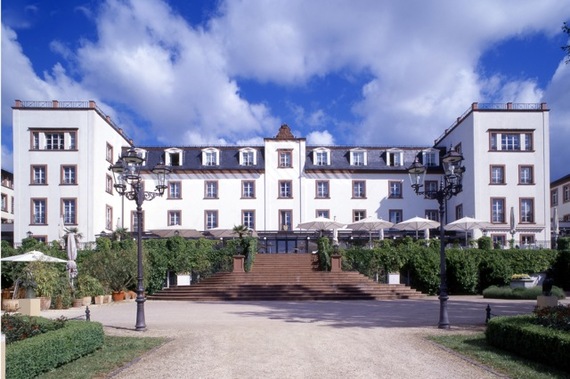 It had become the five-star Schloss Reinhartshausen Hotel. Over the years I have visited Erbach many times. I've walked the cobblestone streets. I've now become familiar with every inch of the charming little town, but the palace always holds a special draw for me. On this last trip I decided, since I now could, that I would stay at Schloss Reinhartshausen. Naturally it has all the creature comforts of a modern luxury hotel, and yet it still manages to be frozen in time. It is a hotel so rich with history. I can't help but wonder if the guests, and even the employees, know just how rich that history is. I walked the gilded halls with my father, retracing his childhood steps in the old wing of the palace. We visited their old world wine caves, now turned into an elegant dining hall.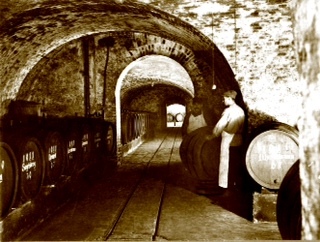 At breakfast time I looked out the windows onto the perfectly manicured garden, wondering if my great-grandmother used to sit out there with Princess Agathe. I lived like royalty.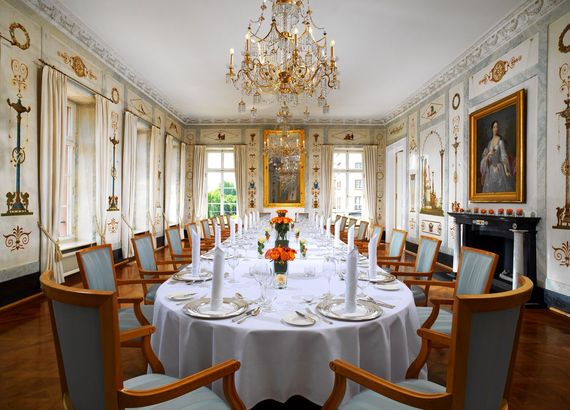 I thought of the past, and the women that had shaped my family's future... my future. I called my grandmother in Arizona. She's now 99 years old, and still going strong. I sat in my plush room at Schloss Reinhartshausen, looking out the window while she told me stories. One of my windows looked directly onto the old part of the palace that my Oma used to walk through. In my mind's eye I could see her. I was a little girl again, captivated by her stories of battles and princesses. As the tale came to an end, I implored her, "just one more story, please!"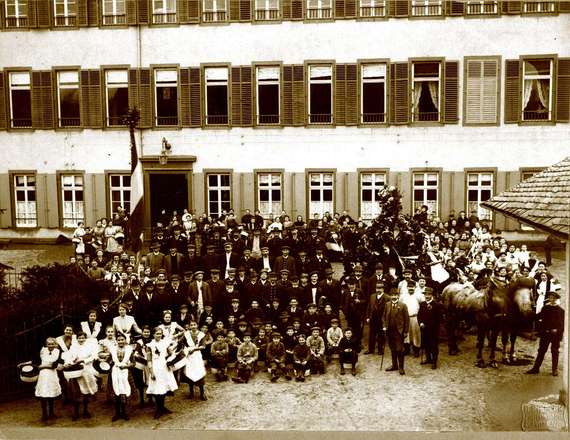 If you have the opportunity to visit the Rheingau I encourage you to visit the delightful town of Erbach. Stay at Schloss Reinhartshausen. If you don't stay at the hotel, be sure to at least visit Schloss Reinhartshausen. They offer afternoon coffee and cake daily. The house specialty is their Riesling cake, and when the weather is good it can be enjoyed out by the garden. If you want to stay for dinner visit The Traube, owned by the Kirn's granddaughter, Annelore Kohlhaas and her daughter Conny. Sadly, after three generations of bread baking, the Bakery closed its doors this past year. If you want to drown your sorrows for having missed the best bread of your life, stop by Weingut Wilhelm Nikolai and enjoy a glass (or bottle) of Riesling from the region.