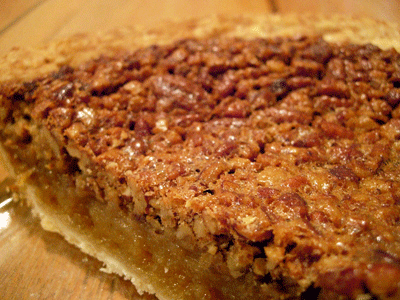 Americans buy approximately 50 million pies a year. Many of these pies are purchased within the months of November and December, to be enjoyed during the holiday season.
In America we love pie! The holidays are the perfect time of the year (and provide the perfect excuse) to indulge in our favorite dessert.
My favorite holiday pie has always been pecan. Not to say that I don't love apple or pumpkin pie too. But pecan pie is more versatile. It can easily transition from your Thanksgiving menu to the Christmas finale. It's also faster and easier to make than apple or pumpkin pie. It's the ideal pie for me when I have a dozen other holiday dishes that need to be made.
For this year's pecan pie I decided to call a few people that I consider to be experts at making pecan pie. First, I called Alice Simmons. She and her husband Gary own Judi's restaurant in Sedona, Arizona. Judi, the restaurant's namesake, was from the south. She had a pecan pie on the menu year-round for as long as she owned the restaurant. Alice worked closely with Judi for years. When Judi passed away Alice and her husband took over the restaurant, and continued with Judi's year-round pecan pie tradition. That pecan pie has been my favorite since childhood. After I grew up, became a chef, and developed a more discerning palate, Judi's pecan pie was still perfection.
According to Alice, the key to a good pecan pie is to use maple syrup instead of corn syrup, which provides a more complex and less sweet flavor. It's also important to purchase good quality pecans. Their pecans come from a farm in Tucson. Alice advised me to always chop the pecans. This allows them to brown more readily when baking, which gives the pie a more robust flavor. She also advises bakers to use a butter based pie crust, not a lard based crust. The butter adds a rich flavor that compliments the maple syrup in the pie nicely.
The second expert I decided to call was Rebecca Lang. Rebecca is what I would call a modern-day Southern belle. She is also the author of several cookbooks, including Quick-fix Southern, and is a contributor to Southern Living magazine. Much like Alice, Rebecca emphasized the importance of using quality pecans when making pecan pie. According to Rebecca, pecan trees were first native to Texas, and then moved east from there. In fact, the pecan pie is the official pie of the State of Texas.
So if you can't find some locally grown pecans, I'd say sourcing them from a farm in Texas would be a safe bet for ensuring you start with some quality nuts (I've included in the recipe a farm in Texas that ships their pecans anywhere in the U.S.)
After taking notes on Rebecca and Alice's perfect pecan pie advice, I tried out a few test recipes of my own. Here is the recipe that I came up with using their tips. It's the pecan pie recipe that I'll be serving at my house this year for Christmas. I think it would make any Southerner proud... maybe even Judi.
Pecan Pie
(makes one 9" deep dish pie)
ᅡᄒ cup sugar
ᅡᄒ cup grade A maple syrup
4 large eggs
ᅡᄐ cup butter, melted
ᅡᄐ teaspoon salt
1 teaspoon vanilla extract
1 cup quality pecans, chopped (for online ordering you can try Texas Pecans)
1 deep dish pie crust (see recipe below)
13 ounces all-purpose flour
1 teaspoon salt
pinch of sugar
8 ounces unsalted butter, chilled and cut into 1/4" squares
1/2 cup plus 2 tablespoons ice water
1 teaspoon lemon juice
In a mixing bowl combine the flour, salt and sugar. Add in the cubes of chilled butter, using a paddle attachment or pastry cutters to blend in the butter. Once the butter is well blended and the dough has a sandy consistency, add in the ice water and lemon juice. Mix the dough just until blended. Pound the dough into a disk and chill for at least several hours or up to a week. Roll out the pie crust in advance. Chill the pie crust while you prepare the filling.
In a large mixing bowl whisk together the sugar, maple syrup and eggs. Once combined, whisk in the melted butter, salt, and vanilla. Set the mixture aside.
Preheat the oven to 350F with a rack in the center position.
Blind bake the pie crust for about 20-25 minutes, or until golden brown and baked through. Allow the crust to cool.
Reduce the oven temperature to 325F and keep the rack in the center position.
Sprinkle the pecans evenly over the bottom of the baked pie crust (the pecans will rise to the surface while the pie bakes). Pour the filling on top of the pecans. Bake the pecan pie for 30 minutes or until the filling is set. Allow the pie to cool for at least several hours (preferably overnight) before slicing and serving. Store any leftover, tightly wrapped, at room temperature for up to three days.