 In Part 2 of this interview, Bailey discusses how to change the future of Hindi cinema, which up-and-coming Indian stars to look out for and why Indian women in film have it so tough. Look out for Shah Rukh Khan, Priyanka Chopra, Vidya Balan and Frida Pinto. If you missed Part 1, find it here.

You've been coming to India at least once a year -- sometimes up to three times a year -- for almost a decade now. Where are your favorite spots in Bombay?
Bombay's a city that I know mostly from the hotel that I'm in, the places I go to see movies and the places that the people in the movie business take me. So that's essentially how I get to know the place.
I like Bandra a lot. It feels like a very cosmopolitan part of the city and I know that so much of the movie world is there. I like that there can be major movie stars' homes, like Shah Rukh Khan's, that are just a part of the hubbub of the city -- they're not big, fenced off areas like in LA.
When I was first going, I would take the auto rickshaws and the train between Churchgate and up north and it was great! It was a fun way to discover the city. I don't do that anymore but I'm glad that I started that way. I still like the life on the street in the city -- street food on Marine Drive and all of those great things, it's fun.
You've seen countless films from India -- any favorites?
Lagaan is a film that I think is great and it's epic and it's very long but I was fully engaged the whole time. I remember it played at the festival in 2001 in the year of 9/11 so there was a very dramatic connection to that film.
I remember going out to a theatre in Scarborough to see Devdas when it came out. It was a big experience to see that with a south Asian audience in a suburban Toronto theatre.
Dhobi Ghat is a film that's not exactly a Bollywood movie but a film that I feel a very strong personal connection to because I was lucky enough to see it fairly early on and be drawn into a conversation about the film with Aamir Khan and Kiran Rao and saw it before it was completed. I was able to present the world premiere here in Toronto [at TIFF 2010] and really felt connected to that film and to those filmmakers because I knew they were trying to do something different, really unique, that they hadn't done before. They were really trying to make a film that meant a lot to them personally and reflected something of the city that they live in. I think they showed Bombay, in that season especially, so well, really beautifully - you almost got a palpable feel of what it's like to live in that heat in monsoon season. I love that about the film.

Cameron Bailey (left) with the cast of 'Dhobi Ghat' at TIFF 2010.
The reason Dhobi Ghat made it to screens is because Aamir Khan financed it. These types of independent films rarely get financing -- or when they do, filmmakers are forced to compromise on their vision. Is this going to change?
My hope is that the leading Bollywood movie stars begin to take more risks in the was that Aamir Khan has -- I think that's what's going to have to drive it, because the stars have enormous power in India, more than in any other film industry.
If you look at the careers that some of the big Hollywood movie stars, that's really how they sustain a career. You can only beat people up for a living for so long! [laughter]
Do you think we need to look to up and coming actors like Abhay Deol to take on different, challenging roles? He does interesting films. [Dev D, Shanghai]
Yeah, he sure does. I think in that case what's similar is the end of the Hollywood studio system in the '50s and the rise of the new wave in the '60s who were all film school educated and then a whole generation of actors came along with that. Al Pacino, Dustin Hoffman and Warren Beaty -- these were actors who were like Abhay Deol today. They were working in independent movies -- movies that were more challenging, that were grittier, that were tougher, that were sexier in many ways than the big Hollywood movies. I think that independent world can develop stars in India the same way that it did in LA.
Who should we keep an eye on?
We've talked about Anurag [Kashyap] and I think we have to mention Kalki [Koechlin, Kashyap's wife and frequent collaborator.] There are divided views on some of her work but I think she's a really interesting presence in Indian cinema -- whatever film she's been in, she brings something really provocative to her performance. Abhay [Deol] I love -- I think he's a classic hero and anti-hero at the same time -- he looks like a badass on the screen.
I think Ajay Devgan's films are maybe a corollary to what's been happening -- they're commercial but they've got a kind of a tougher tone which some of the indie filmmakers are going to pick up on. Films that have a kind of a hero story or villain story but they're set in the world of politics, so that gives them a bit of an edge because a lot of films steer clear of that. They're not hero fantasies, I feel like he's trying to draw from social reality.
Shah Rukh Khan is a very thoughtful person. Should he find the right scripts, the right stories, I could also imagine him taking a path exactly like George Clooney has.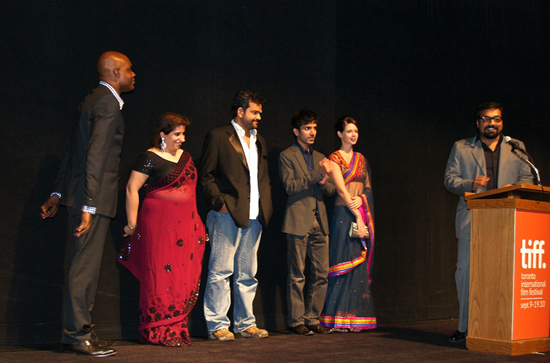 Cameron Bailey (left) with the cast of 'That Girl in Yellow Boots.'

The interview comes to a close but Bailey realizes we haven't discussed women in Indian film - a subject that's important to him.
What's your view on women in Indian cinema?
I think the lot of the Indian female movie star is a difficult one because they're typically not the leads -- they're the love interests. There are so many limits on what I think the traditional Indian audience will allow from the female stars. Much more limited than the men and much more limited than female stars in other big film industries. That's tough. You couldn't do There's Something About Mary. Even the kinds of roles that Julia Roberts has available to her -- there's no Erin Brockovich for Indian female stars, yet.
Actually, I have to disagree -- Vidya Balan's role in Kahaani was quite groundbreaking.
Yes! I was just going to say that, you're right. That's a change. So lets see more of that! These are some of the best performers on the Indian screen but the roles typically, traditionally, are so limited. So what Vidya Balan has done is cracked that open. Let's hope that continues, that it opens up to other women -- that they feel they can take those risks as well.
Why do you think Balan is the only one taking these kinds of roles [she was similarly praised for Dirty Picture.]
I don't know. Sometimes its just one individual saying, why not? I can do it, I choose to do it. I know there's a lot of caution around what projects people take and an audience can turn against you, in the course of a single picture. And all of the different conventions around what roles women play when they're single versus when they're married and the retirement when they marry.
I think Rani Mukherjee is a great actress! She's really good and she can do strong, dramatic work and comedy and all different kinds of things.
Priyanka Chopra -- a really charismatic presence, very sexy on screen but I think there's more that she could do if given the right projects. I think she's got good chops as an actor.
I know that there are divided views in India on people like Freida Pinto but I think what she's done is also a part of what needs to happen: working outside of India. Her career is entirely about working outside of India, but I think there might be a balance that some of the actresses working in Bollywood could bring as well, in terms of doing roles every now and then outside of India that are substantial roles not just a cameo or show up in a sexy outfit.
Maybe we just need more women writers. Maybe we need more writers that understand women better and can write a character for these actresses.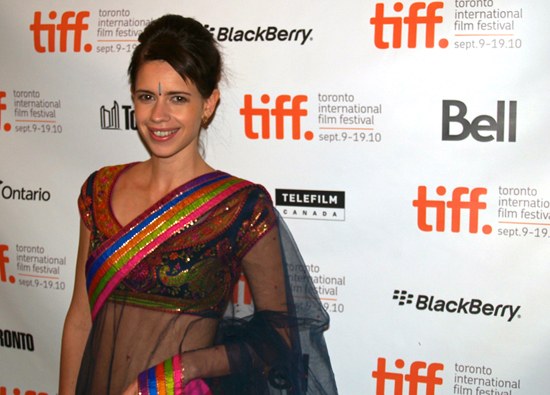 Read more from Marissa Bronfman here.