It was something of a historical moment for Lakme Fashion Week last Tuesday night when the runway lights shone on not one but two of India's emerging design labels, husband and wife design duo Pankaj & Nidhi and ethno-grunge kid Kallol Datta. Season after season LFW has promised an extravagant, exorbitantly expensive, ostentatious and outrageous grand finale show put on by a parade of the country's most celebrated senior designers but this Winter Festive 2012 season, the reigns were passed on from fashion's most fortunate to fashion's most promising.
LFW has garnered a reputation for its ability to nurture and launch the careers of talented young designers, indeed, this has become the hallmark of a fashion week that is so often compared to Delhi's (where more senior designers loom large) but despite its commitment to showcase new designers throughout the week, the coveted evening shows and certainly the grand finale have remained far beyond their reach.
Is this a real turning point for Mumbai's fashion week? Has it resolved its identity crisis, its seeming inability to fully embrace a focus on emerging rather than established designers? And if it has, what does that mean for marquee sponsorships deals and cozy alliances with Bollywood? By completely coming into its own will it render itself irrelevant or will it finally step up to bat for young designers in a country whose consumers so passionately prove their allegiance to senior designers who focus on Indian bridal wear?
A LAUNCHPAD TO THE BIG LEAGUES | LFW A PLATFORM FOR YOUNG DESIGNERS
Though there are many who would like to see India return to having one main fashion week in Delhi, there appears to be a real consensus among industry insiders about the vital role LFW plays, not only in the lives of young designers struggling to build a career but also as a necessary ancillary to Delhi fashion week, which simply cannot accommodate the number of new designers that show in Bombay, never mind properly promote them.
Editor-in-chief of Vogue India Priya Tanna believes LFW is the best place for designers to get their start, "for a newcomer, to have access to buyers, media and customers in one arena is critical for their career to take off," she says. It's what LFW has come to be known for, says popular Goa-based designer Wendell Rodricks, who has shown in both Bombay and Delhi. "LFW has developed a reputation, and justifiably so, for showing new, exciting young designers," says Rodricks.
GEN NEXT
At the heart of LFW's focus on young designers is Gen Next, a program that every season, selects seven young designers from hundreds of applicants and grooms them for their very first fashion show -- and hopefully, a career in fashion. It's an ideal place from which to launch a design career -- and many careers have been launched here: Rahul Mishra, Nachiket Barve, Masaba Gupta and Kallol Datta, to name a few. "The Gen Next show is really the signature of Lakme Fashion Week," says Fern Mallis, the former Senior VP of IMG fashion who spent ten years nurturing LFW from the very beginning and after a one year absence, was present at LFW this season. "It's one of the best things about the week," said the woman credited with starting New York Fashion Week, "discovering and finding new talent." Sujata Assomull-Sippy, founding editor of Harper's Bazaar India and fashion journalist echoes the sentiment, "Gen Next is the differentiating factor of LFW to other fashion weeks," she says proudly.
In an attempt to offer the current crop of Gen Nexters even more guidance and industry knowledge than was given to those in season's past, organizers put together a workshop with buyers, members of the Elle India team (the magazine recently began publishing a full editorial with Gen Next garments each season) and other industry figures. Anjana Sharma, fashion director at IMG Reliance (IMG runs LFW with beauty brand Lakme,) conceived of the workshop to help guide them: "how to be prepped, how to negotiate, how to capitalize on the noise value of fashion week, what to be ready with at their stalls," but she admits, "there's only so much as organizers we can do." She'd like to do something akin to London's Fashion Fringe (a competitive fashion business award that revolves around mentorship) but needs "someone to see the vision in that." Currently she's working on finding a sponsor so she can introduce a six-month program. Assomull-Sippy, who is on the LFW Advisory Board, thinks the workshop is "a very smart move -- the more help we can give them on how to get it right, then maybe they will become more commercial and people can buy their first season's collection." She believes the right kind of sponsors is key, that this could happen if a retail chain like Shopper's Stop, Lifestyle or Debenhams got on board. However, until a deal like this is brokered, organizers appear to be prepping the designers as best they can, something which this season's Gen Next hopefuls reported to be grateful for, calling the workshop both "eye opening" and incredibly helpful.
GEN NEXT STANDOUTS | SNEHA ARORA & RICHA AGGARWAL
There was a strong turnout at the Gen Next show this season with many of the country's top fashion editors and designers in attendance, a good sign, especially for two standout designers: Sneha Arora and Richa Aggarwal. Aki Narula, a stylist and official mentor to Gen Next designers, predicted these two young women would be favorites before they even showed. "Richa Aggarwal is brilliant," he says emphatically, "she's got the fabrics right, she's got the prints right, she's got easy silhouettes - business wise, she's the strongest." She was the favorite for Mallis, who ordered a few pieces from the designer post-show. "The collection was refreshing, completely saleable and wearable -- I could see it next season at Anthropologie or Free People," she said. Narula doesn't want to admit that Arora is perhaps the most creative, though the sentiment is there. "Very strong, very beautifully tailored jackets, very neat appliqués" he says of her collection, "her finishing, her sense of grays and blacks, the kind of prints that she's done -- definitely way beyond a Gen Next designer!" Aparna Badlani, buyer at chic Mumbai boutique Atosa, praised Arora for her "impeccable quality and excellent design aesthetics" not to mention the most critical factor: "[the collection] can go straight into the store and sell." A phalanx of fashion editors were also fans, they tweeted excitedly about the collection both during the show and after.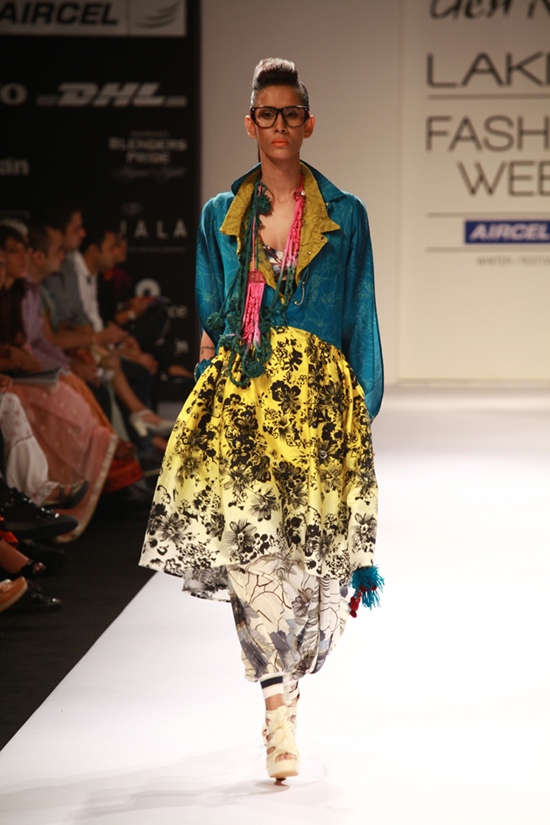 A runway look from Richa Aggarwal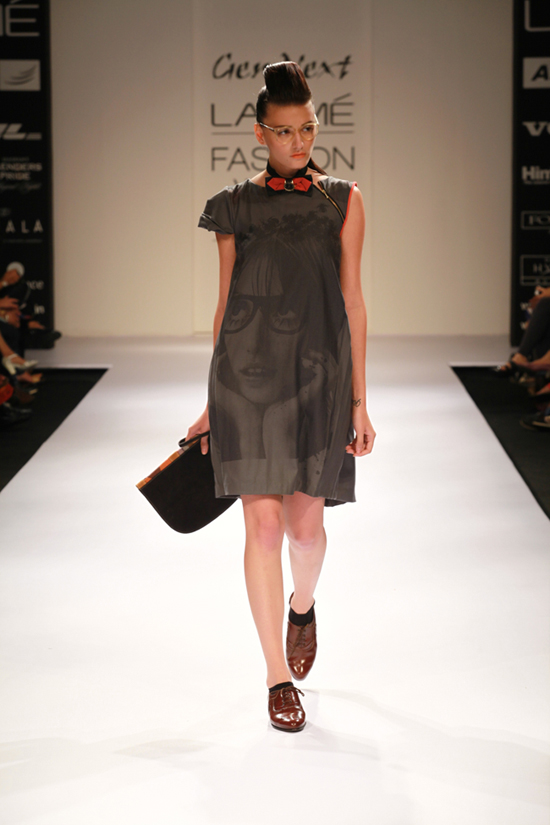 A runway look from Sneha Arora
Despite this winning trifecta of LFW attendees -- buyers, media and customers, all attuned to spotting new talent -- many Gen Next designers, and generally speaking many young designers, fall by the wayside after their first or second season showing in Mumbai. If the recipe for success seems just right, why have so many of them failed?
THE BUSINESS IMPERATIVE | MATCHING CREATIVITY WITH COMMERCIAL
WHEN THE PRICE IS RIGHT
It's important to remember that Lakme Fashion Week is only ten years old and that the fashion industry in India is still relatively young; with that in mind, it's no surprise that emerging designers in the country have a lot to learn when it comes to building a sustainable career. Pricing garments over and above what merchandisers and consumers are willing to pay is the most common mistake made by young designers. "You need to get your pricing right," says Sharma, who advises young designers not to look at recouping their cost of entry into the biannual fashion week. Badlani was recently asked to give her advice to this season's Gen Next designers, "the customer is not going to pay any price just because it's a 'designer garment'," she relayed, "new designers really need to establish themselves, set certain design and quality standards before they can start demanding a [high] price." Assomull-Sippy sums it up, "as a Gen Next designer you have to be cheaper, it's like that anywhere in the world. You buy a younger designer, you're not going to pay what you pay for Chanel and Yves Saint Laurent."
WEARABLE GARMENTS
The Gen Next show is the time and place for designers to be creative, quirky, even over-the-top but designers must translate those garments into more wearable pieces or face a dearth of sales, a pitfall many young designers fall pray to. When asked why so many young designers have troubling translating critical success into commercial, Sharma says they must carefully observe what's going on in their stalls. "Take what works, what doesn't work," she says, "and while you can go crazy on the ramp, have real pieces up in your stall! Conduct a business, what's stopping you?" Narula agrees, he's firm about encouraging creativity in Gen Next designers while reminding them to create more wearable pieces off the runway. Fashion journalist for the Hindustan Times and LFW front row regular Vinod Nair has seen dozens of young designers come and go, he argues they need to focus on financial imperatives for staying power. "I'd much rather see them doing commercially viable collections then trying to do overly creative ones," he says, "their idea should be to appeal to the buyers. Most of them come from middle class backgrounds so their idea should be to sell what they make. Creativity can come much later when they're established."
GEN NEXT CASE STUDY
Yogesh Chaudhary and Tanya Sharma were the two favorite Gen Next designers from last season who enjoyed enormous critical success, however only one of them was able to fully translate that commercially. Award-winning young designer Chaudhary impressed much of the fashion industry when he debuted an expertly finished collection of striped garments in black, white and blue. Long skirts, caftans, shirts and even a sari detailed with sequins were destined to fly off the rack had it not been for his ambitious price points. "Don't think you can sell a Rs. 8000 or Rs. 9000 shirt," (approx. US 150) said Sharma of Gen Next designers, "who are you at that time? They need to be real." Though the designer admits some said his prices were too high, some personal clients told him he had priced himself too low. Mohit Rai, a freelance stylist who is working with Chaudhary, said designers have started pricing their garments far too low. "It's almost like you're buying a shirt out of Zara," he says, "you won't get the quality if you have those kinds of prices, you won't get good finishes, fabrics or construction." This season Chaudhary's colorful Ms. Pac Man inspired collection is more appropriately priced, says the designer, who was thrilled to see his sari on Indian fashionista and Bollywood actress Sonam Kapoor only a few days after it was first sent down the runway. If the front row of his show was any indication of the promising career he is sure to have then it's worth mentioning that many of the top fashion journalists and editors were wearing pieces from his first collection.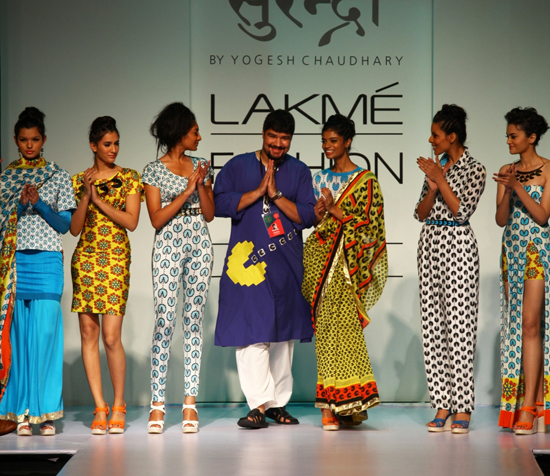 Yogesh Chaudhary at LFW WF12
Tanya Sharma was another Gen Next favorite from last season whose Indo-cool runway presentation featured her modern take on the classic white shirt, alongside flashes of florals and accents of neon. Both Narula and Sharma have praised her transition out of Gen Next. Early on she was advised to cut her prices and her shirts "flew off the rack" at Atosa, said Sharma. Badlani points out that there is a "huge gap" in brands that are priced around Rs. 1500-3000 and the designers priced at Rs. 15000 upwards, which young designers should take advantage of by "pricing their product cleverly."
GIVING ON CONSIGNMENT
Sometimes wearable garments at the right price aren't enough to lure buyers -- if they're going to take a chance on a young designer, they want the garments on consignment. "We still have a lot of consignment buying in India and that's just the way it is," says Assomull-Sippy, who was the moderator at this season's Business of Fashion from a Buyer's Eye panel. "Buyers are not willing to put down that cash," she says, "like it or not, what sells is Indian wear. What Gen Next does is not the commercial stuff." Last season at Indian Textile Day, famed Indian designer Sabyasachi Mukherjee advised fashion students and young designers to give their garments on consignment in the first few years of building their brand and business, something he did when he launched his label. Sharma says it's common sense, "a buyer is going to be investing in promoting you because you're occupying real estate at that store, so it makes much more sense for them, for you to sell." If a chain like Lifestyle were to take a Gen Next designer's first collection and retail a wearable version in their stores, that would "change the consignment problem," says Assomull-Sippy, but so far no such deal has been struck.
THE BUSINESS PARTNER
Every talented designer needs a smart business partner with them to succeed argues Mallis, "there's not a successful designer in the world who hasn't got a good business partner with them." Designer Rodricks puts it bluntly, "If you want to be creative, you can't be commercial." It's invaluable advice but unfortunately, no easy task to accomplish in a country with a fashion industry that hasn't had the time to mature. "There's not enough of a business community here [in India] that is training people to be the business partners," says Mallis, "to work with these designers and help them grow their businesses and nurture them and finance them." Rodricks speaks from first hand experience, his business "floundered" until his business partner "took over the reigns of the business and it went through the roof!" He's adamant that young designers "need somebody who has a financial business and marketing strategy to take your brand and your finances where they should be going."
DELAYED GRATIFICATION | GOOD THINGS COME TO THOSE WHO WAIT
Despite debuting in an era dominated by fast fashion, it remains crucial for young designers to dedicate the right amount of time to a design education, work experience and taking it slow with their own brands if they are serious about building a lasting career. Grand finale designers Pankaj and Nidhi Ahuja spent years educating themselves at school and by working with other designers before they launched their eponymous label in 2006. "It really helped us very quickly reach a fairly established level of retail and commerce," says Pankaj of their combined knowledge and experience, which has enabled them to strike the delicate balance between critical and commercial success. His wife and design partner Nidhi agrees, "don't plunge into your own business right away," she says, "once you start your own label, there's no looking back. You will never find the time to go back and learn things, have that learning experience first." The design duo have been showing at Delhi Fashion Week for the past eight seasons but consciously avoided participating in any fashion week during their first three years, "we wanted to get the backend in place, we wanted to test the product, to put it out there and get feedback," says Pankaj. Now they are lauded by media and consumers alike for their expertly crafted, exceptionally beautiful and colorful garments -- many of which boast intricate weaving, latticework and perforations in leather. Whether from one of their own stores in Delhi or Mumbai, or from one of over 20 retailers that carries the label, Pankaj & Nidhi sell over 1000 garments each month. They are now enjoying the fruits of their labor: last month they won the prestigious India Woolmark Prize, will go on to compete for the International Woolmark Prize in London and are nominees of Vogue India's first annual Fashion Fund Award.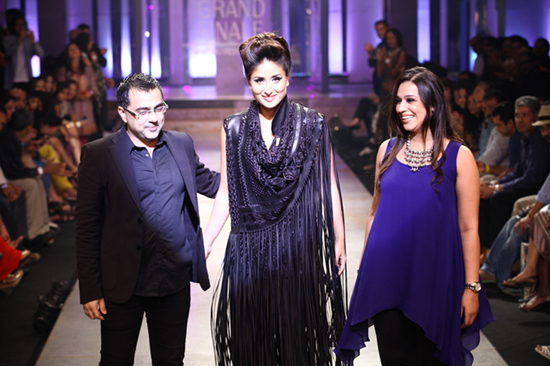 Pankaj and Nidhi Ahuja with Kareena Kapoor
Heralded by more than a few fashion commentators as "the face of new Indian fashion," Kallol Datta is another emerging design talent who Lakme enlisted for the grand finale. After studying womenswear at the prestigious Central St. Martins, the irreverent designer launched his label Kallol Datta 1955 four years ago and presented his Autumn Winter 12/13 collection at Berlin Fashion Week this past February. He bemoans new designers who launch with "a sense of entitlement," blaming their shallow desire to part of the glamour industry; in comparison, designers of his generation are "all technically skilled, we know how to cut a garment, we know how to sew a garment." While Datta may have less work experience than the Ahujas, he has certainly put in his time, taken it slow and put quality over quantity. His trademark slashes and cutouts are cut with purpose, "it's not just layered for the heck of being layered," he insists. He admits it would have been a "huge gamble" if LFW had made him the sole grand finale designer this season but thinks they struck a good balance by pairing him with Pankaj & Nidhi, who he has enormous praise for. "I know what I do is not really mainstream [but] I'd like it to be," he says in earnest, "so that a lot of people can know you can do minimal clothes with great pattern cutting and some amount of thought."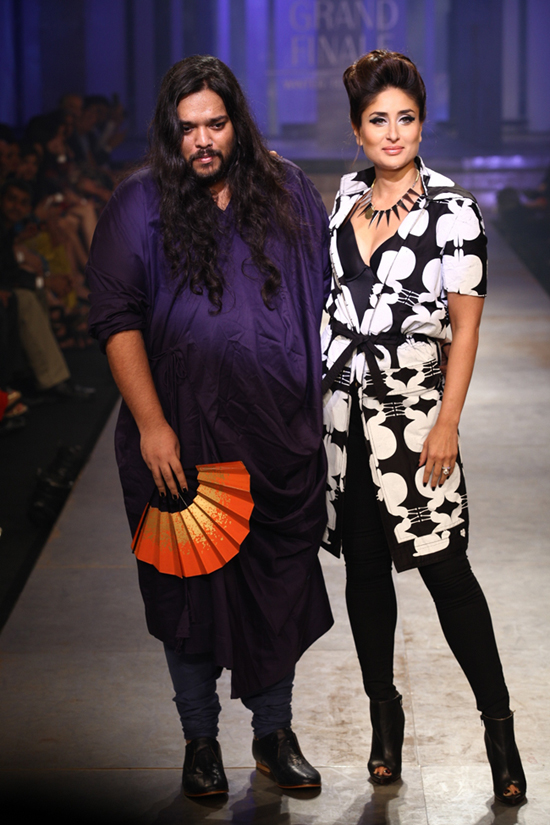 Kallol Datta with Kareena Kapoor
Industry insiders at the Gen Next workshop this season were firm in reminding the young designers to think about the long term. Badlani told them to "take it slowly," recalls standout designer Arora of the advice. "Don't jump because it's going to happen little by little," she recounts, "of course we are here to do business but we need to take it slowly." Pankaj Ahuja has seen evidence that 'taking it slow' pays off at LFW. "They're gradually progressing to solo shows, then evening shows, where they ultimately get more visibility,' he says of young designers showing in Mumbai and cites "Lakme baby" Datta as the perfect example. For a new designer who's been showing for only four years to be doing a finale, "that's such an incentive for someone to be with Lakme as a starting point," says Ahuja.
GOOD THINGS COME TO THOSE WHO WAIT OR NO ONE TO WAIT FOR?
While many applauded LFW's decision to forgo giving the grand finale to a famous designer, others whispered they had no choice: no big designers wanted to take part. In comparison, Delhi Couture Week (which kicked off the day after LFW wrapped) boasted superstar designers like Manish Malhotra, Anamika Khanna and Sabyasachi Mukherjee (both Malhotra and Sabyasachi were scheduled to show at LFW last season but pulled out at the last minute.) Mumbai's gossip columns also bandied about rumors over internal disputes among the organizers, not just due to the lack of high profile designers but models as well. Editorial and runway favorite Rachel Barros was one such model missing at LFW, apparently because she gave precedence to her Delhi dates. Bollywood's boldface names were expected at the grand finale, including Arjun Rampal, Mehr Jessia and Suzanne Roshan, but they apparently cancelled an hour before show time. Last season celebrated designer and enfant terrible of the Indian fashion scene Rohit Bal had the funds to present his grand finale in an enchanted garden, trees strung with white lights and a live orchestra playing atop the runway; this season beauty brand Lakme presumably gave less: the grand finale was put on in the main runway room, though Bollywood heroine and Lakme beauty ambassador Kareena Kapoor did walk for both Kallol Datta 1955 and Pankaj & Nidhi.
Irrespective of the gossip mongering and so-called lack of star power at this LFW this season, intelligent members of the fashion fraternity applauded the move to spotlight emerging designers in the grand finale and there was a heartfelt standing ovation for Datta and the Ahujas (not to mention many tweets of congratulations on Twitter.)
CONSTRUCTIVE CRITICISM | NOTHING IS WONDERFUL ALL OF THE TIME
Any successful international fashion week expects and even welcomes a healthy dose of criticism from seasoned editors and reporters but negative press around Lakme Fashion Week is notoriously missing, critical reviews of the shows curiously absent from Indian papers and magazines. What does appear, specifically in papers like The Times of India and Hindustan Times, are predictably terrible recaps (it would be overly generous to call them reviews) with a focus on the pseudo-celebrities and socialites that attend the shows. Fashion editor at Marie Claire India Pearl Shah lamented the sad state of fashion journalism on her Twitter account during LFW, accusing papers of publishing "rubbish daily fashion reviews," though she did single out journalists Assomull-Sippy, Nair and Surabhi Chauhan as exceptions to the rule. It's unfortunate, by all accounts, but perhaps most unfortunate for young designers who desperately need constructive criticism to help them along the path towards becoming great designers. There are financial reasons for this and presumably personal ones as well but the same industry that hasn't produced viable business partners for designers is the same one that hasn't produced the journalists to properly critique them.
Would the presence of seasoned fashion journalists like Suzy Menkes from the International Herald Tribune or Hilary Alexander from The Telegraph have any impact on journalists, reviews, designers or organizers in Mumbai? In March 2011, Canadian grocery store fashion king Joe Mimran organized a jet full of editors, including Harper's Bazaar Editor at Large Derek Blasberg and the New York Times' Sandra Ballentine, to fly down to Toronto to watch the Joe Fresh show at Toronto Fashion Week (TFW was recently bought by IMG, the same company which owns and runs LFW.) Despite some extra murmurs in Toronto (and reportedly a lively after party) the effect was ultimately negligible. And it would be the same in Mumbai. As they say, you can't wake a man who is pretending to sleep.
Another edit the fashion industry desperately needs is in the number of shows put on at Lakme Fashion Week. As one successful designer (who did not want to be named) argued, there needs to be fewer shows, a tighter fashion week -- perhaps only one fashion week in Delhi with an extra day added solely for young designers. While there is much dispute about Delhi vs. Mumbai fashion weeks and whether LFW is superfluous to Indian fashion, the notoriously snobbish and competitive Delhi Fashion Week wouldn't likely want to accommodate anymore designers than it already has, and if India lost its young designers, that would be a great loss indeed.
A FORWARD-THINKING FINALE | A SIGN OF THE TIMES
Was this season's LFW grand finale a sign of things to come or a sign that things are coming undone? Evidence points to the former though in a place as unpredictable as Mumbai and with an industry as fickle as fashion, only time will tell. "If it is a conscious effort, it's the right move," says Assomull-Sippy "giving the finale to two youngsters has shown that we are the people of Gen Next." Does a move like this spell out a cash catastrophe for organizers? Nair thinks if the right people can convince the sponsors to support younger designers, they'll stay on board. "All the sponsor wants is good mileage and branding," he says, pointing to this season's Lakme-sponsored grand finale as the perfect example. Alas, if the sponsors stay on so too will the Bollywood showstoppers, but that seems a small price to pay for keeping India's young designers afloat.
Whether LFW is experiencing a real turning point is anyone's guess but that India is experiencing one is for no one to deny. "India is enjoying such an extraordinary place in culture right now," says Mallis, "India really needs to seize that moment and get behind these kinds of industries, the creative talents, the designers." It's a call to arms that she -- and many others -- hope will not fall on deaf ears. With a reenergized focus on young design talent this season, Lakme Fashion Week may have finally found its true calling. Listening to its siren song may finally be worth it for India's promising new designers.
***
Stay tuned for the Top 10 designers at LFW WF12, an intimate interview with designers Shivan & Narresh and the best advice for young designers from India's industry insiders.
Read "Five Minutes with Fern Mallis at Lakme Fashion Week Winter Festive 2012" here.
Missed last season? Read "The Business of Fashion in Bombay" here.
Photos: courtesy of LFW.