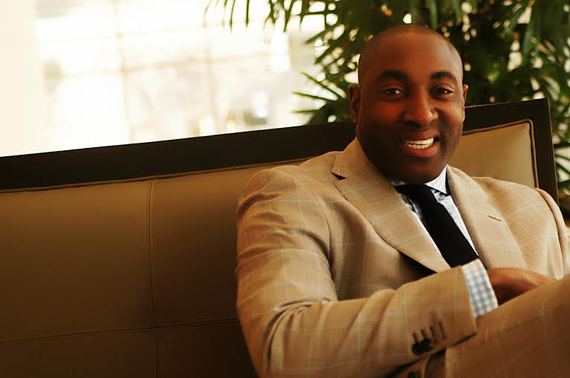 As the most intense day for fresh faced college recruits approached, one man had the esteemed pleasure of representing his brand to our nation. Aside from the players themselves, what appeared on televisions across the country were the elite top 32 clothed in perfection as they presented themselves to adoring fans. Rashan Michel, known for his career in the NBA, is now creating apparel for professional men across the board. Whether it is an executive, politician or an athlete, Rashan offers customization and precision in tailor made menswear. I had the pleasure of following the Alabama native throughout his intense day leading up to the international broadcast of the 2014 NFL Draft in New York City.
Meeting his assistant in the chaotic lobby of the J.W. Marriot hotel was just a glimpse of what was in store. Never losing his cool, the man in the electric blue blazer breezed through his options and handled an unexpected situation with alluring dignity. Escorting me to Rashan's suite, I found myself walking right into an official NFL camera crew who were also documenting this tremendous journey. Sprawled on the bed were tailored made shirts with each of Rahan's clients initials embedded on the sleeves alongside a multitude of socks, ties and men accessories. Along the counter were jewels and sparkling diamonds lined up to perfection as you would find in a fine showcase. Accompanying the array of designer clothing were ladies luxuries for those lucky women escorting the nation's top picks to the prestigious Radio City Music Hall. This room was intended not only to look the part but to own the new lifestyle these young men were about to embark in.
As the door continuously slammed shut, a tall and eloquently dressed man came in with a face filled with concern. Immediately introducing himself I felt the need to help fix whatever had him flustered. The same missing suit had been found and a celebrated exhale ceased his tension. "Thank you Rosa, I knew you had it under control", Rashan graciously interacted with the hotel concierge and immediately offered his gratitude. Looking over at me though out the day asking me if I was okay had me secretly laughing inside, the man responsible for dressing the top seven picks in the most anticipated draft was concerned with me.
Drifting in and out of the room, he would come in asking for specific garments, mix and matching pieces as they were assigned to players. South Carolina's popular defensive end, Jadeveon Clowney represented Thompson Bestow apparel that evening and stood out for his huge popularity. Walking in for last minute shirt advice had Rashan on his toes making sure he was dressed to precision. Listening to them interact you can hear the heartfelt interest the designer had invested in these looks and how personal this job was to him. Next we took to the elevator scramble, up and down and in and out of the next few rooms were what set this business man apart from any other label. Assuring each player was hand tailored and fit properly, Rashan visited each player's room individually assisting with cufflinks, ties and placing pocket squares appropriate to their look. No detail went unnoticed.
The next few hours were literally us traveling in and out of rooms adjusting and altering before those last minutes crept up. Teddy Bridgewater, Ha Ha Clinton Dix, Sammy Watkins, Jordan Matthews, Calvin Prior and Mike Evans were amongst the few athletes who trusted Rashan to characterize them on this monumental day. Mike Evans mentioned during an interview with ESPN, "I'm usually a conservative guy. I like red and black and Rashan put something together, especially for me specifically made it look exotic." Sam Watkins, jokingly mentioned "I gotta look sharp," trusting Thompson Bestow for his big day. Finalizing our visits in Calvin Pryor's room, Rashan battled with a pocket square and finalized his look as they prepared to walk out the door. "You definitely got me looking sharp today!" he exclaimed. His powder blue pinstriped suit helped land him #18 in the first round picks with the NY Jets.
As managers and parents entered the suite for last minute touch ups, Rashan even went as far to remove his tie and offer to match it up for a man looking for a quick solution. A few ladies who were in the room helped make the final decision for another look thus saving Rashan from disrupting his personal style. Tailoring his look, the man behind the garments also was dressed flawlessly. Squared patterns lined his light grey suit, lined with red satin matching his multi-toned red tie. His stained brown leather shoes were obviously hand crafted and perfectly shaded to match his striped socks. His collared shirt had miniature polka dots and carefully tucked under his left breast bone were the initials, "RSM". This he called his signature style.
A few last minute takers on the classic diamond encrusted trinkets, Anne Elko mentioned about the recent partnership her and Trish Roberson had formed with the Thompson Bespoke brand. "We are now going to create a private label and custom jewelry line catering to professional athletes." Specifically aiming to please their clients, they have honed in on creating a one stop shop for all the essentials of the modern day business man. "We are creating a complete turn-key experience and concierge service dressing them from head to toe", said Elko.
Far from his home in Atlanta, Rashan delivered a successful evening in New York City. Well wishes were exchanged quickly in the crowed lobby minutes before the boys were whisked to their destiny. Rashan could sit back and watch his work speak for itself. Historical night for many but accomplished for one. With his wife finally by his side, Asia and faithful assistant, Vag stamping the final approval on another successful event I left the midtown hotel bidding farewell to the gifted designer.
For ESPN footage, click here.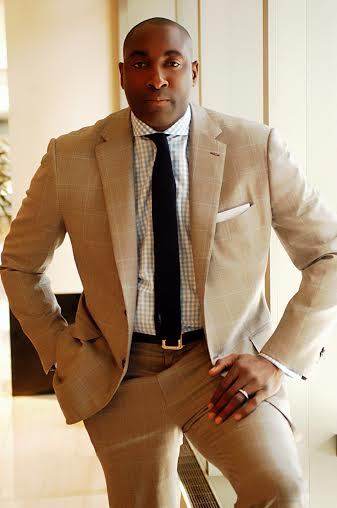 Follow Rashan Michel:
http://www.thompsonbespokeclothiers.com/what-is-bespoke/
Instagram: suitdud
https://www.facebook.com/TheRashanMichel