Each month for the past year "Devin & Tristan Give Back" has shared the spotlight with causes that are close to our hearts. Whether cancer, autism, lupus or childhood obesity, we raise awareness and actively get our community involved. For the month of October, we agreed to let society concentrate on Breast Cancer awareness, while we directed our light in a different direction. As the ghoulish month sold colorful costumes and sweet treats, we decided to unmask the truth behind domestic abuse, and a special organization dedicated to the cause.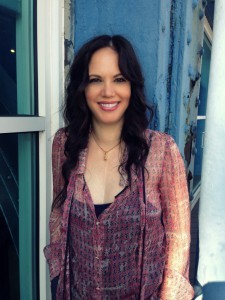 I had the pleasure of meeting the lovely ladies from the organization Beauty Cares, who share my passion for this cause and have specifically targeted a chilling ratio as part of their campaign. Founder Aryn Quinn sat with me during our first meeting, discussing how fearful women are to open up, and how they self inflict doubt: "Women are embarrassed to talk and seek help because they often blame themselves for being with an abusive partner." She founded Beauty Cares to spread awareness nationwide and help survivors rehabilitate their souls. "Stupid" is the common word she heard from women when they share their experiences with her and her team: "They often feel as if it's their fault -- that they should have known better."
When I asked Aryn why she decided to dedicate her time to this cause, she bluntly told me about her mom's struggle and how it later affected her relationships as an adult. Just by chatting with this soft-spoken angel, I could tell that she has dedicated her life to protecting the next generation of girls while helping to heal those already wounded by domestic abuse. She talked about everything Beauty Cares offers, and how important it is to educate young women: "To hear girls and women tell me they think they should have known better just broke my heart, and ultimately fueled my passion to provide the education they need. Through Beauty Cares I know we can help change the statistic from one in four to none -- anymore. As a survivor myself, I can help light the way for those struggling today."
DTGB has already made the act of giving back popular amongst our followers, and asked that this particular month, they share the chilling statistic Aryn spoke of -- one in four.
"One in four women will experience domestic abuse in their lifetime," is a statistic from the United States Justice Department
Imagine the famed friends who ran through New York City in sky high stilettos, sipping on cosmos. The four girls who spent time in exclusive relationships, spent money on high-end fashion, held elite job titles and most importantly secured loyal friendships. These same girls fit the one in four ratio. It could have been Ms. Bradshaw, Miranda or even Charlotte. Samantha could have been a victim of domestic abuse, and no one would know the difference because her fiery personality and iconic remarks could have sheltered insecurities and fear. The significance of one in four resonates within our community, and so we asked our loyal followers to help us hit the streets and spread the word via social media. Over 200 photos were submitted to our Instagram and Twitter accounts with men, women, children and celebrities holding up their one in four signs. A simple one finger on the left, and four fingers on the right filled hundreds of people's handheld devices, raising interest in the popular hash tag "#1in4nomore." Together, DTGB and Beauty Cares followers stood together and educated their friends and family of our movement, and you can, too! Snap your own picture today and hashtag it "#1in4nomore" to help spread awareness.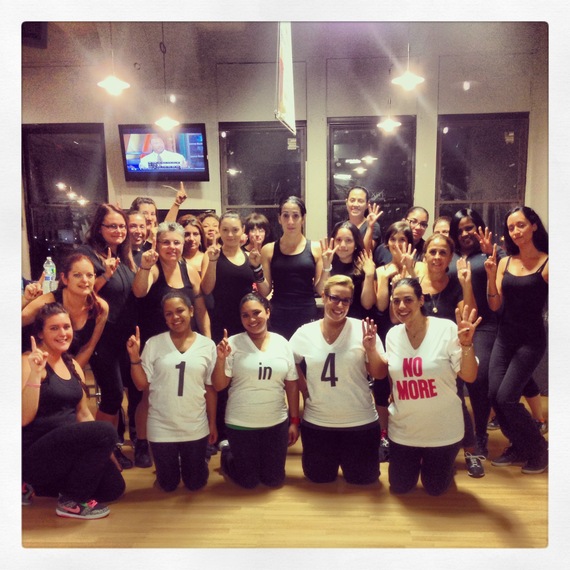 With the help of her ace interns, Aryn has created numerous outlets for people to get involved. The Celebri-Tee program is rapidly gaining popularity amongst none other but celebrities. The Beauty Cares team sends signature "wife beater" tops wrapped with a set of markers and instructions to famous personalities, inviting them to take a stand against domestic abuse by designing the tank top and submitting it back to the Beauty Cares Team. Supporter, and close friend of DTGB, celebrity artist Robert Peterson kicked off the month with his Celebri-Tee covered in motivational words and a very powerful number -- one. Peterson shared: "Real men don't hit women."
Shirts from famed personalities range from Diane Von Furstenberg, Nigel barker, Cyndi Lauper, Adrienne Bailon, Derek Jeter, Joe Torre and many more. When Beauty Cares has collected 200 Celebri-Tees, they will be formally displayed in a public art exhibition, and finally auctioned at the Celebri-Tee Ball, where they will be honoring two celebrities who have made a tremendous impact on breaking the cycle of abuse against women and children. The funds raised will support Beauty Cares Education = Prevention Tour, providing free workshops to help thousands of young women recognize abusive behavior and honor their dreams.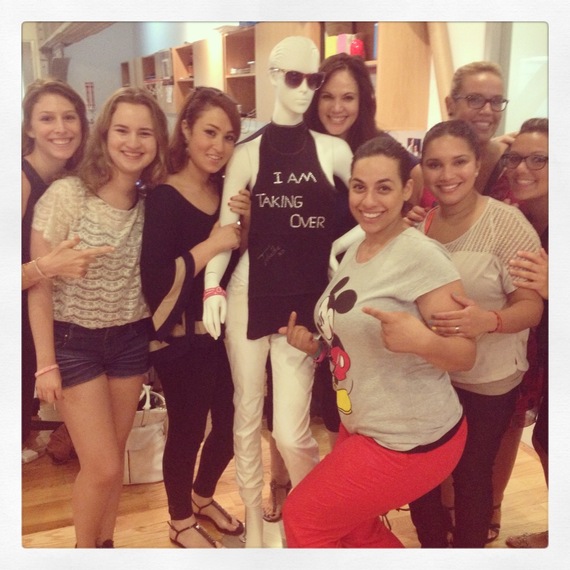 Another way Beauty Cares empowers victims of abuse is through hands-on interventions at local shelters. The "Day" program transforms a basic room to a full-fledge spa and salon, helping battered women regain feelings of worthiness and love. "I meet women who cannot comprehend that anyone would care for them. The fact that we take time out to bring them flowers, fill the room with music and donate our time to cater to them blows them away."
Aryn and I pause for a moment as the sentiment between us grows thick. Naturally, we love attention, but when a woman who has been abused has someone trying to embrace them with love -- their instinct immediately inhibits them to accept. As I read down a list of testimonials written by recipients of this program, I see this and my heart skipped: "This meant looking at myself in a different light, seeing my true beauty and learning that there is something better for me." This is what Beauty Cares does, they replace hurt with hope.
Now in true DTGB form, I always look at these topics in a mom's point of view. I am raising two sons, and want to make sure that every spotlight is a lesson learned for them too. Although they are still in diapers, I have to consider how I can help educate them and prevent this from happening in their future relationships. Along with many other convenient programs, Beauty Cares offers a free assembly. They visit children ranging from middle school all the way to college, and help educate them on the risky signs that lead up to abuse. "Know The 8 Before It's Too Late" teaches them about creating and honoring boundaries, along with recognizing eight signs leading to abuse: intensity, jealousy, control, isolation, sabotage, anger, blame and criticism. Although my attempt to have them visit my alma mater was denied, I was pleasantly surprised to find out that since graduating, they have instilled a domestic violence program to educate the students regularly now.
As November winds fiercely attack fall leaves, we move on to a month devoted to gratitude and giving thanks. We are happy to have ended our October helping Beauty Cares by spreading their mission to those who listened. We might have only dedicated 31 days to the cause, but for those passionate about this topic, we urge you to visit their site. Domestic abuse is incredibly belittling to anyone, not just women. If you or someone you know is a victim of abuse please speak up and seek professional help.
You are not alone.
For more information, visit Beautycare on web:
On-line: www.beautycares.org
Twitter: @Beautycares
Instagram: @Beautycares
Facebook: https://www.facebook.com/BeautyCares