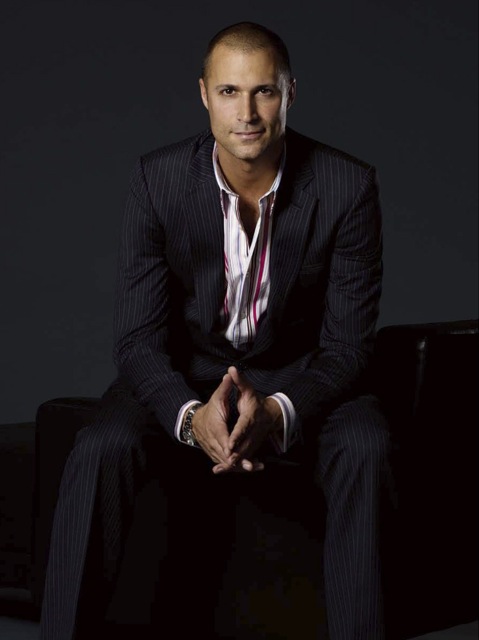 Photographs of vibrant colors and scenes of children flash on my social media feed. It appears as a photo shoot is in session. Although these are not models, or at least not today and this is not an exotic scouted location... the carefully crafted scene has been captured by one of the world's most genuine photographers. The clarity in his children's eyes capture innocent moments filled with laughter. An hour long conversation with the oh-so handsome and incredibly charming Nigel Barker reveals layers of a man who views the world on a tweaked lens and captures moments by the milliseconds that last a lifetime. Some say, "Beauty is in the eye of the beholder" but in this 60 minutes interview beauty was not a visual to be seen yet an inspiring story to be heard.
Barker, renowned fashion photographer became a household name by appearing on the Tyra Banks hit show America's Next Top Model. For 17 seasons he served as the most patient photographer/judge as models scrambled to reinvent themselves weekly. His appearance allowed viewers to fall in love with his British accent and comedic charm; unfortunately we missed who Nigel Barker was when he walked away from his camera. Crediting his parents for his generous compassion he shared candid memories of his youth. A snapshot into his childhood, Barker recalled the day his family invited a homeless thief to join them for dinner. As his father approached a man breaking into a car, he simply spoke to him, clarified his needs and proceeded with an open invitation into their home. "I remember thinking my dad was crazy!" Barker laughs now but remembers the lesson he learned that afternoon. That homeless man revealed his parental fear and urgent need to feed his children by bartering scraps for cash. This being one of the many memories Barker has of Giving Back. As a young boy he served in soup kitchens during the holidays with his family and now teaches his own children, Jack & Jasmine that these are acts in an ordinary life. "It's not about the things we do in the spotlight, it's what you do once the camera is off that counts" Barker explains, "We don't do it for press, we do it cause that's the way to be." Now as a father he speaks to his children regularly explaining that it has nothing to do with religion or popularity, if you see something... do something about it.
Thinking back to our initial run in, I observed Barker from the distance and his passion for creating opportunities for others. As an active member of the Edeyo Foundation, Barker has gifted life to those forgotten in Haiti. He has helped raise awareness for the ignored red zone areas that are unprotected, poorly structured and left to die. Barker shared how growing up he was taught important lessons, "Through education we can make this world a better place. Through knowledge we gain power." His initial thoughts after capturing footage of Haiti years before the tragic earthquake were, "We have to start somewhere, change is not going to happen overnight" and continues to photograph images of poverty and disease. Although the impact of his trip to Haiti was televised after the destruction, he recalls his first visit and explains, "There was a massive problem there and it had nothing to do with the earthquake." Reflecting on the rubble that was always there he shares his disappointment how the issue was... "there was no one who cared enough to change it." As news media filled the airwaves, Barker took a step back and decided that once a fresh headline hit the media circuit he would breathe life back into the streets of Haiti just as he did once before. The Edeyo foundation has built hope under a city of tents simply by believing. Barker, along with the foundation has crossed into a war zone and witnessed citizens of Haiti regain their independence. The power of Giving back is simple, Barker believes the human spirit is fighting; it's not all black & white, it's about celebrating our potential.
Aside from his natural humanitarian nature, Nigel Barker shares a deeper love for life. As we turn our conversation towards his wife, Barker's voice peaks with excitement and the essence of his relationship consumes our discussion. Barker explains how "Lucky" he is to have met Crissy nineteen years ago and how her presence made him weak at the knees. The former model who had photographed hundreds of breathtaking women has paused to capture the true gem his wife is and speaks on his rare find amongst the glitz and glam. Working in Milan with high profile clients, Barker recalls the moment he locked eyes on his wife, the moment he first spoke to her and how utterly embarrassed he was with their initial conversation. Bit by love, these lovebirds bonded over mosquito bites as Nigel warned Crissy of a recent flare up he had suffered on site. As casual conversation struck and the two chatted, his nerves faded and a love affair developed. Barker blown away by her beauty remembers his first impression of his wife of fifteen years, "she walked in the room and I thought, Wow, she gorgeous!" Immediately calling his mom, Barker claimed this new southern belle as his wife and have since traveled the world and worked on countless projects together. Barker credits Crissy for being his best friend, manager and life partner. Raising their children aware of life, Barker explains how they complement each other and how crucial trust is in a relationship. "I know she has my back."
With a new television series on Oxygen, Barker has resurfaced as the host of The Face. Cameras follow fresh faced models on their real life journeys of becoming the industries new Ulta beauty. Supermodels Naomi Campbell, Karolina Kurkova & Coco Rocha serve as mentors and compete as their girls are hired on real gigs and spotlighted for their talents. Barker is excited to embark on new projects but not nearly as enthused as he was when touching on his efforts of giving back. As a father and husband, Barker holds himself responsible for his actions as a citizen of the world. "It's only Heaven on earth if you can share it with people" and by that he shares his fame with the organizations needing light, his talent to those needing to be developed and focuses his lens on his family who motivate him to always be his best. Barker shares his passion with his children who have founded organizations aiding animals and actively attend events with their parents. Shifting gears and slowing down the pace, the well traveled man with the talent to scout true beauty shares that although he has witnessed countless breathtaking views...he favors most the serene and humble town of Point Clear Alabama. Childhood memories of his wife fill the air there and where they now share vivid memories of family gatherings. Barker favors the water, people and serene southern city during his off time. Far from his European roots, Barker shares his favorite memory with me... as I am eager to hear of an extravagant event that is nestled close to his heart, the man who has viewed the world through a lens simply states, "My favorite memory is Tomorrow. Tomorrow's family moments are what I look forward to every day. No single favorite. Just Tomorrow." So on this rainy afternoon and sixty minute conversation, we shuffle through visual images of Barker as a philanthropist, humanitarian, host, husband, father and look forward to his digital wonderland flashing on our "Tomorrow" social feed.
For More Info on Nigel and recent projects, visit:
www.RockPaperPhoto.com
www.Art.com.