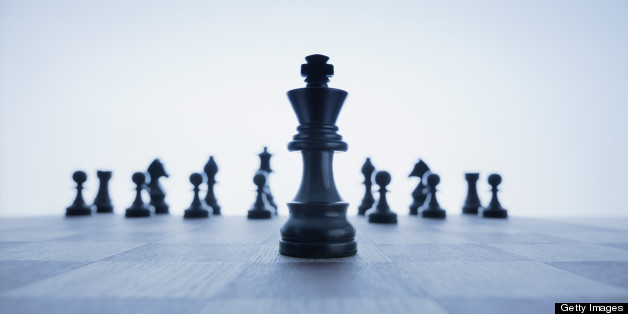 Do today's startup CEOs have an advantage over their corporate counterparts? Are they more likely to be digital natives -- and therefore leverage social media more effectively than old-school leaders?

In A World Gone Social, we talk at length about the dinosaur leaders who have failed to adopt social as an active listening device -- a way, for the first time in history, to gather the input of employees, customers and stakeholders in realtime at the right time. And, we provide examples of organizations that have discovered the power of social far too late, and then asked in bewilderment as their socially-enabled competition blew past them:
"Where did those guys come from?"
This failure to embrace social leadership isn't limited to older executives or corporate America, however. Many startup CEOs, especially in the technology sector, aren't exactly proving themselves to be the next Arianna Huffington, Richard Branson or Jason Fried. Many feel they just aren't cut out for social; others, much like their Boomer brethren, can't seem to find the time necessary to create a consistent social presence.
No matter the rationale, here are six reasons today's startup leaders must become truly social CEOs:
Brand Ambassadorship
All we have to do is look at the work of Elon Musk of Tesla and SpaceX to see the impact a social CEO can have on an organization. Elon cares a great deal about his digital brand and takes his role on social media -- where he is largely thought of as authentic and confident, perhaps even brash -- seriously. Each of his brands benefit from Elon being their No. 1 ambassador on social -- and his old-school competitors are left shaking their heads when he, with one tweet, generates the kind publicity they can only dream of.
Building Trust
In the Industrial Age, being an autocratic leader was often accepted as normal. In the Social Age, however, businesses are finding they are expected to care more -- to be more human; more social. A recent study by BRANDfog confirmed this point: "Nearly three-quarters of U.S. respondents believe that a company whose C-Suite executives and leadership team use social media to communicate about core mission, brand values and purpose is more trustworthy." Want to build trust for your brand? In today's business climate, it starts on social.
Establishing Credibility
We have always been judged by the company we keep, but never more so than in the Social Age. Want investors to take you seriously? Flash that pic of you and Guy Kawasaki on Instagram, or of your team at Disrupt on Facebook. Want your peers to see you as serious about your craft? Talk about your collaboration with Peter Thiel, your work as a mentor or your latest contribution to Forbes. For many CEOs, effective use of social is nothing less than instant credibility for them, and their brand.
Personal Branding
As my co-author, Ted Coiné, and I were writing A World Gone Social, one point became clear: As goes the personal brand of a CEO, so goes the brand. A study by Weber Shandwick backs up this observation: About two-thirds of customers say their perception of a CEO directly impacts their perception of the company. This character assessment can be enhanced in cases like J.T. O'Donnell of CareerRealism and Peter Aceto of Tangerine Bank. On the other hand, the public's willingness to dispense social justice works against other CEOs like Mike Jeffries of Abercrombie & Fitch and Desmond Hague of Centerplate.
Demonstrating Culture
There was a time when a CEO was intentionally separated by several layers of bureaucratic management and insulated from reality. Those days are nearly gone. Many of today's highly effective leaders, often through social, are well connected and approachable -- and not just to customers but also to employees. In many startups, the newest intern has nearly the same access to the CEO as the co-founders. Why? Because every team member is a potential brand champion. Every person on the payroll, as Liz Wiseman points out in Rookie Smarts, has the potential to be a huge contributor. A culture that values these contributions -- from the top-down -- wins.
Setting Social Precedent
It seems everyone wants to be the next Zappos. Culture. Service. Reputation. Zappos has it all; not even Zappos can compete with how the public perceives the company. That starts with Tony Hsieh's vision for customer service -- a vision executed, in large part, on social media. Have a product question? Ask on Facebook. Service or delivery issue? Tweet and see how fast you receive an answer. This socially-enabled culture wasn't an accident. Hsieh, well before many of his CEO colleagues, saw the real-time potential in social. And he set a top-down precedent that many social CEOs emulate today.
Maybe startup CEOs do have an advantage over their more experienced counterparts. Perhaps we do expect a lot more from them -- at least on social media. After all, if Peter Shankman wasn't active on Twitter, we would be surprised; but if Warren Buffet ever actually tweeted we might expect a major ripple in global markets.
Maybe startup CEOs don't have a choice; perhaps while they are launching their company they must go big with their social presence. Because anything less isn't just a missed opportunity to build a brand -- it means they're just as anti-social as the old-school CEOs they might eventually compete against.