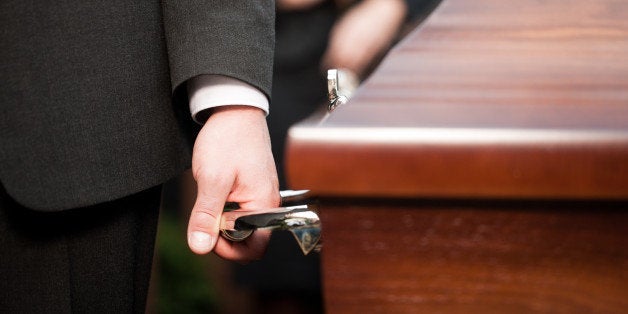 There are so many things I loved about my late mother. Her spirit of generosity was literally without limit; she was fiercely loyal to her family and friends; she was very smart, insightful and without any guile whatsoever; was completely unpretentious; was THE best listener; had a wonderful sense of humor and never ever put herself first.
One thing I did not love -- but learned to accept and now miss terribly -- was her amazing ability to notice the slightest flaw in anything material. Thank goodness that ability did not translate to people. he never judged. But when it came to physical things, she noticed everything. Remember the "Seinfeld" episode where George gave Elaine a white cashmere sweater with a microscopic red dot? That was how it was with every pair of earrings, bracelet, item of clothing, stationery, bottle of perfume, etc. that my father, siblings and I gave her over the years for birthdays, Mothers' Day, etc. One of the happiest days of our lives was when gift cards were invented. Finally, we were off the hook. But some habits die hard, or are passed on to the next generation.
A few weeks before she died, while I was with her in her room in the hospice wing at Montefiore, my mother asked me: "Was I a good mother?"
Without a second's hesitation, I said: "No."
She looked puzzled, and I quickly said: "You ARE a good mother."
She smiled, but we both knew. The end was near. Yet I could not -- or would not -- bring myself to put her in the past and thought, maybe, if I did not give in to her fast-forwarding to her demise, it would not happen. But she had been very sick for many years, her body was tired and she was ready.
Just as I was leaving her room, she sat up in her bed and said: "Take care of your father. He's a prince." I looked her straight in the eyes and said: "I know. I will."
In the ensuing days, nature took its course. Despite conversations with her doctors that began with a plaintive "But IF..." she declined steadily until we hit that inevitable week when things shut down and she slept pretty much 24 hours a day -- with "no intake or output," as her nurses said. My father, sister, brother and I would talk to her because the nurses told us that studies have shown hearing is the last thing to go. Once, in the final days, when I spoke loudly and aggressively massaged her hand, she opened her eyes for just a second, looked straight into mine and seemed to smile. I may have imagined the smile, but I felt certain she knew I was there. At least I hoped so. When I left her room, I knew that was the last time I would see her alive.
Two days later, at 4:20 in the morning, the phone rang. It was my father -- her husband of more than 50 years -- who said simply: "I got the call." Nothing more had to be said. Since we were "prepared" -- to the extent that anyone can "prepare" for the death of a loved one -- for weeks, the conversation was fairly unemotional, mostly about timing of the funeral, who would call whom, etc. We both felt a sense of relief that her suffering was over, but disbelief that we would never see her again.
My wife, children, sister-in-law and I piled into the car later that morning and made the 8-hour drive home. By the time we arrived at the hotel, we were tired, but rallied to spend some time with my remarkably calm father -- who, as always, was in the lobby to greet us -- and then went to our room.
The next day my wife, father, sister, brother and I went to the funeral home for a "private viewing." As I looked at my beautiful mother in her casket, I could not quite believe it. I reached for my wallet -- an act that, as usual, made my wife nervous -- took out all of the pictures of our kids, gently placed them in my mother's hands, kissed her forehead and walked away.
There was a very nice turnout for the funeral. (I still have the list of who came and who did not, and there are surprises in both categories.) When the service was over, my siblings, wife and I served as pallbearers. As we gently slid my mother's casket into the hearse, I noticed it -- a flaw! There was a tiny crack in one of the handles. In a weird way, I was pleased. It was almost as if...
I could have ignored it, of course, but that's not what my mother would have done. So I walked over to one of the funeral directors and told him there was a crack in part of the casket. He turned white and rushed over to take a look. I suggested that maybe some glue would fix it, but he was beside himself with embarrassment and said that if we wanted, they could "move Mom into another one (casket) in a matter of minutes." The image of that was unappealing, to say the least, but I told him I would ask my father what he wished to do.
I poked my head into the family limo, told my father of the situation and option, and without hesitation he said: "Let her be. Let's go (to the cemetery)." I conveyed the decision to the hovering funeral director, who seemed relieved and said they would "do something nice for Dad." I knew what he meant. Sure enough, when the invoice from the funeral home came a few weeks later, there was a "Special Discount" applied.
My mom would have been pleased. I had found a flaw, and her prince had been taken care of.