Spring Break is right around the corner. Frozen people, huddled inside the giant snowdrifts enveloping their houses want fun in the Sun. Those considering a temporary reprieve in Los Angeles are dreaming of beaches, theme parks, and the glamorous Hollywood locations at which they can get discovered... or at the very least, gawk in person at the epic fail plastic surgeries of their favorite reality stars. "Is she happy? Is she sad? Is she gassy?"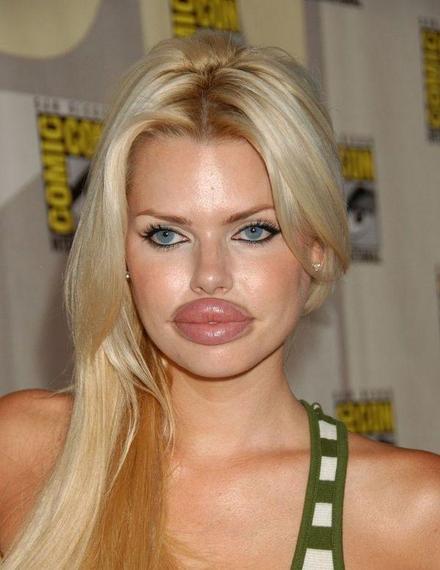 But the one Los Angeles location visitors never consider... is Los Angeles itself. There used to be no "there" there. But there is now. A newly hip downtown LA has been the best kept secret on the West Coast, until now.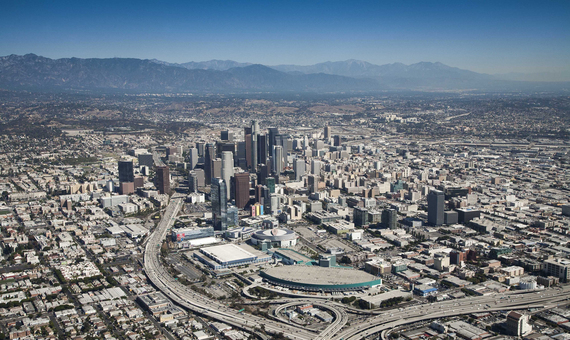 At the turn of the Millennium, DTLA was still a wasteland of abandoned storefronts, vacant deco movie palaces and high rise offices that emptied every day at six, leaving the City a hollowed out shell until the dawn of a new work day. Not a single super market in the downtown core... because nobody without a methadone habit or a wholesale diamond store lived there. But after a decade-long splurge of residential building, aggressive redevelopment and 2 Stanley Cups, DTLA can once again sustain life.
All the humans living nearby need places to go after dark that don't involve driving. DTLA's mix of swanky joints, popular restaurants and classically revived lounges now offer enough entertaining options that people are actually traveling INTO the city for entertainment.
If you're traveling to town, or venturing from across town, here are some tips to help you explore this newly hip urban melting pot - complete with a vibrant art scene, trendy eateries and cutting edge music and entertainment.
BIGGEST NEWS:
Leave your car at home and take the Metro train. Yeah, baby, LA has a functional subway. You can't get to Dodger Stadium, or the Beach - until 2016. But you can get from Pasadena, Long Beach, Culver City and the Valley to DTLA in minutes, regardless of the traffic. So skip the $15 valet fees, the aggressively awful traffic jams and DUI checkpoints and ride the $1.75 train instead.
ATTRACTIONS:
Staples Center, squatting in the heart of DTLA, hosts the Lakers, Clippers, Kings and top stadium touring acts. Virtually every night of the week, there's something happening on the site of an old parking lot. Across the street, LA LIVE is home to the Nokia Theater, decent chain restaurants, movie theaters, music clubs like the Conga Room, and the Grammy Museum, a cleverly conceived, interactive temple to the mojo of music.
San Antonio Winery, essentially all that's left of LA's Little Italy, has been a working winery since 1917, and is the last producing winery in Los Angeles. They import their grapes from Napa, Monterey and the trendy Paso Robles region on California's Central Coast, and make, blend and age their wines on site. Daily tours of their tasting rooms and restaurant are just a $7 Uber from Staples Center.
Broadway is the main drag of DTLA's theater district. Opulent, Deco cathedrals like the Orpheum, Globe and Palace originally opened as vaudeville houses, then were purchased by Hollywood studios as marquee locations to showcase their latest films. But as the population fled the city center after WWII, the theaters closed and were abandoned. Over the past decade, the Los Angeles Historic Theater Foundation has raised money to restore many of this crack dens to their former glory. Now, these stunningly restored theaters are home to music acts, festivals and film and theater. Nothing beats seeing a big comedy film with 2500 of your best friends. The annual Night on Broadway event combines movies, live music, epic vaudeville shows and outdoor foods, and is a great way to see what LA must have been like back in Hollywood's heyday.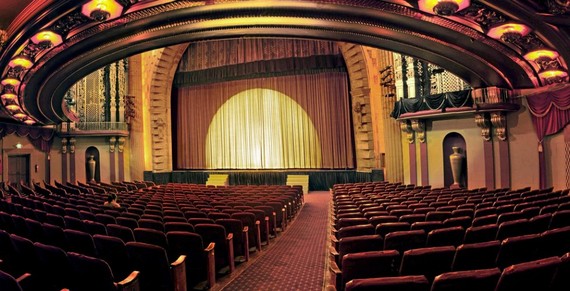 LA ART WALK:
Each month, LA's vibrant gallery and art scene opens their doors, literally, and throws a street party, complete with wine and cheese receptions in galleries all along Spring and Main streets. Each month features the works of different artists and writers, as the streets throb with foot traffic, music and the pungent smells of food trucks and established eateries staying open late to feed the throngs of wide-eyed Angelenos stunned to see people walking in LA.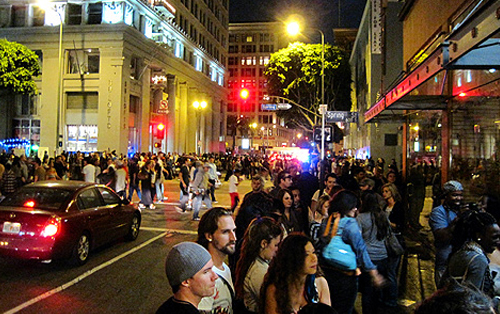 NIGHTLIFE:
In New York, you can get whatever you want, whenever you want. In LA... not so much. Most restaurants stop serving at 10pm, bars stop serving at 1 am... if you can convince them to stay open that late, then you drive 90 minutes through inexplicable freeway traffic to get back home and microwave your burrito. Thankfully, this annoying LA ritual is changing in DTLA.
The historic Biltmore Hotel is where visiting baseball teams stay while playing the Dodgers. The stately building has never looked glossier, and boasts two fine dining spots, as well as The Gallery Bar Jazz Lounge. Regular house bandleader, Dave Damiani, commands the room with the perfect blend of cocktail music, Rat-Packy vocals and boozy cool. No cover, just cool tunes and potent cocktails, in a room that Louis XIV would have loved. Ask for Sergio - tell him I sent you.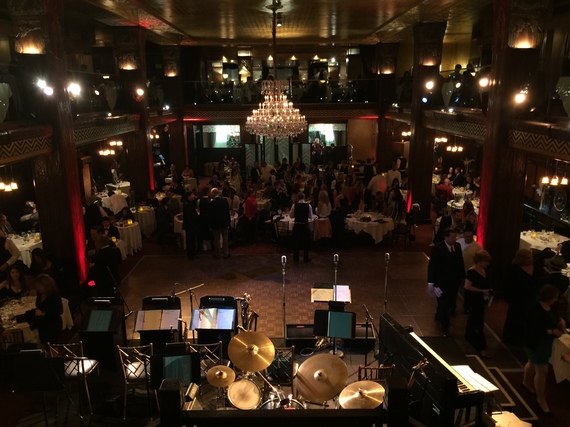 The Cicada Club, located in the historic Art Deco 1928 Oviatt building, is a completely renovated supper club, just a block south. To get there you walk, with your feet, on an LA sidewalk. Totally awesome, dude. There, Maxwell DeMille hosts and produces authentic Supper Club shows, featuring a different Big Band every weekend. His singers, dancers, and 10-piece orchestras authentically recall the Golden Age of Hollywood, so dress to impress. The food is far better than it needs to be, and the signature cocktails provide the perfect haze through which to dance the night away.
Of course, when the show's over, you'll be hungry again. In year's past, you'd be out of luck. But the final proof of DTLA's coming of age has you covered - late night eats.
Legendarily delicious LA Mexican restaurant El Cholo serves till 11:00pm Friday and Saturday. Get the Sonora nachos, Margaritas and the handmade guacamole.
For noodles, sushi and the City's best spicy ramen, get to Suehiro before 3:00am.
The Stocking Frame serves fusion favorites including avocado corn bread and octopus tacos til midnight.
Dim sum dive Won Kok serves fresh, delicious Chinese food nightly until 3:00am
If you're really a baller, hit up your daddy's Pacific Dining Car. This white linen table cloth institution is open 24/7, serving steaks the size of your face and martinis at sunrise.
Finally, if you want to end the night in classic, greasy spoon, LA Noir style, grub at the Original Pantry Café. Expect mammoth portions of All-American comfort food - including pancakes you'd arm-wrestle a convict for, any day, any time. Don't let the line out the door spook you, they keep it moving.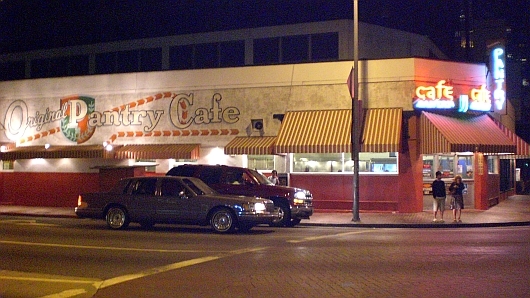 Whether you're visiting, or have been living here for years, LA is like an onion. Every time you peel back a layer, you find something new that'll bring a tear to your eye.
Sure, visit the classics; the theme parks, Venice Beach for the sunset drum circle, and Hollywood Boulevard, but don't forget the place where it all started - and is continuing. DTLA will keep the lights on for ya.