When you spend a good deal of the year buried under slush at 40 degrees below zero, it's hard NOT to get extremely excited when you finally see the sun again. That's why Chicago's Best Day of the Year is always that first warm Saturday in the spring when the temp tops 50. Some years that happens in March, others in June.
Shorts go on, tops come off, and the entire city emerges from its gloomy, salt-crusted cocoon into the bright warmth of spring. The civic joy is both tempered and amplified by the nagging fact that the good times, like Bo Jackson's playing career, will be spectacularly short.
Chicago loves summer, and doesn't waste a moment of it. Neither should you. If you're planning a trip to America's heartbeat, now is the time. Every weekend between Memorial Day and Labor Day there's more to do than almost anyplace else in America -- because Chicagoans have learned they must cram 12 months of existence into 100 days of living.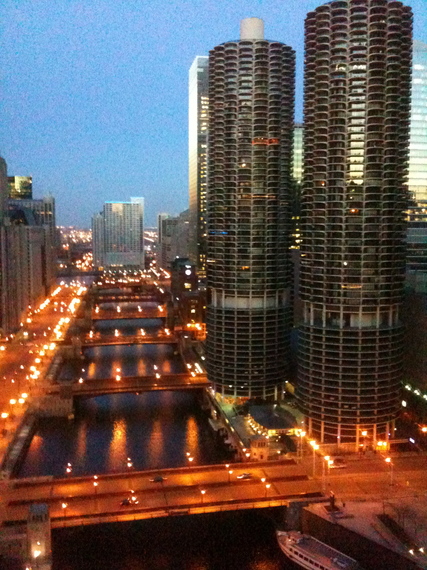 If you're planning your first trip to the city, the WHERE and WHEN are essential. Stay downtown, near the river. There are great hotels at all price levels clustered in the area, from the hip Wit Hotel, to the picturesque River Hotel, located right on the bend of the River, with spectacular views of the skyline, Lake Michigan and the historic Tribune Tower.
Whether you like baseball or not, take the CTA RED LINE train to see a day game at Wrigley Field. Purchase your tickets from battered ticket agents just as you get off the train, these days at a steep discount, but don't expect many "teaching moments" for your young ballplayers once the game starts. It is the sentimental heart of Chicagoland, but for 100 years has been a cold, desolate graveyard in October.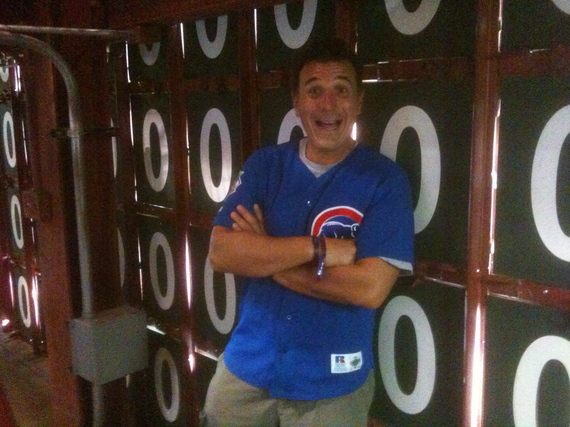 Mark inside Wrigley's history hand-operated scoreboard...during a Cubs loss.

As for the WHEN, it's impossible to be in Chicago during the summer without a music, food and wine festival raging somewhere nearby. The city stages many, as do neighborhood groups, each a beacon for ethnic food, music and art.
In fact, the 7th best Antiques show (according to USA Today) in all of America happens the last weekend of every month in the Zagat-Zone of trendy foodie spots known as the West Loop. The Randolph Street Market Festival boasts an eclectic collection of art, fashion, antiques, decorator inspiration and ridiculously great local music.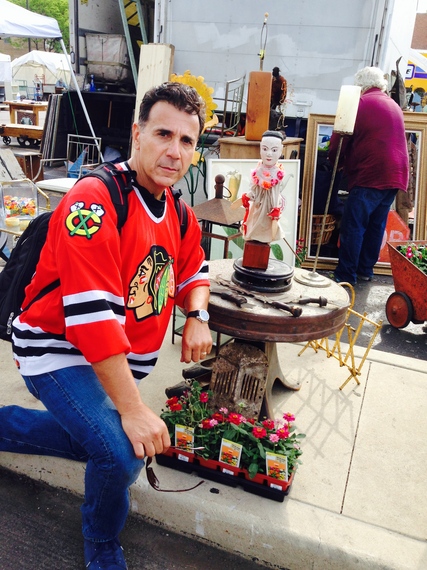 For only $8 you can shop a large outdoor bazaar -- which draws an invigorating mix of hipsters, treasure seekers and hard-core foodies. According to collectables author and expert Harry Rinker, it's a secret trove of designer-quality art, furniture and doo-dads at wholesale prices. The live music was spectacular, featuring local festival faves Nicholas Barron and the Wayne Baker Brooks Band -- both appeared on our live remote broadcast of our iTunes show, A Fork on the Road.
Of all the fantastically interesting wares on display, the best of the best are the Chicagoans themselves. Friendly, open, quick with a laugh and eager to show off their tasty city. Best of all, everyone we met was just so freakin' happy to be out of their houses, their joy was infectious. The market runs indoors 12 months a year, on the last weekend of every month, but it really shines during the summer when the party moves into the parking lot, May through September.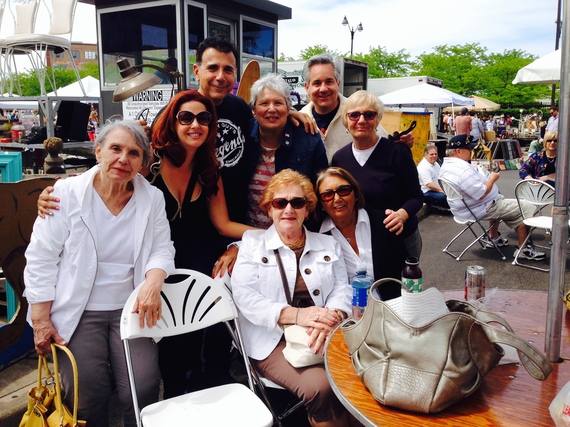 As you'd expect, there were wives draggin husbands up and down the seemingly endless aisles of cool stuff. Luckily, the music, food -- and beer stands -- kept the guys happy enough to oblige. But surprisingly, the crowd was predominantly comprised of young, sexy singles looking for all sorts of stylish booty. If you're in the market for a breathtaking addition to your nest, Randolph is a trendy tide pool worth a dip.
If you've still got some gas in your tank after picking through artifacts all day long, stop into the City Winery for dinner and more live music. This comfortable, breezy winery/concert venue boasts national touring acts and delicious food. Patio dining takes advantage of the idyllic West Loop neighborhood, and the indoor music stage is state of the art.
Whether you're looking for great food, music or simply a few new friends to bitch about the Cubs to, put summertime in Chicago on your bucket-list. Just make sure you check your weather app before you pack.
Follow Mark on Instagram @ MarkDeCarloTV for hilarious photos from the road, to win prizes and get great insider discount deals on hotels, travel and events.