On Monday the credit-rating agency Standard & Poor's upgraded its outlook for the credit rating of the United States to "stable." Which is terrible news for the credit rating of the United States.
That is because S&P has proven itself to be more or less clueless about the prospects for U.S. debt, among other things. From the moment S&P downgraded the U.S. debt rating to AA+ from AAA in August 2011, U.S. debt has surged 14 percent in value, and U.S. stocks (embodied by, ironically, the S&P 500-stock index) have gained 37 percent, before dividends, observes Joshua Brown of the Reformed Broker.
Brown has made the handy chart below to demonstrate the S&P's cluelessness, with lines instead of words. (PRO TIP: The chart is far less blurry when viewed on his site.)
"Turns out the exact right response to S&P's much-ballyhooed US downgrade was to buy both bonds and stocks," Brown writes. (Story continues below his chart.)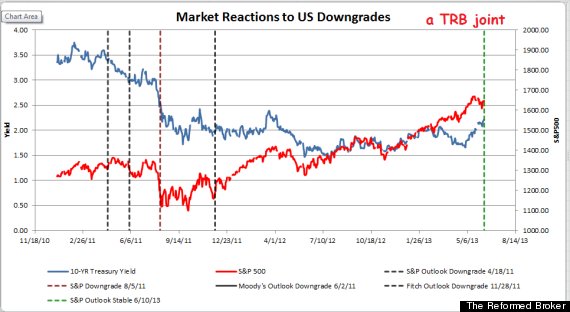 S&P has lifted its outlook on the U.S. just as bond prices are starting to fall, and the stock market's recent run has hit some roadblocks. Great timing!
And of course the market's reaction is only part of the total cluelessness of the S&P's initial downgrade, which came despite a $2 trillion math error in the rating agency's calculation of future U.S. deficits. Not to mention the cluelessness of making sure Washington was focused on slashing deficits in the midst of the slowest labor-market recovery since World War II.