Finding success at an early age, Tobie Giddio began illustrating advertisements for Bergdorf Goodman soon after graduating from college. The ads were somewhat iconic and ran through the end of the '80s. During that time, the excitement of Tobie's burgeoning career was tempered with the fact that many of her new friends and mentors within New York City's fashion community were dying from AIDS. In the face of the crisis, she felt compelled to help in any way she could, including volunteering with GMHC.
Flash-forward three decades later and Tobie is again facing the harsh reality of another deadly "A-word" disease, this time it's ALS. It recently killed her friend (and my partner) Randy and it's a disease that is slowly taking the life of another friend who is very close to her heart.
"I learned about ALS because an old friend was diagnosed," said Tobie. "When I found out, I went online and discovered what was going to happen to him and learned how incredibly isolated, underfunded and ignored this disease was. It was shocking. That process opened up a new world of knowledge, heartache and empathy for me... you might say it opened up my heart."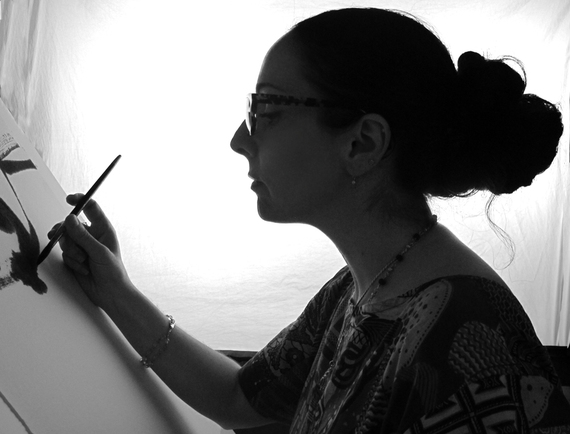 Tobie at work, Photo by Billy Erb, Courtesy of Mark Malinowski
Still a highly sought after fashion illustrator for clients like Vogue, Tiffany & Co. and Neiman Marcus, Tobie now has re-channeled her talent to also become a noted artist. As part of this creative transformation, Tobie's desire was to use her talent and energy to do something to specifically help those with ALS. Poetically, she encountered an almost other-worldly inspiration while meditating during ALS Awareness Month, providing her with a creative answer to her prayers.
"I wanted to create a piece during ALS Awareness month that would ideally inspire hope, and symbolize the strength and courage of the people fighting ALS. This was months before the 'Ice Bucket Challenge' and most people were still in the dark about ALS at the time," she said.
By literally opening her mind and her heart, Tobie created a piece called "Big Blue Heart." Drawing parallels to what she saw and experienced with the AIDS crisis in the '80s and '90s, "Big Blue Heart" depicts Tobie's desire for a cure for ALS, another disease that has personally changed her life forever.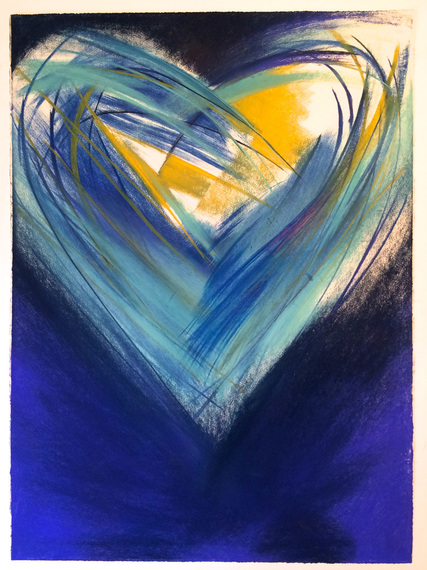 "Big Blue Heart," Photo Courtesy of Mark Malinowski
Tobie said:
"It was a plea of the heart and from the heart, for a cure. It was the desire for connection and the strength in bonding together to help fight a disease that has taken so much from people. Really, I wanted to help give a voice to people with ALS and their loved ones and caregivers. "
Proving the power of the heart, "Big Blue Heart" was recently donated by Tobie to raise money to support work that literally gives a voice to people with ALS. Led by John Costello, the director of the Augmentative Communication Program at Boston Children's Hospital, this work features a message banking program that allows people with ALS to record and "bank" responses to questions while they still can speak. Then, when they inevitably lose that ability, the recordings provide the person's own, natural voice to communicate versus the standard, robotic voice that comes from computer-support systems.
Along with voice banking, the program also provides an array of services that use technology and special techniques to help people with ALS communicate. Unfortunately, the demand for the program's services is overshadowed by the fact that insurance doesn't cover the cost of most augmentative support needs. There is also no true program budget. To learn more, visit here.
Mark Malinowski is a marketing executive and continues the fight against ALS begun by his partner Randy Pipkin.