After a nine-year battle, my husband Randy Pipkin died of ALS in late March. Aside from the horrors of ALS, we had a great life together. We lived in the moment and truly were partners in life. Before Randy got sick, we traveled the world, lived in New York City and enjoyed the best life had to offer. We had big jobs, a big life and, most importantly, we were truly in love.
Randy and I met in NYC in 2003 and we were married in Quebec in 2006. He was diagnosed with ALS in 2005, but we did not let that stop our life from moving forward. We literally learned to live for each day and tried to not look back and not look forward.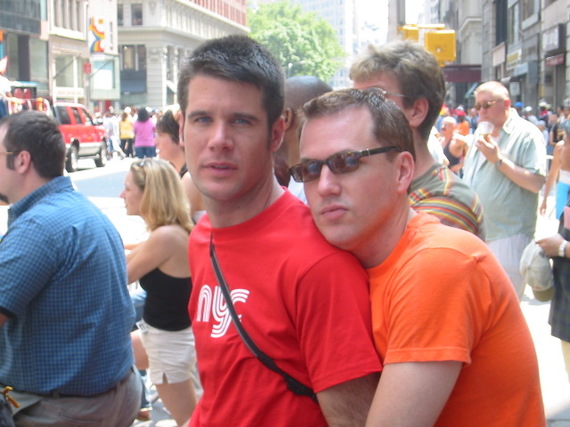 Photo Courtesy of Mark Malinowski
After the disease began to progress, we moved to a beautiful, historic town of Hingham on the South Shore of Boston. We bought a house there, the house that I still live in now. But it's been more than two months since Randy died and I'm trying to figure out how I'm going to live my life without my "other half."
Although we had planned for his death (as much as you can "plan" for things like that), it happened very quickly. After so many years of fighting ALS, Randy contracted pneumonia and died within a day. After he died, I had three "Life Celebrations" in the places that mattered most to him. I had them in Hingham; in NOLA where Randy was born; and finally in NYC, a place that was always close to our heart.
But now that all the "Life Celebrations" have been celebrated and all the logistics and paperwork that surrounded Randy's death has been accomplished (for the most part) -- the big question is what is left for me? Where do I go from here, without my life partner?
Who am I? I am no longer a husband, a caregiver, a lover nor an "other half" to anyone. I'm still me, the person I was before I met Randy, but I am also very different from that man. Aside from being older, I have experienced an epic love and also an epic battle -- the horrible disease that is ALS. These are things that most people don't experience in life, let alone during a relatively short, 11-year timeframe.
In a lot of ways I know I'm lucky. But in terms of moving forward, I know I don't have the all the answers now. Like us all, I'm a work in progress. I know I need to continue to live in the moment and navigate life choices "as I go." I need to remember and cherish that the "best of Randy" is inside of and part of me now. Although he is no longer physically present in my life, he's still with me and will always be. Even the act of writing this blog post somehow helps me...
That said, after Randy's death, I now believe there are real angels looking out for us if we allow them in. I know there are angels on Earth, namely my family and friends who have helped and are helping me along the path of moving forward. And, I know that Randy is still looking out for me from where he is now. I have experienced this several times, but one of the most profound moments was right around his NYC Life Celebration.
During the day of his event, I was in a cab that happened to drive by the Plaza Hotel. As I drove by, I thought how much Randy loved that building. The next day, after his event, I took a cab to the airport to go home and accidently left my phone on the seat. Before I got on my flight I asked a work colleague to put a tracer on the phone. I also thought: "Randy, help me find my phone!" When my flight landed in Boston, I got an email from my colleague that my phone was found. He passed this news along with two pieces of information that still boggle my mind. First, the phone was left at the Plaza Hotel. Second, the person who found it? His name was Randy.
Mark Malinowski is a cause-marketing executive and will continue the fight against ALS begun by his partner Randy Pipkin. He has formed "Team Randy" for the ALS Association's Worcester "Walk to Defeat ALS."