Who you got? What faces, egos, reputations come immediately to mind when you try to name any celebrities of high intellectual acumen, famous actors, rock stars, comics who can not only speak in complete sentences, but who know a thing or two of the world and can eloquently analyze, satirize and flip that wicked world around like a slippery gemstone made of Swarovski crystals and cocaine and dark, kinky dreams?
Louis C.K.? Matt Damon? Alec Baldwin? Jon Stewart? Natalie Portman? Maybe. Sort of. Sometimes. The list, as always, is depressingly short. The truism remains: Few top-tier celebs are intellectually capable of handling just about any topic -- politics, culture, art, God, world events -- thrown their way, by anyone, at any time, in front of any TV camera or live microphone.
I hereby nominate, and humbly kneel before the altar of, one Russell Brand, the lanky rock-god Brit actor/comic/writer, to this rarified group, a guy who I've always passively liked but who I also believed was a bit too smarmy, far too dependent on projecting a persona of mania and insanity as his raison d'etre. Not to mention most of his acting choices have been rather hideous (cough, Arthur, cough).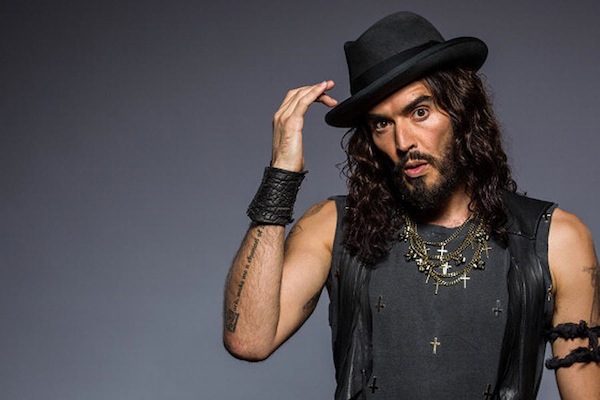 I am, apparently, a bit late to the party in realizing Brand isn't really any of those things, at least not predominantly, at least not at the expense of what appears to be a delightfully insightful and nimble mind, coupled to rather shockingly adroit, sophisticated way with written word. It's true. And "refreshing" doesn't quite cut it.
My awakening comes by way of a rather brilliant piece Brand just penned, seemingly without much sweat or egomania, for the Guardian, casually explaining his side of things following a rather ridiculous gaff at a recent, glitzy pseudoparty held by GQ magazine and sponsored by the barely upscale menswear brand, Hugo Boss (or, as Brand calls them, "an irrelevant menswear supplier with a double-dodgy history").
Did you know Huge Boss, back in the day, designed uniforms for the Nazis? I sure as hell didn't. But Brand did, and he made light of this absurd fact in his rambling, hilarious acceptance speech for a silly and made-up award ("Best Oracle") from GQ, the whole, silly spectacle of which Brand, being a comic trained to point out -- even as he revels in -- cultural absurdities, was happy to call attention to. (Watch the whole speech here).
The joke, as you might imagine, didn't go over all that well. Brand was reportedly escorted from the premises. Which, if you're Hugo Boss, might have been a mistake.
I know what you're thinking: You could care less about glitzy revelries attended by PR-crazed celebs, fashion wannabes and patronizing politicians. I understand. But miss the piece Brand wrote as follow up to the party and the bizarre, self-parodying universe it inhabits, and you're missing something special.
As we come out of the lift there's a bloody great long corridor flanked by gorgeous birds in black dresses, paid to be there, motionless, left hand on hip, teeth tacked to lips with scarlet glue. The intention, I suppose, is to contrive some Ian Fleming super-uterus of well fit mannequins to midwife you into the shindig, but me and my mate Matt just felt self-conscious, jigging through Robert Palmer's oestrogen passage like aspirational Morris dancers.
A few things are immediately evident: There is superb, next-level writing here. There is a unique grammar and turn of phrase. But more than that, there is high-level abstract thinking, an ability to zero in on multiple absurdities from multiple angles at once, all while taking the whole as exactly what it is: a hollow exercise in ridiculous ego.
My friend Scott put it best in describing Brand's mind: The guy is awake. And what's even better, he doesn't give a damn what you, me, or the corporate sponsors think. Which is exactly as it should be.
Let us not get carried away. The guy's a flagrant celeb, marries cheesy pop singers, has massive, million-dollar weddings in India and then gets divorced a year later, is as famous for childish antics on MTV as articulate observations in major media.
But really, who cares? He's also surprisingly spiritually aligned (he claims yoga helped him overcome multiple addictions -- watch a fantastic, slightly NSFW interview about his dedication to the practice here), doesn't drink or do drugs (anymore), doesn't depend on a callow mean streak to earn laughs -- like, say, fellow intelliBrit Ricky Gervais.
Some of this makes easy sense. After all, all the best comics are experts in dissecting modern culture from multiple angles. But all are not created equal. Jon Stewart rarely veers from politics. Louis C.K. may be the new George Carlin, but his depressed-schlub, middle-aged-men-are-gross shtick is nowhere near as sparkling and fun as Brand's Catherine Wheel/sex-god personality. Louis C.K. enervates. Brand energizes.
It gets better. Watch Brand casually eviscerate, seemingly without guile, the doorknobs over at MSNBC's stilted gabfest, Morning Joe, back in June. Brand was on the show to promote his comedy tour, The Messiah Complex. He proceeded to fluster, confuse, mock the entire hosting cast, without even really trying. It was masterful....
Read the rest of this column by clicking here
Mark Morford is the author of The Daring Spectacle: Adventures in Deviant Journalism, a mega-collection of his finest columns for the San Francisco Chronicle and SFGate, and the creator of the new Mark Morford's Apothecary iOS app. He's also a well-known ERYT yoga instructor in San Francisco. Join him on Facebook, or email him. Not to mention...