The following is an excerpt from my book Modern Brides & Modern Grooms: A Guide to Planning Straight, Gay, and Other Nontraditional, Weddings. The book is a wedding/marriage/relationship guide for anyone and everyone who faces the dilemma: How do I do things my own way, and stay connected to my people, at the same time?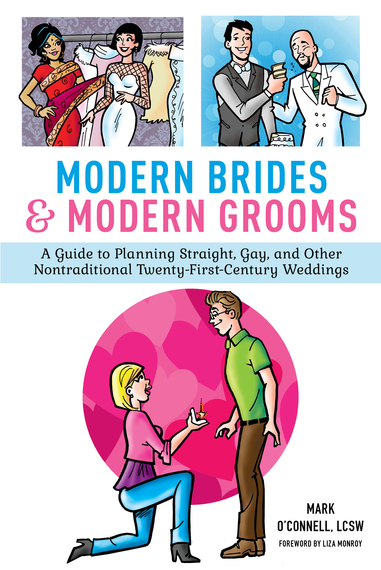 Marriage equality has arrived,
and it's not just for "the gays"!
This book is for those of you hoping to create a personalized
wedding that dignifies your relationship, your individuality, the mutual
recognition between you and your partner, and the equality you
share--whether you're of the same or opposite sex.
Weddings are evolving across the board, and so too is the freedom
and fun in planning them. Ceremonies (even religious ones), are now
more a proclamation of love and commitment, on equal terms, for
all couples--and less a public ritual during which one man drags a
woman out by the hair and throws her at the feet of another man. In a
little over a hundred years, brides have grown from being property to
proposing, and now they can also watch their lesbian and gay friends
enjoy conjugal kisses (under the law!).
When my husband, Justin, and I were married in 2006, at the age
of twenty-nine, I found myself both moved by the past and roused to
engage with the future. My gay uncle, Dan--who was twenty-nine in
1986, when SCOTUS ruled that same-sex sex was not a Constitu-
tional right--took me aside during our reception and told me, with
the sincere shimmer of a tear in one eye, "I wasn't sure I'd ever see a
day like this."
Meanwhile several of my straight female friends responded with
enthusiasm to the custom-made ceremony Justin and I had crafted
out of cherry-picked text and music, emphasizing our love and
friendship as equal but separate. My gal pals were somewhat ambiv-
alent about having weddings--concerned about the aforementioned
inequities that have historically stained these events--but after seeing
ours, they were inspired and emboldened. These ladies have since
collaborated with their partners to create magnificently distinctive
nuptials of their own, honoring their unique loves, while also liber-
ating their guests by exploding tradition--e.g., I was a bridesman for
each of them.
Modern weddings are indeed becoming more and more queer.
By queer I don't necessarily mean LGBT, but more inclusively I refer
to anyone busting out of stale societal norms to get some fresh air.
Modern weddings include, but are not limited to: the straight Cath-
olic couple who read a Dan Savage piece about marriage equality at
their ceremony; the faithfully Jewish straight bride who married a
non-religious, gender-nonconforming groom; as well as the variety of
interfaith, interracial, and binational weddings I've had the pleasure to
attend--not to mention all those weddings of couples who actually,
genuinely, like each other . . . and who want their truth to outweigh
tradition.
This isn't to say we don't stand to inherit anything useful from tra-
ditional marriage. Obviously the very idea of throwing a kick-ass party
of exhibitionism, romantic-ideals, and righteous-symbolism is derived
from them. And now, with DOMA's demise, couples of the gay and
lesbian variety share equally with straights in the economy of instant
marriage recognition: including the option to do a Vegas-style quickie,
but more importantly, the ability to answer the frequent cocktail party
question, "When were you married?" lickety-split.
I can't tell you how many times I've been tripped-up in the head-
lights of that question, as though I'd been pulled over on the highway
after having a stroke: "Well officer, we had a wedding in 2006 in
Massachusetts (we're New York residents), but Mass didn't recognize
out-of-state weddings at the time (Thank you, Mitt Romney) and
the New York Times refused to announce it as a wedding (even after
we long-windedly explained), so we tried to do it legally during a
visit to San Francisco in 2008--we were first to register at City Hall
the day the Cali Supreme Court ruled in favor of same-sex marriage
(prior to The Terminator intervening, and Proposition 8)--but the law
hadn't been implemented yet, so we went back to Mass in 2009 to
legalize it (when they finally allowed out-of-state weddings), with
only my mom and the random, all-purpose officiant witnessing as
we stood in the rural outdoors, in front of an enormous rock (allud-
ing to the hopeful end of some disaster film, like Deep Impact) and,
thanks to Governor Patterson, it was sort of recognized in New York
at that time, and was then officially reciprocated when same-sex mar-
riage became legal in our home state in 2011, but we haven't had
another ceremony yet, and if we do, we won't announce it in 'the
Times 'cause we're still smarting from that first rejection, but at least
now we know for sure we want to be together. So . . . does that answer
your question?"
I've compared our marital quest to getting a PhD (it takes about
seven years, after all)--except, when you finally get your PhD, your
family is almost too happy to call you "Doctor," whereas, at this point,
ours is sick of recognizing our marriage. Now, seven years after we tied
the knot (the first time . . . it's quite an unwieldy knot by now . . .),
couples like us can finally chitchat about their nuptials with ease--one
date, one location, and a lithe display of smile-teeth--like any straight
Tom, Dick, or Britney Spears.
While that's all very well, we should remain conscious of the sal-
vational creativity that carried us through all those years of hearing
"No!" Rather than accommodate anyone else's expectations for how
your wedding should look (e.g., black tuxes and lacy white gowns at
the altar resembling iconic cake-toppers or automatons with political
ambitions), we can look back on the richly imaginative problem-solv-
ing that allowed us to claim meaningful marriages in the face of adver-
sity and against all odds--and now we can do it with the law, society,
and joie de vivre on our side.
Rather than guiding you to a "new normal," I hope this book
emboldens you to create a "new"--a new of your own. Your wedding is
a performing art, as is your marriage itself. Both require you to creatively
collaborate in surviving conflicts, supporting each other's dreams, and
building together a life that is livable. As an actor and a psychotherapist,
I can tell you that approaching your wedding like a performing artist
will help you achieve these goals and engage with inevitable obstacles
along the way.
This is a guide to help you have a wedding on your own terms--
and take the people you love along with you for the ride.
Part of that goal is about navigating more than just the practical
challenges of menus and DJs. Deep down, weddings are about
navigating some of the deepest emotional relationships of your
life, with the people closest to you.
In the chapters ahead, I explore those kinds of relationships
and challenges by telling personal stories: the story of my wed-
ding and the challenges I faced, and wedding stories from my
friends and family. I share with you not models, but trials, errors, and
stories of the willingness to carve out more life-space, love-space,
and wedding-space than we've ever had before.
Through these stories, this book prepares you, the modern
bride or modern groom, for understanding better who you are,
what your Big Day is all about, what you want from it, and why
you want those things.
Ultimately this core work or "emotional road map" to your wed-
ding will help you express yourself confidently through the right
dress or tux or shoes (or loincloth) or flowers or song or any other
practical detail of your day that will make it authentically yours.
I hope these pages inspire you to make use of what we've all learned
in our long fight to marry who we love and to create an event that
authentically expresses you, your intended spouse, and both of you as
a couple--whether you're L, G, B, T, Q, straight, or none of the above.
This is the wisdom, the joy, and the gift of modern brides and modern
grooms.