In just a few hours, President Barack Obama will do his annual Thanksgiving good deed--and pardon the nation's First Turkey.
Not ones to miss a good tie-in, we're ready to put our proverbial necks on the chopping block and announce this year's "PR Pardons." The list includes companies and individuals we think deserve a second chance in the court of public opinion. Putting this list together has become an annual tradition here at Creaxion and almost as good as a Thanksgiving episode of "COPS" where the family dukes it out after a few drinks (in our case, a few glasses of Kim Crawford Sauvignon Blanc).
As an added bonus, we've added a couple of new categories: "Not this Year" and "Nowhere Near."
Without further ado (or bloodshed), here is this year's list of brands and people getting a reprieve from their PR executions.
1. BP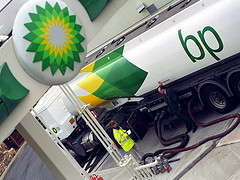 (Courtesy: BP p.l.c.)
Talk about a blow up. I thought our fight over Michael Vick--and the PR pardon we granted him in 2011 was going to be tough to beat. I was wrong. As Dan Rather used to say, this debate was "hotter than a Times Square Rolex."
Like most people, we were initially skeptical of BP's barrage of TV ads after the 2010 Deep Horizon disaster. But instead of simply buying ads and flying away from the controversy, BP has stayed and honored the majority of its commitments to the people of the Gulf Coast. The company has also agreed to pay a $4.5 billion fine.
Again, this was not a unanimous decision, but as Chief Justice on our Supreme Court, the final decision came down to me. Like any good former news reporter, I consulted with a leading environmental expert for one more opinion. Her thoughtful response sealed BP's fate. "Of all the majors [oil companies], BP has the most authentic commitment to climate and sustainability," she said. "I have many times shuddered to think how bad off we'd be if it had been another company."
It's time to forgive and move on. BP--consider yourself lucky and pardoned. Now, get back to work.
2. Lance Armstrong
Let the public flogging end. Not that we condone steroid use, we just don't care anymore in Lance Armstrong's case--and it seems by a recent Twitter picture, that he doesn't care either.
Yes, Armstrong cheated and he got caught. But more importantly, he cheated death and the horrible effects of cancer. Armstrong has simply done too much good for cancer research and awareness to be tossed aside like an empty water bottle at the Tour de France. He is a source of inspiration for those fighting a devastating disease and despite the doping scandal Armstrong remains a fixture of strength and hope for cancer survivors. Armstrong even made the difficult decision to remove himself (and even his name) from his charity, LIVESTRONG. That is an unselfish move that will allow good to come from poor moral judgment. Ride on into the sunset, Lance and wear your PR pardon with pride.
3. David Petraeus
The battles have just begun for this highly decorated military veteran but we've decided to cancel the PR war. Petraeus has served his country admirably for the past 25 years. Since he was not on active duty during the time of his admitted affair, it should not be a criminal or even public matter. While we love our fair share of gossip, we'll let Petraeus and his wife sort this one out.
General Petraeus, we hereby grant you a full PR Pardon. It may not help in Congressional hearings (or at home with Mrs. P), but it's the least we can do to thank you for your service to our country.
4. Newsweek (Tina Brown)
Newsweek, once one of the country's premier newsmagazines, bit the bullet this year and went digital. To someone like me that, at one time, enjoyed the print edition, it is a sad day for journalism. At the same time, it is a realistic move. With declining print sales, increasing expenses and more competition online, there were few choices for Newsweek.
The future is online, so kudos to you Newsweek and Editor-in-Chief Tina Brown for seeing the writing on the digital wall and taking preemptive measures. It was likely a tough decision for the newly hired Brown, who joined Newsweek in July, but she was not deluded by dreams and nostalgia. We're sure everyone else in the print world is taking notes--and perhaps direction from Newsweek and Ms. Brown.
5. Gluten
Gluten, you need a PR agency (and I happen to know a good one for you to hire). Gluten-free diets have become all the rage with more and more people claiming an allergy or intolerance to the substance. Sure, Celiac Disease and gluten intolerance are real issues, but they haven't stopped the general public from eating delicious pasta, pizza and desserts for the past couple hundred years. Why should it now?
So, we give Gluten a break and a full PR pardon. You may be unpopular in many fitness and dieting circles, but you'll always be our favorite indulgence (besides Kim Crawford). Sometimes you just can't resist a slice of peperoni pizza.
And now for our other winners (or losers):
Not This Year:
Chick-fil-A: Still no official word from the company's president and COO that he has changed its stance on marriage equality. Thus, no pardon this year and still no chicken biscuits for us.
The "Today" Show: Karma is a ratings killer. The Ann Curry debacle is coming back to haunt Matt and company. Maybe next year.
Apple Maps: Where are we and why are we here? Just bring back Google Maps.
Nowhere Near
Donald Trump: Give it up already. He's beyond a joke.
BBC: A Royal shame. A noble institution that's lost its soul.
Windows 8: Good luck figuring this one out on your PC. Ctrl-Alt-Delete.
There you have it: The 2012 PR Pardons. It's our professional opinion and we welcome yours.
Mark Pettit is president & CEO of Creaxion, one of the nation's leading marketing firms. Mr. Pettit has more than 20 years of marketing experience and is an expert in crisis communications. A former TV newscaster and published author, he also serves on the board of the Atlanta Convention & Visitors Bureau and the Marketing Committee at Children's Healthcare of Atlanta. Follow Mark on Twitter @PettitMark and online at www.Creaxion.com.