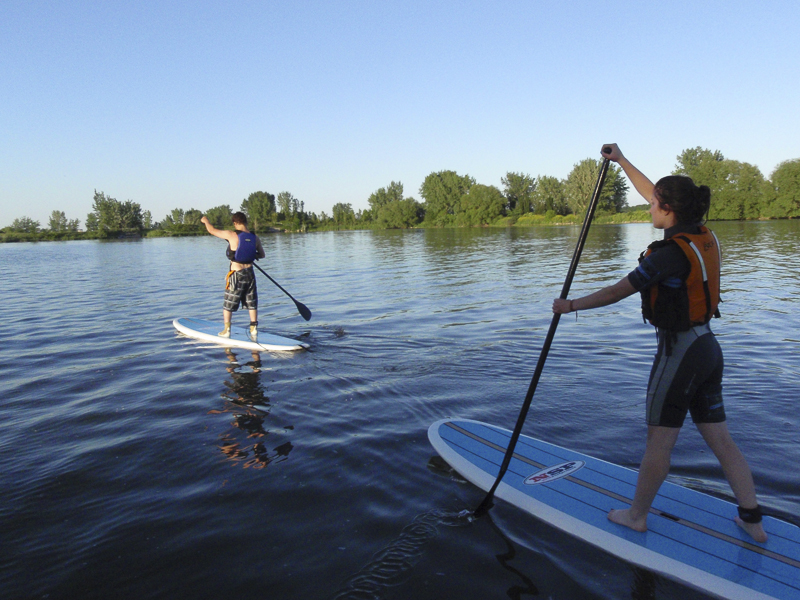 Hot jazz, cool comedy, fine dining and fabulous European café culture. The world's second-largest French-speaking city after Paris promises all that and more during the sultry season. But Montréal's unabashedly liberal and tolerant art, music, design and fashion scenes aren't the only reasons to visit this magnificent metropolis in summer.
You can get an extra large dollop of joie de vivre outside too, cycling, kayaking, river rafting and even standup paddleboarding within the city limits. Indeed, with its many parks, wide open spaces and outdoor activities, nature-lovers and adventure-seekers will find plenty to do -- even in the heart of the city. Here are a few ways to get more out of Montréal while recharging your batteries for those legendarily long nights on the ville.
Peddle through history
There are nearly 400 miles of bike lanes winding throughout the city. In the heart of Old Montréal along the bike path leading to the city's major parks and cycling trails, Montréal On Wheels rents out an array of bicycles, including tandems, as well as child trailers and rollerblades. The centre offers guided bike tours for individuals and groups and organizes activities for up to 100 participants. Stops along the way include:
Atwater Market
Open since 1933, the Market features a diverse range of merchants, caterers and specialty boutiques selling meats, fish, baked goods and fine foods all year round, in addition to its many vegetable and horticultural producers.
Mont-Royal Park
A true forest in the heart of the city, Mount Royal Park is a popular spot among Montréalers. Its recently-renovated and majestic Kondiaronk Lookout offers panoramic city views.
Parc Jean-Drapeau et île Notre-Dame et Ste-Hélène
Spanning two islands in the middle of the St. Lawrence River, the Parc Jean-Drapeau is home to a multitude of trails and cycling paths. In summer, the park offers a beach, three heated outdoor pools and the immense La Ronde amusement park.
Westmount
This historic upper class anglophone neighborhood just south-west of Mount-Royal is flush with green spaces and beautiful mansions. The most interesting homes are on the side of Mont Royal.
The Plateau
Multi-colored houses, outdoor staircases and small shady streets are all part of the Plateau-where the country's greatest concentration of artists resides. Home to young professionals and artists alike, the Plateau is also where the "in" crowd likes to socialize.
Get up, stand up, and paddle the mighty St. Lawrence
Feeling adventurous? Try experiencing Montréal from an amphibious point of view aboard your own paddleboard. Kayak Sans Frontières (KSF) is an innovative water sports center located 15 minutes from downtown in the heart of the Parc des Rapides de Lachine. KSF offers courses, equipment rentals and discovery outings via kayak and river surfing and stand up paddleboard (SUP), which is the world's fastest growing outdoor sport.
Whatever sport you choose, you can learn to surf or paddle in the safety of calm waters, gliding down the St. Lawrence through Montréal's western suburbs. KSF even offers SUP Yoga and SUP Fitness, which aim to improve symmetry and balance, as well as tone the body in a way only steadying over water can do. Say hello rock-hard abs.
Feel your pulse pumping on the Lachine Canal
With daunting names like Big John, Outétoucos, Louis Leap and the Devils Drop, the rapids along the Lachine Canal are an adrenaline junkie's dream. Montréal Rafting offers the possibility of experiencing the Lachine Canal with an innovative, four mile-long river boarding and rafting trips that take you plunging through the powerful white water waves of southern Montréal.
End your day with a fireworks display
After an exhilarating day spent on the water or exploring Montréal by bike, watch the night skies light up at the International des Feux Loto-Québec, a spectacular fireworks display that occurs nine times over the course of the summer. It's all part of a months-long competition between expert fireworks designers from around the world.
If You Go
Sleep
The Zero1 is a boutique hotel that offers a unique accommodation option in a modern, cosmopolitan setting. With 12 floors of urban minimalism, the Zero1 features fully-equipped units and hotel amenities, as well as exceptional views and an abundance of natural light. It is located just moments away from the Quartier des spectacles and the Monument-National.
Eat
Restaurant Chez Ma Grosse Truie Chérie
While the look at Restaurant Chez Ma Grosse Truie Chérie may be retro, everything about its menu says up-to-the-minute-freshness. Foodies are regaled by Chef Loïc Chazay's creations which shine the spotlight on local products and house specialities.
Le Local
Housed in a heritage building once occupied by a firm of architects, Le Local serves bistro-style cuisine against a minimalist backdrop: high ceilings, giant light wells, open space dining room, front terrace and cocktail lounge. The menu features salmon tartare with truffle oil, pan-seared foie gras and scallops tart -- all designed to complement the excellent wine list drawn by renowned sommelier Élyse Lambert.
For more info, visit Tourism Montréal.
PHOTO GALLERY
Outdoor summer sports in Montreal