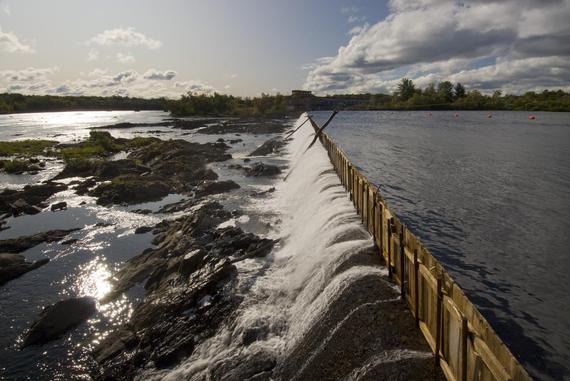 By Mark Tercek, President and CEO; and Giulio Boccaletti, Managing Director of Global Freshwater, The Nature Conservancy

Over the next 20 years, most key decisions affecting the future of the world's great rivers will have already been made, including where dams are built to store water and generate hydroelectricity. The results of those decisions will be so great that they will be visible from space as reservoirs fill valleys, cities expand and land turns from brown to green with irrigation.
With such urgent and important water decisions before us, we have very little time to get things right.
Through decades of dam building, we have a great deal of knowledge about how dams work, affect the health of a river, and impact local and downstream communities. In fact, we've learned so much that we have begun to reengineer old dams, remove others, and better plan for those in the future. The lessons of the past, coupled with new technology and science, give us a real shot at achieving hydropower development that is more sustainable than it was in past decades. We just have to close the gap between knowing and doing.
For future dams, we must think beyond the scale of a single dam on a river. Our challenge today is to help governments, developers, communities and others look at the bigger picture when making decisions about where to place dams.
Big companies around the world have a stake in building modern dams the right way. Those that don't take into account the full spectrum of needs--social, financial, and environmental--will continue to cause controversy. Look back to 2011, for example, when Myanmar's government indefinitely suspended the Chinese-backed $3.6 billion Myitsone dam project on the Irrawaddy River due to social and environmental concerns. The decision was a wake-up call to Chinese companies and officials. Since then, there are encouraging signs of a growing awareness among business leaders. They understand that higher environmental standards can have a positive impact on a company's bottom line.
Influencing these decisions means we must speak the language of engineers and builders, government ministers and indigenous leaders. Consider for a moment PowerChina, one of the world's largest hydropower builders. This company alone is working on almost 350 dams in 17 countries and has 210,000 employees, 130,000 of whom work on hydropower construction. The practices and policies of a company this large will have a global influence on the rivers of the world.
PowerChina, and others like it, are responding to demands from governments around the world seeking to deliver water and electricity to their citizens. By engaging directly with these governments and companies we can help them meet those demands in the most sustainable way possible.
At The Nature Conservancy we call this approach "Hydropower by Design", which puts the focus back on finding common ground to develop solutions necessary to unlock progress. The key for Hydropower by Design is that it's applied to the scale of whole systems, not individual dams. Through this larger scale, a broader set of solutions can emerge.
Consider the Penobscot River in Maine. Over the past century, a series of dams sealed off thousands of miles of habitat for Atlantic salmon and 10 other migratory fish species. In 2010, the Penobscot Restoration Trust, a consortium including the Penobscot Indian Nation and conservation organizations including TNC, purchased three of those dams. Two were removed and a state-of-the-art fish passage will be installed at the third. Combined with improvements at four other dams, more energy will be produced while also opening miles of river for spawning fish. After decades of conflict over individual dams on the Penobscot, by moving to a larger scale, the hydro company, agencies and Trust were able to find an innovative solution.
There are, of course, dams with such high environmental and social costs that they simply should not be built. At the same time, there are going to be hundreds of new dams built around the world. To influence those decisions, we need a much broader vocabulary than just the word "no" when it comes to dams. We need to demonstrate where and how to get things done better and more sustainably.
If we do that, then decades from now when we look down from space, the decisions we see from that great height might just show we got it right.
Mark Tercek is the president and CEO of The Nature Conservancy and author of Nature's Fortune: How Business and Society Thrive By Investing in Nature. You can follow Mark on Twitter @MarkTercek.
Dr. Giulio Boccaletti is the Managing Director for Global Water at The Nature Conservancy. He is focused on the intersection of water, economic and social systems, and infrastructure, and is part of a passionate group of people who believe water issues are one of the defining challenges for the environmental sustainability of the global economy. Follow Giulio on Twitter @G_Boccaletti

[Image: A portion of the old Howland Dam on the Penobscot River in Howland, Maine. © Bridget Besaw 2009]