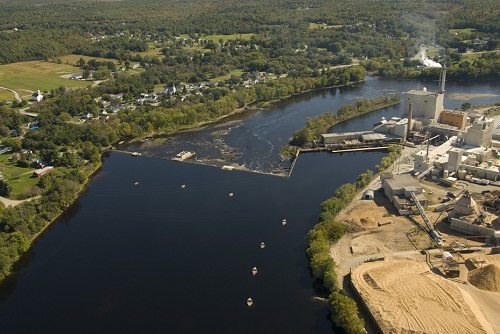 <
Today, work will begin on the removal of the Great Works Dam -- a 1,000-foot mass of concrete and timber along Maine's Penobscot River.
It's an important milestone in an unlikely collaboration between a power company, an Indian Nation, federal and state agencies and environmental groups.
Some said the partnership would never work. But today we are proving that smart collaboration can lead to important benefits for both nature and people.
The story picked up pace in 2004, when diverse stakeholders hammered out an unprecedented agreement to resolve longstanding disputes over different uses of the river. The plan called for the removal of two dams and a state-of-the-art fish bypass around a third. At the same time, energy production would increase at other dams, maintaining current hydropower levels.
It was a win-win solution: precious habitat would be restored while balancing the need for hydropower production.
Six years later, The Penobscot River Restoration Trust, whose partners include The Nature Conservancy, American Rivers, Atlantic Salmon Federation, Maine Audubon, Natural Resources Council of Maine, the Penobscot Indian Nation and Trout Unlimited, purchased the Great Works, Veazie and Howland Dams from PPL Corporation. It was a bold yet practical move, a great example of the collaborative, roll-up-your sleeves attitude necessary to address today's complex conservation challenges.
Our work isn't done, but today's removal of the first portion of the Great Works Dam is an important step toward restoring the health of the Penobscot River, widely regarded as our best hope for bringing back endangered Atlantic salmon along the East Coast of the United States. Once complete, 1,000 miles of habitat along the Penobscot and its tributaries will be accessible for sea-run fish. These fish will feed animals such as turtles, river otters and bald eagles, as well as groundfish that support commercial fisheries in the Gulf of Maine.
What's more, people will benefit from these efforts too. The Penobscot Indian Nation, which has lived alongside the river for thousands of years, will regain a part of their culture and traditions. New recreational opportunities for fishers and paddlers will help boost the region's tourism industry. And all this will be accomplished while maintaining current levels of hydropower protection.
We also hope the project will lead to better management of rivers and dams elsewhere. It has been featured at freshwater conservation symposiums on three continents as an example of how everyone -- local residents, energy companies and nature -- can win in a sensitive and complicated river restoration process.
People are often surprised when I tell them that The Nature Conservancy is a proud member of a partnership that owns three dams.
Around the world, dams have altered two-thirds of the world's major rivers. They block the pathways used by migrating fish, affect water quality and change natural water-flow patterns that support aquatic life.
But dams also provide important benefits, from drinking water and electricity to flood control and irrigation water for farms. When smartly constructed and well managed, dams can play a role in alleviating poverty and improving human health -- while minimizing social and environmental impacts.

That's where smart collaborations come into play -- and why The Nature Conservancy is proud to be a partner in The Penobscot River Restoration Trust.
While we recognize the threats dams pose to natural systems, we also recognize the realities: around the globe, government officials, development agencies and industry leaders are proposing and building new dams to meet growing human demands. But through sound science and smart collaboration it is possible to manage our rivers in ways that improve social, economic and environmental benefits. It's up to conservationists to show the way.
Image: The Great Works Dam on the Penobscot River in the towns of Old Town and Bradley, Maine. Image source: Bridget Besaw