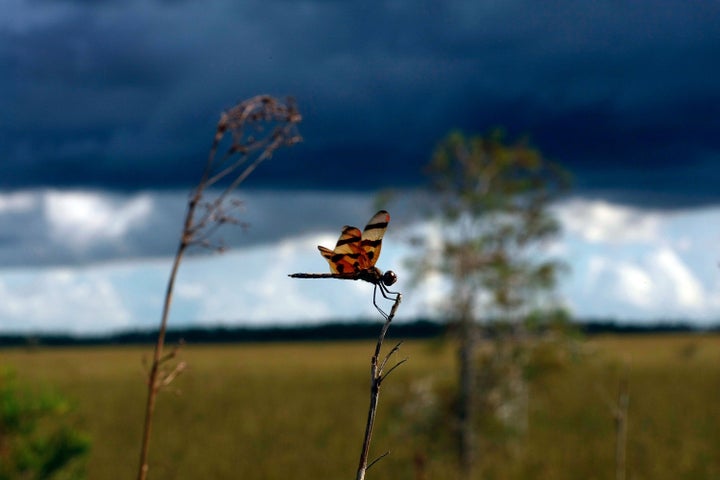 Given difficult challenges for the Federal budget and the economy, you might expect support of conservation and the environment to weaken in the U.S. But, when we Americans are at our best, hard times can actually result in creativity and innovation.
Such is the case in Central Florida. Secretary of the Interior Ken Salazar recently established the Everglades Headwaters National Wildlife Refuge and Conservation Area. This project marks a new approach to conservation rapidly gaining support around the country -- projects characterized by cooperation among public agencies and the private sector and by a greater recognition of the multiple human benefits of conserving land and water.
The Everglades are commonly thought of as the "river of grass" south of Florida's Lake Okeechobee, where hundreds of millions of dollars have been spent over the last decade to restore a natural system unique in North America.
But the Everglades ecosystem really begins further away -- just south of Orlando in Central Florida. This area of lakes, wetlands, creeks, pine woods and prairies is the center of Florida's surprisingly large cattle ranching industry. These "Everglades Headwaters" are also exceptional habitats for a wide range of game and non-game fish and wildlife species. Encroaching development and historic ditching and draining of this landscape have threatened both the water supply for southern Florida and habitats essential to sustaining fish and wildlife.
The new Everglades Headwaters National Wildlife Refuge and Conservation Area brings together multiple state and federal government agencies, private conservation groups like The Nature Conservancy and local ranchers. The project will conserve land for cattle grazing, wildlife and recreation, while restoring the natural flow of water essential both to the Everglades downstream and to plants and animals.
A key ingredient of the project's success was the support of local landowners. The USDA's Natural Resource Conservation Service purchased tens of thousands of acres of conservation easements from ranchers within the Northern Everglades. These agreements, entered into voluntarily, prevent future development of the land, but also provide needed capital to sustain ranching into the future. They also provide funds to restore wetlands on ranches in a way that is good for ranching, people and the environment, helping to store and help purify water for downstream uses such as municipal water supplies.
Hunters, anglers and other outdoor lovers also have reason to cheer the announcement. As part of the project, The Department of the Interior will establish a core National Wildlife Refuge open for public recreation. Under a Memorandum of Understanding between the U.S. Fish and Wildlife Service and the State of Florida, the Florida Fish and Wildlife Conservation Commission will work with the Service to manage public recreation on these properties.
The Department of Defense (DOD), which manages a large bombing range in the project area, was also a key partner in the project. Recognizing the benefits from protected open space to insulate their operations, DOD is using its own funds to purchase additional conservation easements around the range.
My organization, The Nature Conservancy, worked closely with each of these partners throughout the process, donating part of our land in the area to help establish the new refuge and conservation area.
Taken together, this project reveals that in times of scarce resources, agencies working together in a coordinated way can make far better use of the public's money than if they proceeded on their own.
It also shows that done right, conservation can have very real multiple benefits. This project will help to sustain the local agricultural and ranching economies, protect and manage water resources for downstream uses by communities and agriculture and to reduce flood hazards, guarantee public recreational uses like hunting, fishing and wildlife observation, and protect habitats for many threatened plant and animal species.
The Everglades Headwaters can be a model for similar projects, projects that have the support of citizens from all walks of life because they prove that conservation can be done cooperatively and in a way that also brings quality of life and economic benefits. As Secretary Salazar noted, "Many local ranchers and farmers are excited about the opportunity to conserve both the land they love and the way of life handed down from generations past."
Seen in this way, conservation of what we at The Nature Conservancy call "whole systems" for their interdependent human and natural values is a practical, cost-effective approach to continuing America's proud and longstanding tradition of conserving the land and water that ultimately sustain all of our lives.