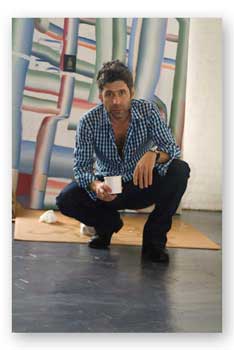 Graham Gillmore and his painting for "Six Degrees of Separation"
Claire Oliver describes her inspiration for bringing together 10 artists from Canada for her new exhibition, "Six Degrees of Separation: A New Generation of Canadian Artists":
"Wanting to add some young painters to my stable I thought it best to move away from the "usual suspects" of Yale and Columbia...thinking about Toronto for other reasons...I realized they are super close to us here in NYC and yet super far as we do not seem to cross pollinate much at all. I found out that there are only 6 degrees of longitude that separate Vancouver from Toronto and zing - the show was born!"

Claire Oliver during installation
On bringing the artists of Canada to Chelsea, guest curator Noah Becker told us, "There is nothing like New York on the planet...I don't think that Toronto or Vancouver even come close...But there are artists who are working at the highest level artistically who can show in New York or internationally...I'm trying to present that high level of work to New York audiences and that's an exciting prospect."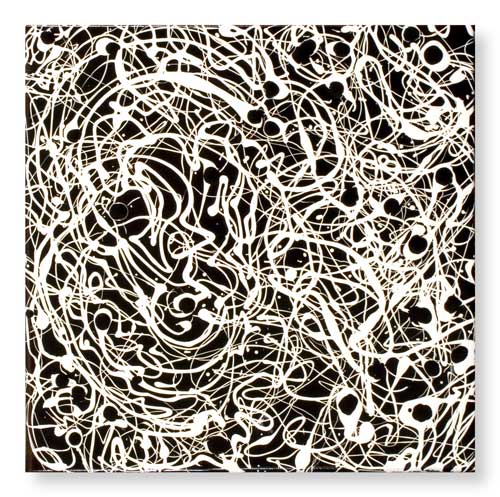 Attila Richard Lukacs, Untitled courtesy Claire Oliver Gallery
Oliver and Becker have also included 3 Vancouver artists whose work has laid a foundation for the new generation - Attila Richard Lukacs, Angela Grossmann, and Graham Gillmore.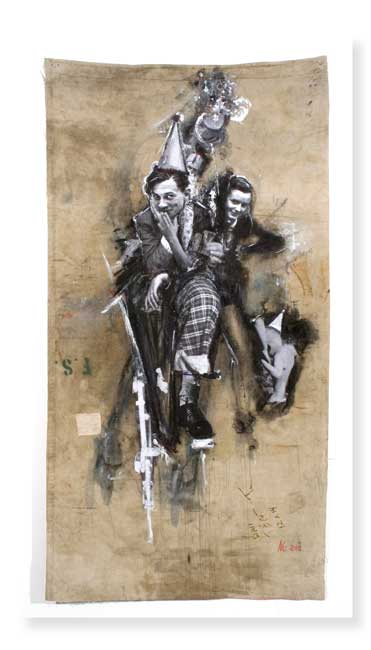 "Angela Grossmann, "Stilt Walker (he's a friend of mine)" courtesy Claire Oliver Gallery
How does Becker view the distinction between the 2 cities featured in his show?
"I'm not sure that Canada has one style in Vancouver and one in Toronto...Some of the best Vancouver artists also show in Toronto, they are nationally known. As to a Canadian "school" in general, he mentions a group of landscape painters active in the early 20th Century. "Since the Group Of Seven there has not been a specific style in the country of Canada that one could say is a 'Canadian' art".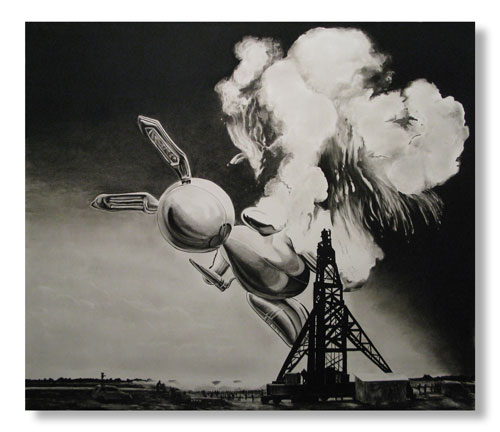 Trevor Guthrie "Hindenbunny" courtesy Claire Oliver Gallery
Gillmore acknowledges that early influence. "Prior to college I painted provincial looking landscapes in the style of the Group of Seven, " he recalls. "Before that, fishing boats and totem poles copied from back issues of 'Beautiful British Columbia' magazine."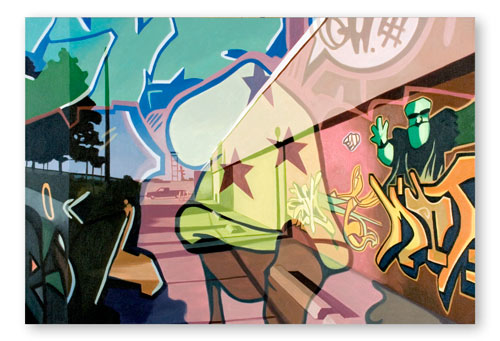 James Nye, "Anonymous Arcade" courtesy Claire Oliver Gallery
At Emily Carr College of Art in Vancouver, Gillmore says, "I quickly teamed up with several hungry naive and ambitious painters in my second year ...
including Derek Root, Angela Grossmann, and Atilla Lukacs. We learned how to paint as though we were a single organism, consuming vast amounts of found materials."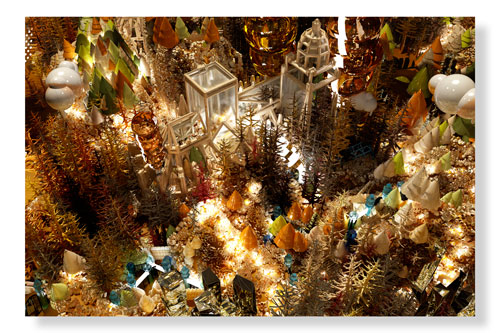 Alex McLeod, "The Previous Greenhouse" courtesy Claire Oliver Gallery
There were times when one could not tell who's work was who's. It didn't matter," Gilmore continues. "Sullied copies of Flash Art littered our studio floors. There simply wasn't any local art history that interested us so we turned to the German neo-expressionists and more importantly, to each other."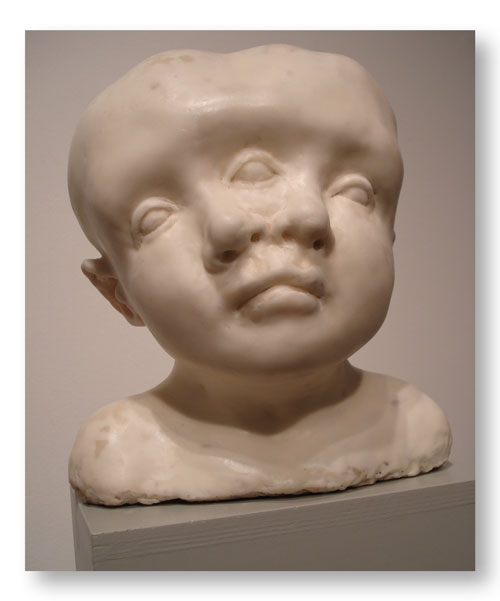 Catherine Heard, "Errata" courtesy Claire Oliver Gallery
"These artists all work very much in their own personal style," said Claire, about the connection this group to contemporary art in general."Yet, as is the case so often in art history, current world events and our contemporary society influence us, thus many ideas are expressed similarly worldwide without one having seen the other's work."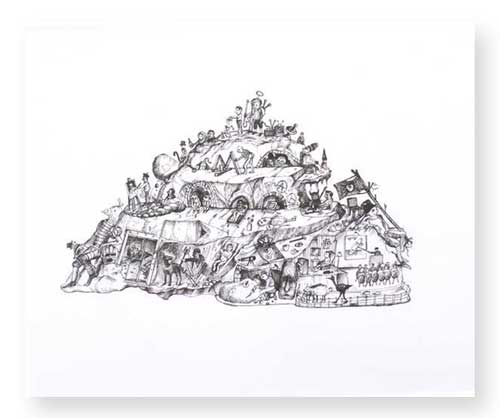 Noah Becker | Magic Mountain (Realms Series) courtesy Claire Oliver Gallery
Weighing in in geography, Becker added, "Victoria is the smallest and most isolated city in terms of where the artists are from in this exhibition. Although people are more spread out now Attila Richard Lukacs, Trevor Guthrie, myself, Frankie Torng, James Nye and Ben Van Netten have all studied art at Victoria based schools...There is a very specific aesthetic in this exhibition as a result of that shared experience."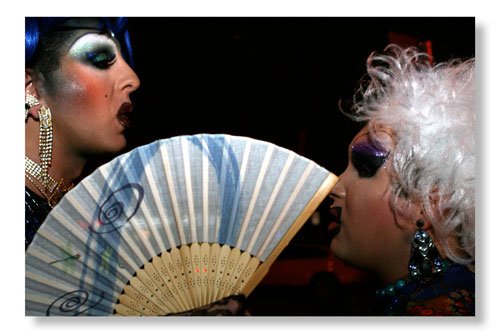 Frank Torng, "Fuchsia, The Fan, and the Friend" (HerShe Series) courtesy Claire Oliver Gallery
Reflecting on his background, Gillmore said,"Vancouver, we felt, was at the edge of the world, an isolated cultural infant. In retrospect I see now that that was its unique charm. I now live part of the year in the rural British Columbia, after
having spent 2 decades in New York City...The majestic West Coast, with all is quaint shimmering light and earthy funkiness feels like home again."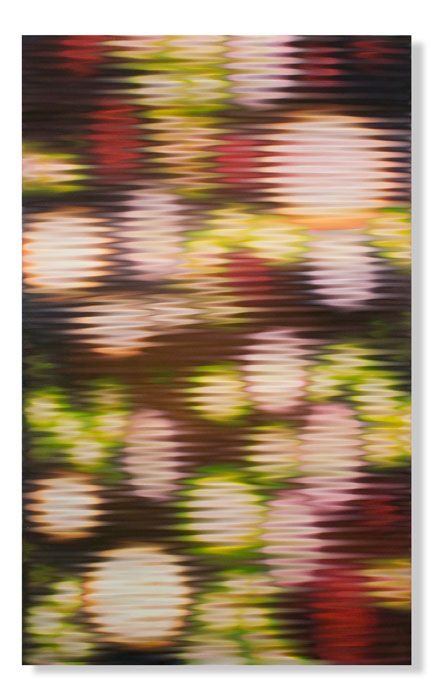 Ben van Netten, "Gaussian Smack Down" courtesy Claire Oliver Gallery
"Culture and nature have become interchangeable. It seems that the work I do now in New York embraces those early formative years," he concluded. "I never really stopped painting from 'Beautiful British Columbia' magazines."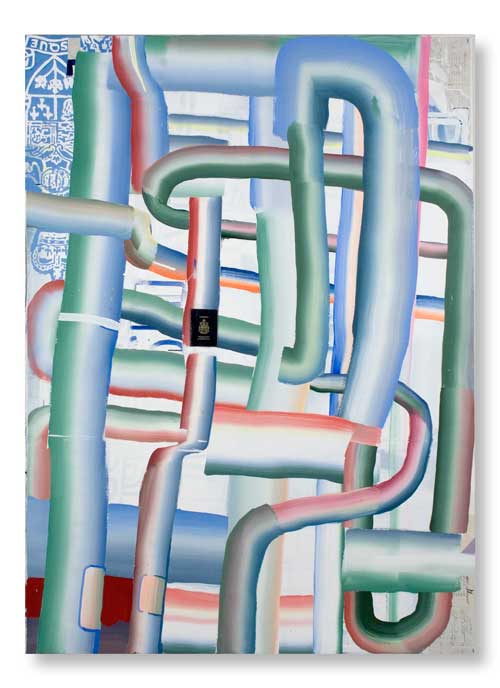 Painting by Graham Gillmore, courtesy Claire Oliver Gallery
Six Degrees of Separation: A New Generation of Canadian Artists
Claire Oliver Gallery
513 West 26th Street
New York, NY 10001
Oct 14th, 2010 to Nov 13th, 2010
Guest Curator Noah Becker
Featuring works by: Graham Gillmore, James Nye, Alex McLeod, Frank Torng, Angela Grossmann, Ben van Netten, Trevor Guthrie, Noah Becker, Attila Richard Lukacs, and Catherine Heard.
http://www.claireoliver.com/index.html
Uncredited images (c) Resolve40 all rights reserved