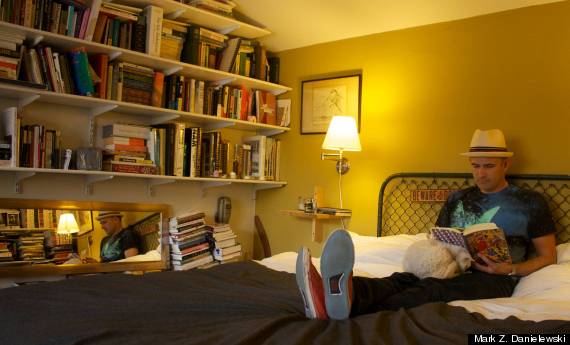 Where do I like to read? Most of the time on my bed. California king. Long and wide. Plenty of pillows.
I used to play music, loud, often very loud, with coffee nearby, maybe a bowl of chocolate-covered almonds. Now for no reason I can really respond to, those days are gone. Now it's silence and maybe a glass of water. I'm sure the books have something to do with it.
I'm surrounded by books. Columns of books, shelves of books, toppling Babels of books. Before me, windows frame rooftops, occasionally visited by blackbirds and squirrels. Or a rat. Never a cat.
At my back, for a headboard, an old chain-link gate with "Beware of Dog" still in one corner. Carl, my cat, often lies on my lap, at my side. If it's a good book, he perches on my shoulder. He likes recent readings: Georges Perec's A Void, Nick Abadzis' Laika, Michael Robbins' Alien vs. Predator, Kathleen Walker-Meikle's Medieval Cats, Arkady and Boris Strugatsky's Roadside Picnic, and Orhan Pamuk's My Name Is Red.
Carl and I have lived here together for more than 16 years. The position of my bed has never changed nor has the view from my window. But the turn of pages never stops changing how I see. I almost never write here which is how I know this picture is a fake. But I often dream and talk to myself and mourn too and remember.
But isn't that what reading is? Especially when it's good? All of that. Beyond faking. With love.
Mark Z. Danielewski's new book The Fifty Year Sword is out now.