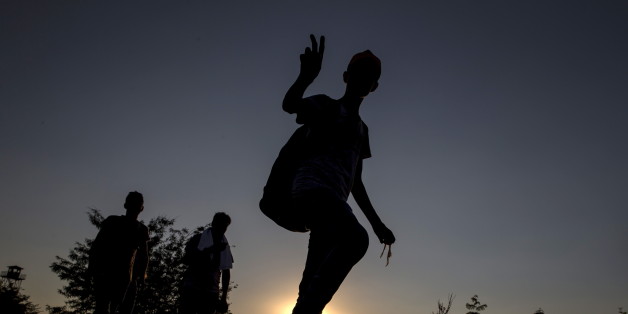 Markus Berktold is the mayor of Seeg. The 3000-person village is one of Bavaria's most beautiful. In Seeg, the 42 year-old Berktold has done what other places have failed to do: He gave all the refugees in the town jobs, and ensured that all of them are well-integrated. In the post below, Berktold explains how his town did it.

I'd barely been in office a month when the first refugees arrived in Seeg -- at the end of May, 2014. True, we'd had a wave of asylum seekers arrive more than 20 years ago, but that was nothing compared to this. This time, it was almost exclusively young men from Eritrea. They showed up at our door literally overnight.
The last two years have certainly not been easy. But what we've done in Seeg can serve as a basic model for other places.
Right after the first refugees arrived, the community and the parish sat down with various leaders in the village, including the heads of the different unions.
From the start, we communicated openly and hid nothing. We were also honest about what we didn't know. We were -- and we still are -- firmly convinced that we need to find a way to care for these people.
The working group that we put together was initially concerned with two things: First, we ensured that translators were quickly located.
 

Our motto is: If we don't look after these refugees, either the wrong person will, or nobody will.
Second, we tried to quickly establish a range of athletic possibilities with the local soccer club. We figured that it would be important for the young men to stay occupied.
We explained to the refugees what their situation in Germany looked like, realistically. We didn't want to leave them in the dark, but we didn't want to give them false hopes or expectations either. We made it clear that the way to get ahead is learning the language and working.
A volunteer was tasked with finding work for the incoming refugees. She would not give up until every refugee had a job. In the process, we also made sure that they had skills or qualifications that were well-aligned with the job or the company.
At the moment, we have 45 refugees here in Seeg. With the exception of three mothers with young children, every one of them is either employed or undergoing professional training. Naturally, there have been disappointments in the meantime, too. It's a task that keeps you on your toes.
It's clear that if we had been tasked with taking in hundreds of people, it wouldn't have worked in our area, and the residents' willingness to help would have sunk to zero.
That's the reason a fair quota system within a particular district is absolutely necessary. In our case, a fair distribution generated peace within the community.
We have also tried to house people from the same country or the same region together. It's easier to work with homogenous groups; they get along better, if only because of the shared language and customs.
Our motto is: If we don't look after these refugees, either the wrong person will, or nobody will. And this is the only way to avoid an unpleasant situation for everyone involved.
This post first appeared on HuffPost Germany. It has been translated into English and edited for clarity.