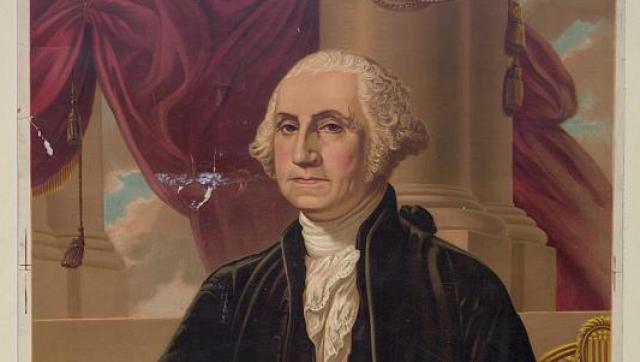 Friday night, on the last night of summer, I grabbed six friends to walk the northern loop of the Ghost and Graveyard Walk Tour in Alexandria, Va. I've lived in Northern Virginia most of my life and had never done this tour, so I was giddy with excitement!
We met our tour group outside the Visitor Center on 221 King Street. You can buy your tickets online or at the Visitor Center or at the Christmas Market on Union Street. We were greeted by our tour guide Dan, who did an amazing job. He was dressed in traditional colonial garb. He had on dark shoes, white stockings to show off his calves, like they did back then, knickers, blue vest and white collared shirt, and his colonial hat.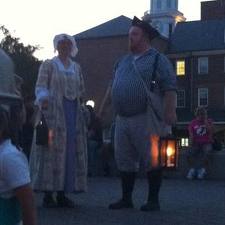 One of my friends quickly pointed out that children seemed to be on this tour, so hopefully it wouldn't be so scary. I joked it must not be too scary because even a fetus was on the tour (yes we had a pregnant woman on our tour). Go ahead and groan at my joke, it's OK!
We followed the 18th century costumed guide by lantern light through the haunted streets of Old Town hearing ghost stories, legends and folklore! We heard about unsolved mysteries, tales of romance and angry ghosts looking for revenge. Each tour is a one-hour, six-block walking tour. At the tour's end they abandoned us in a graveyard.
We walked in front of City Hall where we were told about how it was the oldest, ongoing Farmer's Market and how it use to be where cattle were sold and people were punished. I do not want to give away the details, but apparently a ghost haunts that area. Also the punishment for cattle thieves and the like was quite horrific.
Next we walked to Cameron Street and stayed on that street the rest of the tour up to the graveyard/ church were President George Washington and General Robert E. Lee attended church. Dan, our tour guide, also explained how women signaled men with their fans. If she started fanning her fan, that means she was interested in you. If she touched her fan below her right eye, it meant she wanted you to come over. If she hits her fan on her wrist it means the conversation was over. Kissing a woman meant that you were engaged. Dan joked that men back then must have been very careful!
We learned the streets are angled on a hill because people used to throw their trash, their chamber pots, and so forth into the gutters that would then run into the Potomac. Alexandria must have smelled worse than the sewage plant by Bolling Air Force Base. Also most people took only four baths a year. Yech. Women made a potpourri mix to breathe into to avoid the ravage stench.
We learned about deaths at the Gadbsy Tavern and how it was a five-star hotel. How Presidents Thomas Jefferson and George Washington used to dine at the Gadbsy Tavern. We learned about how they kept drinks cold all summer long and what their favorite ice cream was... let's just say it is quite disgusting sounding!
We learned about a murder and how the man's ghost still walks the streets. We learned about a trolley car that went through town and its deadly consequences. We admired historic houses that have been around over 200 years.
The final stop was the famous church and graveyard that President George Washington and General Robert E. Lee attended. Both men's pews still exists. We questioned why of the 400 graves, only several headstone remain? The answer is chilling. Why are some of the headstones also charred? The answer, fascinating.
I can't give away all the secrets, but if you want to learn more about Alexandria's captivating past I strongly urge you take this mesmerizing tour. My friends and I had an amazing time and it gave us new perspective on Alexandria.
In addition, they offer a southern loop of the Ghost and Graveyard Walk Tour and many other types of tours of Old Town.
Days and Times:
September 19 - 30
Wednesday - Sunday 7:30 p.m.
Fridays & Saturdays 7:30 & 9:00 p.m.
October 1 - October 31
7:30 p.m. nightly
Fridays & Saturdays 7:30 & 9:00 p.m.
November 2 - 24
Fridays & Saturdays 7:30 & 9:00 p.m.
Sunday 7:30 p.m.
Where your tour begins:
On these dates tours will depart from the Visitors Center, 221 King Street.
October 1 - 4, 7 - 11, 14 - 18, 21 - 30
All November tours.
On these dates tours will depart from the Burke & Herbert Bank on the southeast corner of King and Fairfax Streets.
October 5, 6, 12, 13, 19, 20, 31
Prices:
$12.00 per person ages 18 years and older.
$6.00 per person ages 7 to 17 years old.
FREE for those 6 years old and under.
Military, Law Enforcement and Senior Citizen discounts offered.
How to Purchase Tickets:
You can purchase tickets at these locations: Candie's Candies,
located at 107 N. Fairfax Street
The Christmas Attic,
located at 125 S. Union Street
Or purchase your tickets from the colonial-costumed guides at tour time.
Or online.
Reservations accepted.
Please call 703-519-1749.