One of the many reasons I love living in New York is that we get a front row seat to the innumerable thrills that take place here -- from conventions and awards shows, to parades and U.N. assemblies. But my favorite New York tradition is the annual New Year's Eve ball-drop on Times Square. All around the globe, people are counting down in thousands of different languages as we bid goodbye to the departing year.
But this year, there's a reason to be especially wowed by the spectacle: One of the 2688 crystal panels that comprise the skin of the six-ton crystal ball was designed by Coraliz Martinez, a 12-year-old patient at St. Jude Children's Research Hospital, who had been diagnosed with bone cancer in her left leg in 2012. Thanks to the cutting-edge treatment at St. Jude, Coraliz is now cancer-free, and she wanted to express the "hope and positivity" that got her through her ordeal. So when the Waterford people came to St. Jude to team up with them on their first annual "Gift of Imagination" program, Coraliz was the perfect child to fulfill the program's goal of "brightening the spirits of children around the world who are fighting cancer." She pulled out her colored pencils and sketched an image of a blooming rose -- her symbol of hope -- which Fred Curtis, master sculptor at Waterford, traced into the glass and then cut with a diamond wheel.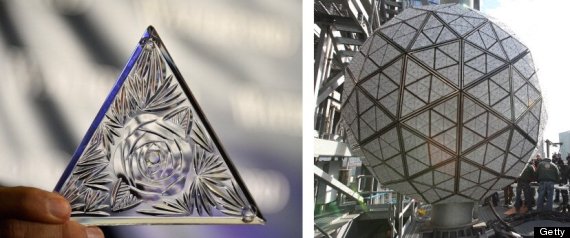 "I wanted to get as close to her design as possible," Curtis told reporters. And he did.
Coraliz hopes one day to work at St. Jude, so she can set an example for children like herself. But for the time being, she'll be one of the countless citizens of Planet Earth, who watch a shiny ball descend down a pole on Tuesday night, as we ring in the dawn of a new year. Unlike the rest of us, however, Coraliz may be peering at the TV screen a little closer, just to see if she can catch a glimpse of her own indomitable courage.
Happy New Year, everyone. And a special Happy New Year's hug to you, Coraliz. Your sparkling spirit tells me that 2014 is a going to be a wonderful year!
For more photos of the 2014 New Year's Eve ball, see the slideshow below: