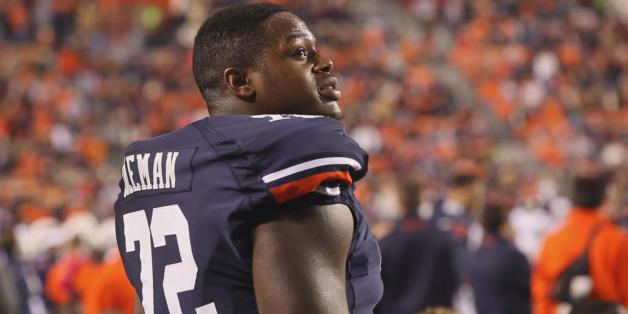 This month, St. Jude Children's Research Hospital celebrates its tenth year of the Thanks and Giving Campaign--a holiday tradition that encourages shoppers to "give thanks for the healthy kids your life, and give to those who are not." Throughout this campaign, I have been inspired by the incredible success stories of children who have battled cancer--and won.
I've always been a champion of kids pursuing their dreams. But sometimes in life, extraordinary circumstances may force us to temporarily put our dreams on hold. The most important thing is to never lose sight of that dream, no matter what punches life may throw in our way.
In February 2010, Shon Coleman's life seemed beautifully planned out: high school graduation, college, and hopefully, someday the NFL draft. He had just accepted a full football scholarship at Auburn University and was Mississippi's top-ranked high school football player at the time. Ranked 22nd in the nation and third in his position as an offensive lineman, Shon was 18 and on top of the world.
However, in March of that same year, Shon's plans were shattered when doctors found he suffered from acute lymphoblastic leukemia (ALL). For several months, Shon's mother, De Keishia, had noticed small lumps along his neck and head, but she mostly dismissed them as bumps and bruises from football practice. Shon had the lumps surgically removed as a precaution, and his doctor, who thought they were benign tumors, sent them in for a biopsy just to be sure.
A week later, however, the doctor received some devastating results, which indicated Shon's lumps were cancerous. He was immediately referred to St. Jude Children's Research Hospital, where doctors made the diagnosis of ALL.
"The thoughts that went through my head when I first got diagnosed were scary, and I was really disappointed," reflected Shon. "I was just about to head off to Auburn and start a new life in college."
Shon underwent chemotherapy on a specialized two and a half year treatment plan devised by St. Jude Children's Research Hospital. The staff worked closely with Shon to keep his muscles active and strong--and to keep his spirits up about playing football again in the future.
"When I met my doctors, they really supported me from day one," Shon recalled. "They told me that it was going to be alright, and that I was going to get over everything. They laid down the treatment protocol and told me that I would get through this."
Because his immune system was compromised, Shon could not participate in group practices, but Auburn University never gave up on Shon. The football coaches and the chaplain called weekly. Message boards overflowed with warm wishes from people nationwide, including fans from the University of Alabama, Auburn's biggest rival. Even Boston College's Mark Herzlich, himself a cancer survivor, called Shon to offer words of encouragement.
"So much good has come of this," said Shon's mother, De Keishia, who was by her son's side throughout the entire process. "I've seen a lifetime of goodness."
For three football seasons, Shon patiently built up his strength and bided his time, cheering on his team from the sidelines while going through chemotherapy.
"The roughest part was not just the treatment, but how the side effects made you feel," remembered Shon. "I had to take baby steps just to get back in the game. There's so much that you can learn from going into St. Jude Children's Research Hospital... just looking at the big picture in life and knowing that it's all about the little things."
Shon's baby steps eventually paid off, and cancer couldn't keep him from the game he loved most. Earlier this year, he was cleared to play. On September 7, 2013, Shon reigned victorious--over both Arkansas and cancer--when he stepped onto the football field in his Auburn uniform and helped bring in a 38-9 victory over Arkansas State. For the first time since being recruited as a five-star prospect in 2010, the 6'6, 306-pound offensive tackle finally attained his dream of playing college football.
"It's important for other people to know my story because it can inspire people to overcome whatever situation it is... as long as you're determined," said Shon "It's a big difference being in St. Jude Children's Research Hospital two years ago, and now running out in front of 87,000 people...it's electrifying."
It was a sweet return to football after a long battle against cancer, and today Shon is cancer-free.
PHOTO GALLERY
Thanks And Giving
To learn more about St. Jude's Research Hospital, visit http://www.stjude.org.