Run a Google search for great quotes about the summer season -- which officially begins tomorrow -- and you'll see exactly how differently (and personally) it affects all of us.
"Summer afternoon -- summer afternoon," wrote Henry James. "To me those have always been the two most beautiful words in the English language."
"It's a smile, it's a kiss, it's a sip of wine...it's summertime!" sings Kenny Chesney.
And of course, the late, great Nora Ephron found her own singular spin on the season, writing: "Summer bachelors, like summer breezes, are never as cool as they pretend to be."
But whether your connection to summer is poetic, romantic or simply comic, one thing is clear: Our feelings about this balmiest of seasons run strong and run deep. For most of us, our richest recollections of summer are imprinted on us early in life, when we first experienced those exquisite long days and firefly-flicked nights among family and friends. For my husband Phil, summer brings back memories of playing stickball on the street of his middle-class neighborhood on Cleveland's West Side. He says he was the skinniest kid on the block, but he could "power a tennis ball over the trees -- and even a house -- with the smooth swing of a broom handle." He always smiles when he talks about that.
For me, it was our family's annual trip to Lake Arrowhead and Big Bear Mountain, 80 miles north of L.A. Half the fun was getting there. We'd all pile into the car, Dad would drive, and we'd sing songs and play word games for the entire trip. My mom had a beautiful voice -- I can still hear it in my head. Once we arrived, we'd settle into the little lodge by the lake, and spend our days swimming, waterskiing and horseback riding.
And how we loved going on boat rides! We lived in Beverly Hills the other 50 weeks of the year -- which is completely landlocked! -- so it was a special thrill for all of us to zip across that lake in a streamlined motorboat. At night, after dinner, we'd play a wild game of charades. What happy times those summer vacations were.
In honor of the solstice, I decided to check in with my summer-lovin' Facebook followers to find out about their most colorful memories of this wonderful season -- and, as always, they came through. Take a look -- and flash back along with them. Happy summer, everybody!
PHOTO GALLERY
Summer Solstice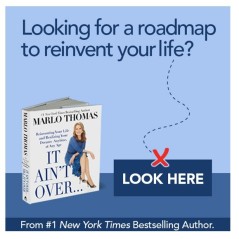 Add Marlo On Facebook:
Follow Marlo on Twitter:
Sign up to receive my email newsletter each week - It will keep you up-to-date on upcoming articles, Mondays with Marlo guests, videos, and more!