A few days ago I was walking near my apartment when a swarm of young men and women whooshed by me. They were all wearing long robes and holding their mortarboard hats fast to their heads, as they rushed in the direction of our neighborhood school.
"Hurry!" I heard one say to the others, laughing. "We can't be late for our own graduation!"
I love the months of May and June for just this reason. There's something about graduation season that's truly inspiring. And it's especially meaningful when I know one of those prospective diploma recipients. In recent years, Phil and I have attended the commencement ceremonies of an unending stream of nieces, nephews and grandkids -- and this year is pretty special: In just a matter of days, grandson Connor will be graduating from high school -- and we'll be in the audience, crying happy tears. We're plenty proud of that young man.
And, of course, we'll be in a sea of other proud, teary-eyed family members, eagerly waiting for our kid take the stage -- so we can cheer, snap pictures and all those great rituals that go with this exciting day.
Like the speeches. The words of a commencement address are always moving, because they're carefully crafted for this remarkable moment: when the future -- with all its promise -- suddenly materializes before a class of eager and accomplished young graduates.
I've had the honor of delivering a few commencement addresses, and I've found it exhilarating. Looking into the faces of the graduates -- carefully listening, hungry for advice -- I try to use the opportunity to give them something from my own life that might prove valuable to them. So each year, I look forward to reading the addresses given across the country, to see what words this year's speakers have chosen to impart.
Last month, Madeline Albright gave a sober reminder to graduates that they have "important work to do." Sheryl Sandberg challenged them to "dream bigger." Michelle Obama made a heartfelt declaration that the next generation is depending on them. And, as always, there few laughs from the good humor of Jay Leno and Jim Carrey. Useful words all.
In honor of the pomp, pageantry and outright eloquence of graduation season, we've collected some of our favorite passages from this year's commencement addresses. I hope you find them inspiring. We sure did.
And congratulations to graduates everywhere on a job well done. May you and your families take pride in this milestone of your young lives -- and, as our First Lady says, may you all "keep raising your bars!"
PHOTO GALLERY
Best Commencement Speeches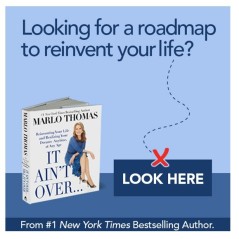 Add Marlo On Facebook:
Follow Marlo on Twitter:
Sign up to receive my email newsletter each week - It will keep you up-to-date on upcoming articles, Mondays with Marlo guests, videos, and more!