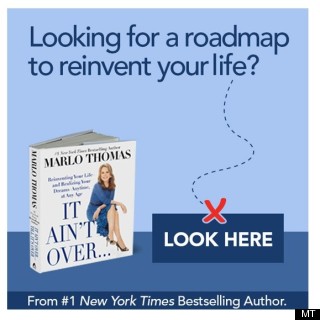 The room erupted in applause. And the funny thing was, the person who earned the ovation wasn't even there. She was probably on call.
I was in a Barnes & Noble in New York City this month, talking about the stories in my new book, It Ain't Over Till It's Over, when I recounted the tale of Gaylee McCracken, a successful, 42-year-old graphic artist from Cleveland, Ohio. Gaylee had been designing a brochure for a local medical school, when she flashed back to her childhood dream of becoming a doctor -- a passion she never pursued because her father had told her, "Don't be a doctor -- marry one." Gaylee turned to her colleague and told him about this unfulfilled dream.
"Then why don't you go to medical school now?" he suggested.
"Because I'm 42," Gaylee said. "By the time I finish my schooling, my internship and my residency, I'll be 50."
"Well, you're going to be 50 anyway," the friend responded with a laugh. "You may as well be a 50-year-old-doctor."
I ended the story for the Barnes & Noble audience the way I always do -- by announcing that, today, Gaylee McCracken is 61 years old, and has been a practicing physician for nearly 15 years.
That's when the crowd applauded -- and the overwhelming response confirmed something to me that I suspected when I first began putting the book together: that we are in the midst of a transforming time in our culture -- an era unlike our parents' days, when you were pretty much assigned one job for life (including homemaker); and when that job ran its course, you were done.
Now people have begun to dream again -- women especially. And it feels to me like the birth of a new generation -- the Reinvention Generation -- populated by those who are not daunted by what they haven't done, but, instead, are empowered by the idea that they can go for it now.
That's what why I created this book. It's more than just a collection of 60 women's stories about starting over. It's like map that shows you how: You can do this, too. You can find the key to unlock that special dream in your life and have your own eureka moment. These women's stories will help you.
This seismic shift in our culture couldn't have come sooner. Like a lot of women my age, I can personally attest to the low expectations that were thrust on us when we were growing up. I remember struggling over a math problem when I was in 7th grade at Marymount, and complaining to the math nun about it. "Don't worry, dear," she said to me. "You won't need it." Thanks a lot, Sister.
Even today, I see firsthand evidence that those low expectations can still grip many women. I travel the country a lot, raising money for St. Jude Children's Research Hospital, and everywhere I go, women talk about the dreams they left behind; or the ones they tried to achieve that went nowhere; or the ones they never even attempted.
And they tell me they're stuck -- some in dead-end jobs that make them feel lifeless inside; others as new empty-nesters, confronted, practically overnight, with a big, quiet house and a bigger, quieter future. Still others have experienced a life crisis -- a divorce, a layoff, the death of a loved one -- and have had fallen into a funk.
And their fear about reclaiming an old dream is always the same: It's too late, isn't it?
Well, now that I've lived a little, I know this to be true: It's never too late. That's why I borrowed Yori Berra's famous quote for the title of my book -- It Ain't Over Till It's Over. Because I believe that's true.
And don't just take my word for it. The women who are featured in my book are living proof that age and circumstances are, in the end, no barrier to achieving a dream -- to launching a business, or traveling the world, or getting a PhD, or indulging a creative impulse, or making a family recipe famous, escaping danger, finding love, or filling a void in life with a challenging new experience.
PHOTO GALLERY
It Ain't Over
One woman, a New Hampshire mom named Jamie James, got tired of constantly losing her cell phone and keys and credit cards at the bottom of her pocketbook, so she designed a clever, all-in-one purse product to simplify her life. Her jerry-rigged invention -- made from cardboard and string -- was such a hit with her friends, that she decided to have it manufactured. It has since earned her millions.
Another woman -- Robin Béquet -- was let go from her 20-year job in telecommunications, so she started spending a lot of time in the kitchen. One day she dusted off a favorite caramel recipe of hers, reminding herself of just how good it was. That's when Robin had her eureka moment and decided to go for it. Today, her caramels are sold in more than a thousand gourmet markets across the country.
And then there's the 53-year-old English teacher from Maryland, who one day learned -- during a routine trip to the mailbox--that her husband had been cheating on her for years. Rocked by the discovery, she decided that she would not permit herself to be a "victim" -- nor let the crisis define her -- and, instead, filed for divorce and began the challenging journey of rebuilding her life.
Some women in the book found new ways to fulfill themselves after experiencing profound personal loss -- like Jane Alderman, a media company executive whose brother perished in the World Trade Center on 9/11. Devastated by his death, she chose to re-channel her grief into something meaningful, quitting her desk job, earning her MBA, and -- along with her parents -- launching a global foundation to care for other victims of trauma.
And some women simply rejected their own complacency about their lives and rebuilt themselves -- physically and mentally. Like Florida phone saleswoman Natasha Coleman, whose weight had reached a perilous 428 pounds. After a humiliating experience on an airplane (not being able to fit into her seat), Natasha finally vowed to shed more than 250 pounds -- the hard way. She went from a size 32 to a size 10.
I'm telling you, I've met some pretty courageous people over the years, but these women take the cake: one convinced her husband to quit their jobs and take off on a cross-country adventure in a giant bus -- and they're still on the road! Another moved to North Carolina and started a moonshine business. Another decided that life was getting boring, so she began selling sex toys to housewives in their living rooms (needless to say, business is booming). And one woman from Chicago quit her job as a successful journalist, bought an old grain elevator in Wisconsin and became a professional lumberjack. Make that lumberjane.
Although the women in the book couldn't be more different, what they have in common is that they all dared to dream again -- and they all knew that no one had the power to make their dream come true but themselves.
So I hope you'll read It Ain't Over Till It's Over, and meet these remarkable women, all of whom have proven that "impossible" is just something that hasn't happened yet. As I read and reread their stories, they make me think of something I was told a long time ago: If you want to predict the future, invent it.