Earlier this month, I was invited to sit in at a front page meeting at The New York Times, where editors from the various departments pitch their stories to the Executive Editor, who ultimately decides what will make it to page one.
That Executive Editor, Jill Abramson, is a front page story herself: After 160 years of men filling that prestigious post, Abramson broke the glass ceiling in 2011 with her landmark appointment, having spent her 35-year career at The Times and elsewhere as an investigative reporter, editor, bureau chief and Managing Editor.
As with many women, it was not an easy climb -- Abramson endured more than her share of newsroom politics and personality clashes. But it was her impressive work that earned her the perch at the top of The Times -- and her place in journalism history.
I was thrilled that Abramson agreed to appear on Mondays with Marlo. I've interviewed a lot of people over the years, but it was especially interesting to sit down with a high-caliber newswoman who's accustomed to being on the other side of the conversation. Fielding questions from viewers across the country, she answered each of them with authenticity and journalistic thoroughness. And, as you'll see, she also loves to laugh.
Take a look.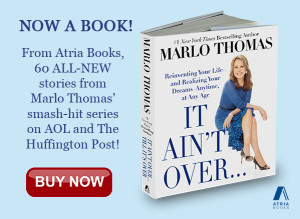 Add Marlo On Facebook:
Follow Marlo on Twitter:
Sign up to receive my email newsletter each week - It will keep you up-to-date on upcoming articles, Mondays with Marlo guests, videos, and more!