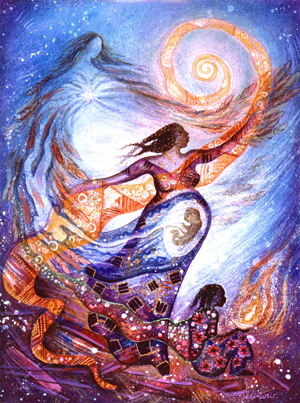 I realized my mother was a hero was when I was about 12. Late one night I heard her yelling and ran out of my room to see what was happening. My little brother was convulsing, stiff as a board as his eyes rolled back into his head. Without one second of hesitation and before I could even comprehend the scene before me, my 4'11" tiny wisp of a mother swooped him up into her arms and ran off with him down the stairs, out the door and into the night. I was completely shocked. "What is going on? Where is she taking him?"
As my mother disappeared into the dark of night, she looked as if she were a guardian angel flying down the street with my brother in her arms and her white nightgown trailing behind her. I found out later she had run barefooted, nonstop for half a mile to the hospital carrying her 60-pound son. The doctor said he had suffered a grand mal seizure and might have died if she had tried to call for an ambulance instead. It was in this moment I realized the woman I called "Mom" was actually a mighty warrior queen.
Oliver Wendell Holmes, regarded as one of the best writers of the 19th century, wrote that mothers "carry the key of our souls in their bosoms." George Washington, the first U.S. president, said he owed everything he was to his mother; and perhaps the most noted is a quote from W.R. Wallace, a British anthropologist and biologist who said, "The hand that rocks the cradle is the hand that rules the world."
I couldn't agree more. As a matter of fact, our greatest hope for the future is in the hands of loving and nurturing mothers who have mastered what filmmaker Jan Nickman calls "the most sacred art -- the art of loving creation." So on this Mother's Day, I share with you a tribute from one of Jan Nickman's latest films Echoes of Creation. A three-minute video excerpt titled The Most Sacred Art, it is a journey for your soul with one of the greatest mothers of all, mother nature. Like our own mothers, she is an unconditional provider of the greatest gift imaginable: life. From pristine alpine lakes to dew-kissed mossy forests, take a moment to return to the womb of mother nature and let your soul be touched. Immerse yourself into her arms and remember who you are -- a part of her.
To enhance your experience: Find a quiet moment to fully immerse yourself without interruption. Click the "preview" button in the video player below and expand to "full screen." If possible, use quality speakers or stereo headphones.
The Most Sacred Art, featuring Grammy-nominated composer David Arkenstone, is just one of the inspirations to be found in the Wellness Experience™ film series. Two years in the making, it is a revolutionary new way to turn your TV, computer or mobile device into a virtual wellness center at the push of a button -- the "play" button. Each week, here on GPS For The Soul, I will share another excerpt from Echoes of Creation and Sacred Earth, two films that health and wellness experts are calling "a transcendent healing experience." From ancient forests of Alaska to sacred lands of the American Southwest, each video excerpt will give you an entirely different experience of wellness from the next. Stress-melting, heart-soaring and soul-stirring experiences to places in which by simply being there, you are changed.
Join me next week when we head to the American Southwest with a Wellness Experience™ video excerpt from the film Sacred Earth featuring Academy Award-winning actress Linda Hunt and Grammy-nominated composer David Lanz. Until then, may you know the unconditional love of a mother, whether it be your own mother or the mother of us all: nature.
The full versions of each film are designed for repeated play for years of enjoyment and are available as a streaming rental or download-to-own directly from the Distrify™ player above. The DVD and Blu-ray disc versions are also available at Sacred Earth Pictures and offer a "With or Without Spoken Word" option, Special Features and an optional "Continuous Play" loop setting.
For more by Marlowe Brown, click here.
For more from GPS for the Soul, click here.
Image Credit: The Quickening: Arla by Willow Arlenea