Hipster filmmaker Quentin Tarantino's attempt at a "spaghetti" western, Django Unchained, is filtered through a lens of slavery, wild humor and a healthy dose of violence. Although the film meanders and lags in spots (and, at a too-long 165 minutes, could use a bit of additional editing), it is clear that Tarantino is an actor's director, eliciting powerful performances from most of his star-studded cast.
Academy Award-winner Jamie Foxx stars as Django, a slave who sets off to find his wife, Broomhilda (Kerry Washington), who has been sold off, while pushing toward his own freedom. Dr. King Schultz (Academy Award-winner Christoph Waltz), a German bounty hunter who disagrees with slavery's morality and violence, but is unopposed to using it for his financial gain, offers Django his freedom if he will assist in finding a murderous trio, the Brittle brothers.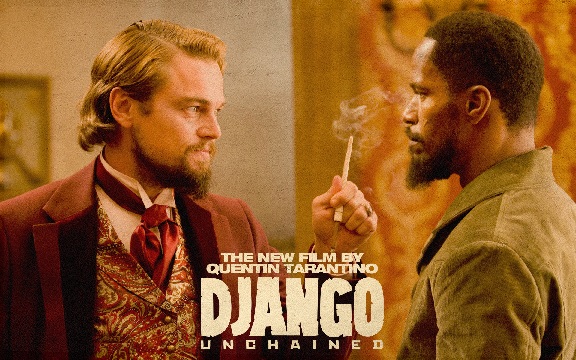 Calvin Candie (Leonardo DiCaprio, left) and Django (Jamie Foxx) square off in Django Unchained (Image courtesy of The Weinstein Company)
The journey to find Broomhilda leads Django and Schultz to the seemingly charming but ultimately wicked Calvin Candie (Leonardo DiCaprio) and his plantation, Candyland (where shades of red help to reveal Candie's increasingly devilish ways). Candie's cunning house slave, Stephen (Tarantino favorite Samuel L. Jackson in a blazing turn), senses something is not quite right, least of which the concept of Djanjo as a "free" black man.
Although the lead actors deliver, Django Unchained is driven by Waltz's performance (I sense his name will surface again in the next round of Oscar nominations, and deservedly so). He informs King Schultz with sly intelligence and crafty humor that keeps you watching him every minute he's on screen. Schultz takes a genuine liking to Django, taking great care to explain the story of Brunhilde from Wagner's opera (on which Django's German-speaking wife's name is loosely based). I am very curious to go back and check out Tarantino's Inglourious Basterds (2009), for which Waltz won his Oscar.
While Washington doesn't appear on screen that long, she provides an ongoing thread of vulnerability, a sensual visual marker, appearing to Django in beautiful visions as he and Schultz grow closer to locating her.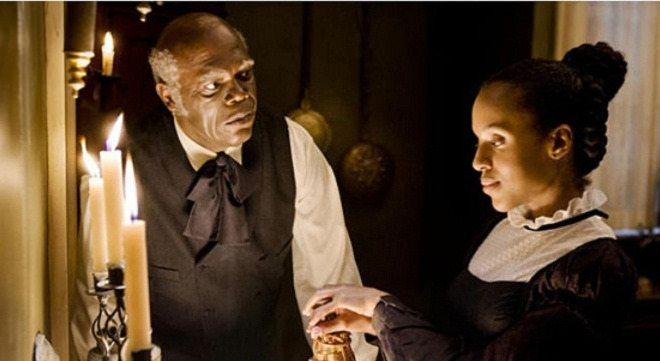 Stephen (Samuel L. Jackson, left) and Broomhilda (Kerry Washington) in Django Unchained (Image courtesy of The Weinstein Company)
DiCaprio, at first, seems out of place in this twisted mash-up of spaghetti western and slave narrative. But he finds his way into Candie's syrupy-sweet, Southern veneer, and to the deep malevolence and strong sense of entitlement that it masks. Jackson, who has also appeared in Tarantino's Pulp Fiction (1994), Jackie Brown (1997), Kill Bill, Vol. 2 (2004) and Inglorious Bastards, takes yet another opportunity to paint outside the lines in creating the character of Stephen. If you think of the most evil, ornery "Uncle Tom" you can imagine, you begin to see what Jackson has come up with, to chilling effect.
Much of the violence, especially toward the end, seems gratuitous; there is a cheesy, not-quite-believable element to a lot of the bloodshed here. Although Tarantino is clearly a lover of many aspects of African American culture, I wish he would find a new favorite word and give the n-word a rest. By various counts, it is used upwards of 110 times in this film -- enough already!
The film is lent some genre credibility with a score that includes music by Ennio Morricone and Luis Bacalov, longtime composers in the spaghetti western category, but also contemporary music from soul stars James Brown, Anthony Hamilton and John Legend, and rappers Rick Ross and 2PAC.
Django Unchained (rated R) is currently showing in wide release in U.S. theaters.