The rough, violent streets of South Central Los Angeles play the starring role in writer-director David Ayer's startling End of Watch (Open Road Films/Exclusive Media). Young officers Brian Taylor (Academy Award® nominee Jake Gyllenhaal) and Mike Zavala (Michael Peña) form a close, brotherly bond as they patrol the tough streets and back alleys of South Central. Taylor's voice-over begins the film, setting the stage for what partners on the force go through on a daily basis in their efforts to protect and serve.
During the long hours they spend together, the two share everything from their opposing views on women to their cavalier machismo when it comes to dealing with the characters on their beat. In one harrowing scene, the cops confront a pair of crackheads, one of which blathers on about her two lost toddlers, telling the officers they need to find them right away. Taylor searches the disheveled house, only to find the confused children duct-taped and hidden in a closet. Zavala, an ex-boxer, goes toe-to-toe with a local troublemaker after he has an altercation with a mailman.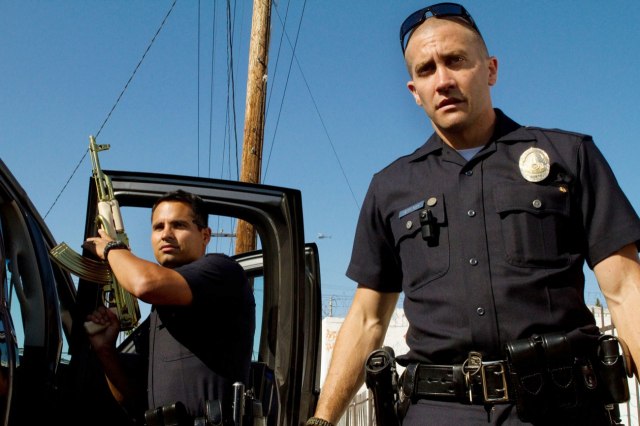 Michael Peña (left) and Jake Gyllenhaal (right) in End of Watch -- Photo courtesy of Open Road Films
End of Watch has the odd-angle, hand-held-camera feel of a documentary. Police cruisers are equipped with cameras, Taylor carries one while on patrol (creating a project for his film class), even gang members carry video-cameras around to record their exploits. Social media and its record-and-share-it-now aesthetic have permeated every level of society. This does not include L.A.'s street traffic surveillance cameras or those in police helicopters overhead.
"After I read the script, I had a strong instinct that [director] Ayer had just raised the stakes to the highest level for this genre," said Gyllenhaal, who also served as an executive producer on the film, and spent five months in extensive police training for his role as Officer Taylor. "I began thinking why hadn't anyone else ever made a film like this before."
While fully aware of the dangers of their chosen profession, officers Taylor and Zavala are still shocked and surprised by things they confront on the streets: a "Mexican Cowboy" picks up a pot of soup containing wads of cash, in addition to the weapons and cash stashed in his pickup truck; they uncover a safe house for human trafficking; and a routine check of an elderly woman's home reveals a huge narcotics stash and decapitated bodies, a sign of the ruthless Mexican drug cartels.
This story of strong bonds in the face of duty casts a naked eye on a profession that constantly looks at danger head on. The violence here is stunningly realistic; this is not a film for children. Astute performances, including those of America Ferrera as a cop who has to patrol the streets she grew up on, and a chilling Maurice Compte as the aptly named gang leader Big Evil, make this film one that deserves attention.
End of Watch opens in theaters nationwide on September 21, 2012.